Jun 30, 2014 etc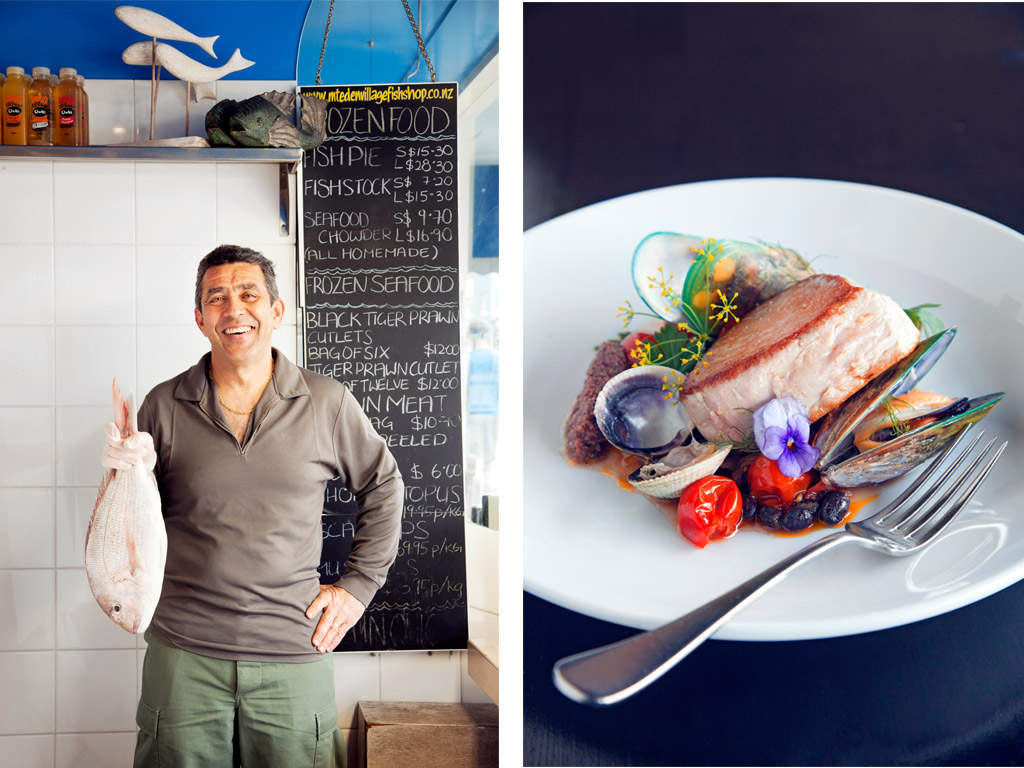 Mt Eden Village Fish Shop / Molten.
By Anna King Shahab. Photos by Ken Downie.
The string of shops clinging together in the shadow of Maungawhau is a historic gem. In matters culinary, it hasn't always provoked excitement on a par with its city-fringe siblings, but what it lacks in hipness it makes up for in consistency and reliability — and some recent developments are eliciting a well-earned buzz.
Cafes are plentiful, and many of them fill up very nicely by keeping things safe and steady: Circus Circus, Frasers and Ironique all have loyal followings. Altar, occupying part of a lovely big villa, is typical of so many Auckland cafes now — sold on quite quickly by its founders and seeming to flounder since — but both the coffee and the calamari I've had there recently were impressive.
Circus Circus
The newest addition to the java scene, Return of Rad, has put the village back on the social media scene. Surrounded by a Stormtroopers photographic mural, Lego-build table numbers and lots of ply, jostling customers drink Flight coffee and scoff things such as meatballs in ciabatta and banh mi of grilled pork and house-made pickles. It's a small family business with everyone chipping in — Duke Tran, a barista to watch, is joined by mum Trinh in the kitchen, brother Hugh front of house and Mr Tran Snr, who bakes the ciabatta, sourdough and baguettes.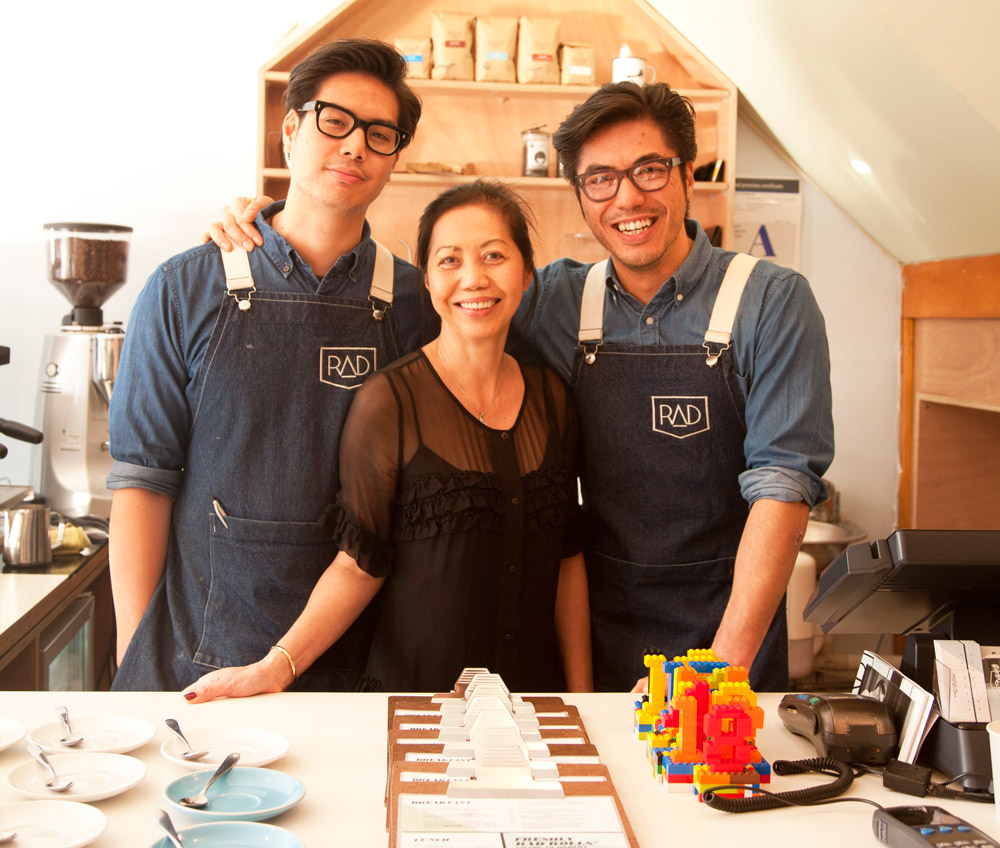 Duke and Hugh Tran and their mother Trinh at The Return of Rad.
Olaf's Artisan Bakery & Cafe opened three years ago and gives the village a heart. Oranna Blanke's warm smile graces front of house, while in the kitchen Olaf Blanke's dogged passion for artisan baking keeps the bread and other food to a high standard. This month, the offering will stretch late into the evenings, with a bistro menu that kicks in around 5.30pm each day and doesn't retire till 11pm.
Don't expect spatzle and knödel from these German expats. "The food is Mediterranean," explains Olaf. "As well as a standard menu, every few months we'll focus on one Mediterranean area as an inspiration. I worked in an Italian kitchen for 13 years, and here I have an Israeli chef." Olaf says he loves the European way of dining — late, in a group, the meal as social as it is sustaining.
Other bistro options include smart Molten, and its adjoining wine bar offering small plates and pizzas — both excellent date spots. There are many Indian options, with Simla the most memorable. And of three Japanese eateries, Haru no Yume, with its soft, perfectly seasoned rice, elegant sashimi platters and jolly front-of-house fellow, stands out.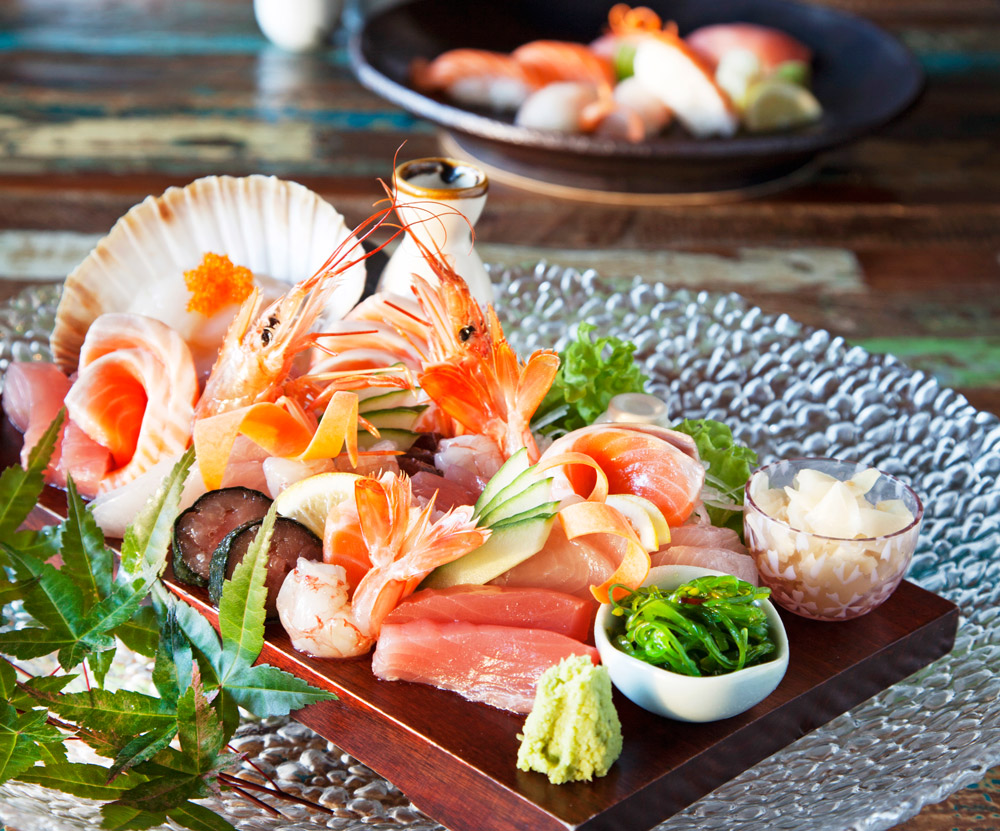 Haru no Yume
Supplies-wise, the place stacks up rather well. KC Loo is a village icon, with octogenarian Loo still busy in the shop getting superior produce to the people. Next door, the Mt Eden Village Fish Shop is famous partly for its premium fresh fish and partly for the tarakihi cosseted in beer batter and served with a scoop of chips — perfectly cooked and generously proportioned.
Village Winery (it does still produce wine, but the focus now is on retail) does regular tastings with winemakers and an impressive range of boutique spirits, liqueurs and beer from around the world, plus its own cleanskin range.
Pokeno Bacon Co, a retail arm of the Bombay Hills pork producer, offers fine bacon, and is also home to whatever piece of meat you want or haven't even yet heard of, along with helpful advice on preparing it.
Butchery manager Phill ("Phill Pirie is the name and creating art with meat is my game") is this month off to Harrogate to compete in the Great Yorkshire Show's tri-nations of butchery, as a member of the six-strong New Zealand contingent, the "Sharp Sticks". Phill's specialty in the team is presentation, which leads you to admire the marvellous window display here — surely one of the best in this city.