Jul 19, 2018 etc
New Ponsonby restaurant and bar Cuba Libre takes influences from the Caribbean.
Hospo veteran Guy Jacobson has big plans for Cuba Libre, the Caribbean-influenced bar/restaurant he co-owns with business partner Nikki Ahern. They'll start, he says, by offering lunch and dinner from Wednesday to Saturday, with party DJs and live music on the weekends until 3am. It's already an ambitious workload, but come summer he anticipates opening a cigar garden and developing a weekend brunch menu too. They might even extend their opening hours to accommodate all the people he's expecting through the door.
Jacobson's confident there'll be demand, because Cuba Libre started off as a pop-up at the other end of Ponsonby, and that version, he says, was always rammed. While the original site was more a dive bar with food, the reincarnation is a jumble sale mix of colour and nick knacks. Situated in a former retail store on Mackelvie St, it's taken a major redesign by Jacobson's architect dad to make the space to work as a restaurant. As a thank you, Jacobson commissioned his friend and award-winning Whangarei-based tattoo artist Earnest Bradley to paint a floor to ceiling mural of dad next to the bar. Jacobson loves it. His dad, who hates being the centre of attention, does not.
Read more: O'Connell St gets new dumpling slinger Sumthin' Dumpling | Freaky is a minimal new cafe in central Auckland | Auckland's best restaurants by cuisine: Metro Top 50 2018
Cuba Libre is a restaurant but drinks are pivotal to the offering. Jacobson, a booze enthusiast, is showcasing his rum knowledge in the form of a rum-based cocktail list featuring both classics like the restaurant's namesake drink, and kitsch new mixes including one served in a bag with a toy fish. He's also got an exhaustive range of Cuban and Central American cigars which stay locked up in a humidifier to keep them dank and fresh until they're bought. Cuba Libre is one of the only bars in the city where you'll be able to buy cigars like this.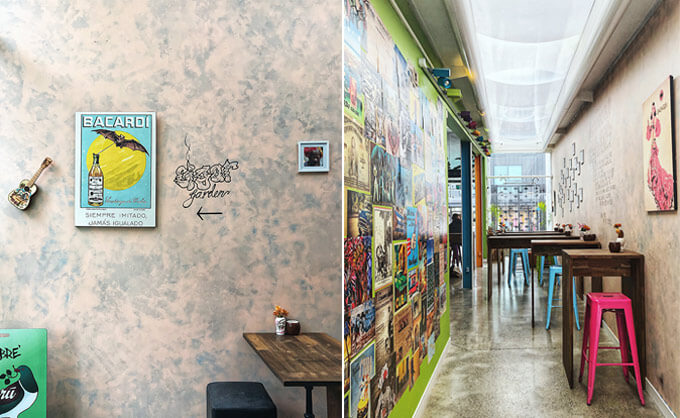 Jacobson is excited about the menu too, which has been designed in collaboration with Hipgroup chef Kevin Puyat. He says it's loosely Cuban cuisine with a Spanish influence but dishes actually draw on all corners of the Caribbean, as well as New Zealand for inspiration – black beans, jerk spices and dulce de leche sit alongside New Zealand oysters and cheese, and Spanish jamon. The pièce de résistance is Cuba Libre's fried chicken, which Jacobson wagers is the best in Ponsonby. It's made by marinating skin-on pieces of meat in citrus and spices for a day before chucking them in the fryer for the skin to crisp up. He says this gives a crunchier, juicier result than battered deep fried chicken. Find out for yourself when they open this Saturday 21 July.
Cuba Libre
61 Mackelvie St
Ponsonby
@cubalibrenz