Oct 1, 2012 etc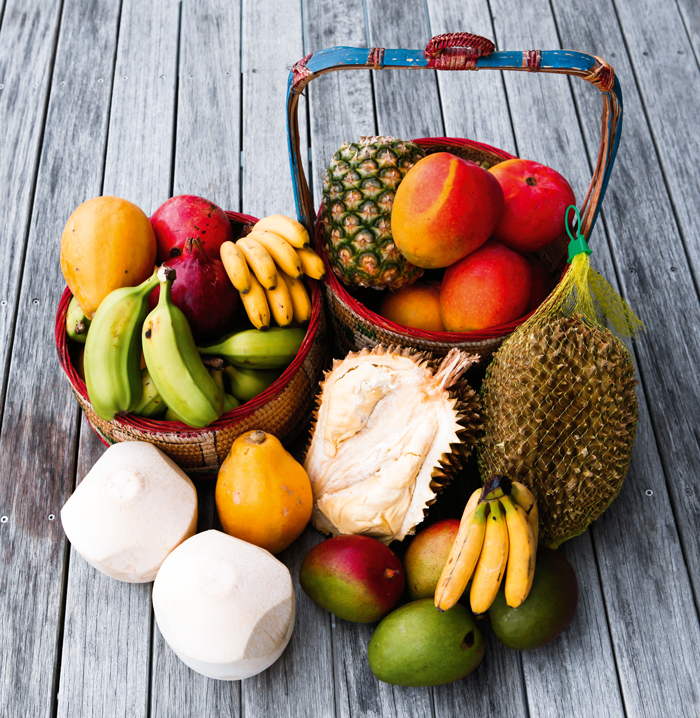 Asian fruits are now widely available throughout the city. Connie Clarkson has some tips for making the most of them.
By Connie Clarkson, January/February 2012
Hot nights filled with the fragrance of mangoes, papayas, pomegranates, coconuts and pineapples all piled into pyramids, combs of bananas swinging from bamboo poles and baskets of durians parked on the footpath — that's what defines, for me, a large part of the culinary landscape of Asia.
Happily, a lovely cache of tropical fruit is now available here too. When the waft of fresh durian greeted me at Song Kee Fruit and Veges (5 Kent St, Newmarket) two years ago, I knew the city had turned a corner. As Song says, the durian is revered in Southeast Asia as the "king of fruits", but you must handle its formidable thorn-covered husk with care. The pale-yellow flesh has the consistency of avocado, is sweet and creamy and, to most people who grew up with them, utterly delicious.
Voluptuous is the word for mango, the queen of fruit. The Australian R2E2 variety in the stores at the moment is round, smooth, red and gold on the outside, silky and golden inside. Nothing beats sinking your teeth into large juicy pieces. The Ecuadorian variety is perfumed, a little crisper in texture and perfect for salads.
Countdown on Quay St is often a wonderland of tropical fruit: you're likely, for example, to find several varieties of banana. The lovely little fingerling Bananas are just perfect for lunch boxes: when ripe, they turn bright yellow and have a rich, sweet flavour and creamy texture. The plantain banana is green, starchy and lower in sugar and should be cooked before serving. The delightful pineapple deserves mention: they are ripe and ready to eat when you can pull a leaf easily from the top, and Chinese New Year will be the time for gorgeous bite-sized pineapple jam tarts.
We had papaya trees in our garden as I was growing up and I remember my father putting bags around the ripening fruit to keep the birds away. Papaya are said to be good for fixing digestive problems, bruises, cuts and burns, and great for the skin. If you'd rather eat them, go ahead: those I found at Victoria Park New World were lovely and sweet.
In the same trolley were snowy white baby coconuts. During the Pacific war of 1941-45, both sides regularly used coconut water — which is high in ascorbic acid, B vitamins, proteins and electrolytes — siphoned directly from the nut to give emergency plasma transfusions to wounded soldiers. These baby coconuts arrive shrink-wrapped and already liberated from their green outer husks. They're delicious.
Then there's the gorgeous pomegranate. Round, with a dark-pink shiny skin and blood-red juicy seeds, it is the sexiest fruit in the basket. And healthy: the juice is a good source of Vitamin C, B5 and potassium.
Tips for tropical fruit
¦  Slice down the middle of an Australian R2E2 mango next to the seed, score the flesh close to the skin and invert it for easy eating. ¦  Throw pomegranate seeds into a salad for sparkle and flavour. ¦  Avoid the tongue-cutting bitterness of pineapple by slicing off all the "eyes" — the black bits in the outer flesh — before you serve it. ¦  Toss shredded Ecuadorian mango with a little dark soy sauce, sugar, chilli and a squish of lime. ¦  Coat skinned slices of plantain bananas in a light batter, fry and dust with icing sugar for a hot treat. ¦  In the 18th century, it was commonly believed that durian shouldn't be eaten with coffee or alcohol, as it would cause painful indigestion. I have never tested the theory. ¦  Peel away the skin of the papaya and scoop out the little black seeds before eating. They're supposedly a contraceptive for adult male langur monkeys, but that's no reason for a human to eat them. ¦  Make a hole at the top of a baby coconut big enough to put in a straw and a spoon. Add a shot of vanilla vodka, a dash of lemon juice and soda over ice.