Apr 20, 2021 Food
What to drink now — bottom shelf and top, home and abroad, natural and just, y'know, wine.
Welcome to the most disparate list of wine recommendations you're likely to read in 2021. While it covers everything you could find on a shelf or website from $18 to $160 a bottle, from North Island to South Island, Australia and California, it is not random. These are the wines our expert panel rated the highest. They are wines that are interesting and unique and, just as importantly, delicious.
With the unabashed aim of promoting wines of personality, interest and charm comes the obvious corollary that the not-so-straightforward wines often get a look-in. This is why you'll see a grüner veltliner, an Alsace-style blend, a medium riesling and a fumé blanc all within just one category.
Yes, you've also got a heap of chardonnays to choose from, too, but even here, the range of styles and stories and regions is quite remarkable. Such is the spread that sometimes the hardest part of all this is realising what's been le out, or just missed getting some attention. Two young female winemakers, Eva Pemper of Eva Pemper Wines and Alice Rule of 3sixty2, missed out by the slimmest of margins — as did Hawke's Bay favourites Stonecroft and Waipara darlings Muddy Water.*
Not that that should detract from the list we have. Tamra Kelly-Washington (of Kelly Washington Wines) continues to prove what a fantastic winemaker she is, while Nelson's under-the-radar Kahurangi Estate nabbed five places in the final cut. Villa Maria took out a handful of spots in the rundown, from Esk Valley's glorious $160-a-bottle The Terraces, to Leftfield's cracker $18 pinot noir — that's the kind of asymmetry that appeals to anyone.
Hawke's Bay makes a good account of itself, with Trinity Hill, Pask, Bilancia, Oak Estate and Sacred Hill each featuring with at least two wines in the Top 50. In all, the East Coast region clocked up 20 wines here — nearly half of our list.
It's also incredibly heartening to see organic producers not just featuring here but doing so on their own merits and so convincingly (Te Whare Ra, Windrush and Mount Edward all had two wines in the Top 50, with many other organic wines in there as well). There is no reason there cannot be even more.
And if I could ask for more, I'd ask for more "unusual" grape varieties, more "unusual" wine styles and more low-intervention wines. But we've still brought you an incredible spread of bottles, each one of which is worth checking out.
Energetic Whites | Rich Whites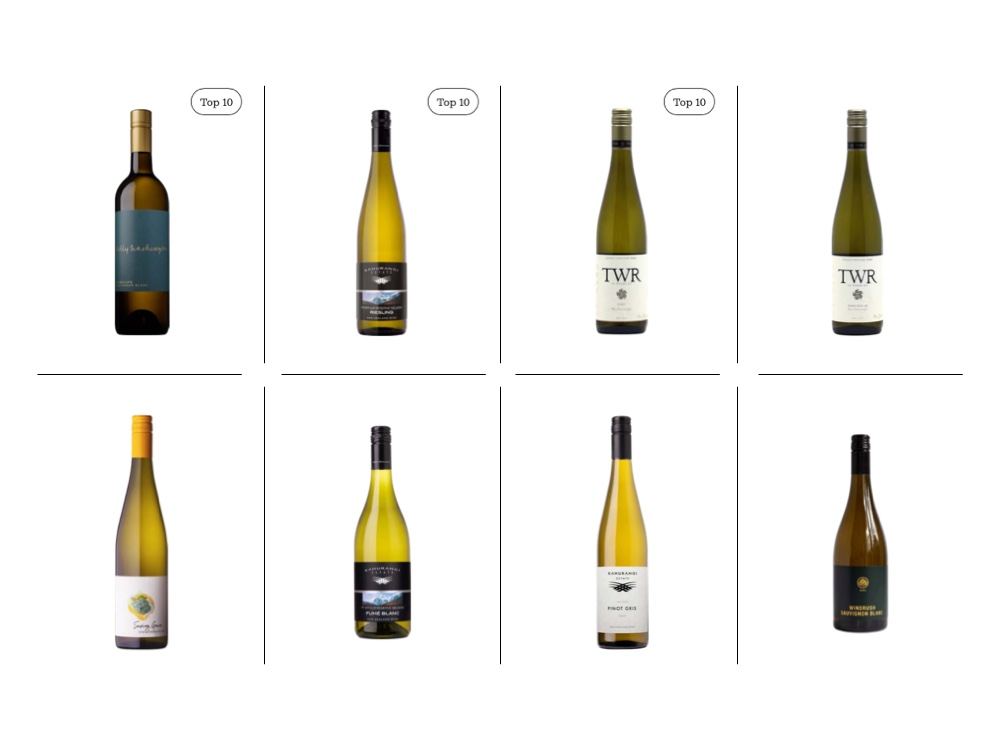 Energetic Whites
KELLY WASHINGTON MARLBOROUGH SEMILLON SAUVIGNON BLANC 2018
$34
Best in Show, Top 10
Another fantastic result for Marlborough-based Tamra Kelly-Washington, who continues to garner wide praise for her clearly excellent wines. This is not your typical New Zealand sauvignon blanc, but it's not your classic Bordeaux white, either. A fantastic, individual wine from organic and biodynamic fruit that is still so well done that even detractors of the grapes will likely be won over. Smoky, beeswax, zesty marmalade on the nose, with a nutty, lingering acidity. For Andrea Martinisi, the wine finished on a chamomile note, and Renée Dale noted that the "lingering acid salts [were] clinging to my tonsils".
KAHURANGI ESTATE MOUNT ARTHUR RESERVE, NELSON RIESLING 2017
$22
Best Buy, Top 10
This riesling has that developed note of petrol and kerosene that is normally associated with a bit of age. This also comes with a fair touch of smoky reduction and some lemon and floral notes, and is an off-dry wine with all the acid line and drive you could want. This divided the tasters a bit, with the more technically minded less inclined to forgive its trespasses while others really rated its zippy acidity and lively lemon character.
TE WHARE RA TORU MARLBOROUGH 2020
$22
Best Buy, Top 10
Toru (for 'three') in this case, something of a classic field blend of three Alsatian varieties: gewürztraminer, riesling and pinot gris. Te Whare Ra has carved out a name for itself in Marlborough and crafts somewhat individual, BioGro-certified organic wines. There's a really lovely line and drive across this wine, which is made all the more intriguing by being an aromatic blend. "Vibrant, clean and full of life," said Dale. This is a white wine well worth seeking out.
TE WHARE RA "M" MARLBOROUGH RIESLING 2020
$28
"M" for "medium-dry", one presumes. Riesling gets an unfair reputation for this style of wine because it's all too easy to focus on the sugar. The reality, though, is that riesling has something of an uncompromising level of acidity and the sugar is the perfect foil to this. Added to which, proper medium rieslings should have low levels of alcohol (normally around 9%), making a balanced, delicious, light wine. This is no exception, with a lovely, almost oaty and blossom nose.
VILLA MARIA SINGLE VINEYARD SEDDON MARLBOROUGH PINOT GRIS 2019
$30
Villa Maria's Seddon vineyard sits in the lower Awatere Valley. While Marlborough is usually synonymous with the Wairau Valley (where most of the province's wineries and vineyards are located), the Awatere sits just over the Wither Hills, to the south. It's cooler here, and the wines from this sub-region tend to show it — which is all to the good for a grape like pinot gris, which loves to drop its refreshing acidity like it's going out of fashion. And it's this acidity that really lifts this wine above others in the category. "Wet wool, lanolin, mineral, saline, tickling tannins and great balance," said Dale.
SAVING GRACE WAIPARA GRÜNER VELTLINER 2019
$28
Part of the bigger, trans-tasman Accolade group of wineries, Saving Grace is a Waipara-based brand fronted by Kiwi winemaker Krystal Palmer and vineyard manager Jean-Luc Dufour. While it might seem that New Zealand is the perfect mirror for grüner's spiritual homeland, Austria, not much of the variety is planted on our shores. This Saving Grace wine shows classic grüner varietal characters with an almost savoury, peppery nose and a nice fine palate, with some great acidity. There's a texture to the finish that would suggest an a inity to almost any aperitif you care to name. But if you want to go full Austrian, pork sandwiches would be a nice touch.
KAHURANGI ESTATE MOUNT ARTHUR RESERVE NELSON FUMÉ BLANC 2019
$22
Best Buy
Fumé blanc is something of an old-school style of sauvignon associated with barrel ferments of the variety on the Californian coast. Experts and pundits have a habit of disparaging fermenting sauvignon blanc with oak but when prejudice is stripped away, it can be a compelling combination. The same is true here, where the style shows a palate that really is quite beguiling. "Simple, but so well done," said Dale.
THE DARLING ORGANIC MARLBOROUGH SAUVIGNON BLANC 2020
$25
Best Buy
The Darling is the project of winemaker Chris Darling and viticulturist Bart Arnst, who source fruit from organic growers in the region. There's a flinty element to the nose of this wine combined with a very linear (some might say "austere") acid backbone that really drives it along and keeps it interesting to boot. "One of the most noteworthy sauvignon blancs," said Martinisi, praising its textural palate and herbal qualities.
KAHURANGI ESTATE NELSON PINOT GRIS 2020
$17
Best Buy
Interesting that the two pinot gris wines that make the cut come from somewhat cooler climes. In both cases, I think it's the retained acidity associated with a colder microclimate that helps to lift the pinot gris above its generally bland (if reasonably popular) flavour profile. This one has pretty aromatics and a balance that just seems tighter than your average pinot gris.
WINDRUSH MARLBOROUGH SAUVIGNON BLANC 2019
$23
Best Buy

Classic sauvignon blanc, well crafted, from organic fruit grown on a relatively small scale. There's no catch. "So complete," said Dale of this wine, praising its floral, smoky aromas and "cool, phenolic crunch".
BRYTERLATER STILL LIFE NORTH CANTERBURY SAUVIGNON BLANC 2019
$33
James Graves Opie (formerly behind Valmont Wines) is the winemaker behind new label Bryterlater and is clearly going to be one to watch. This is a fantastically interesting sauvignon blanc, combining the variety's naturally zippy acid with a lovely, almost creamy mouthfeel from a wine that's been left on its lees and given a good stir every once in a while. Edmundo Farrera found a beguiling "vegetable and sherry" note.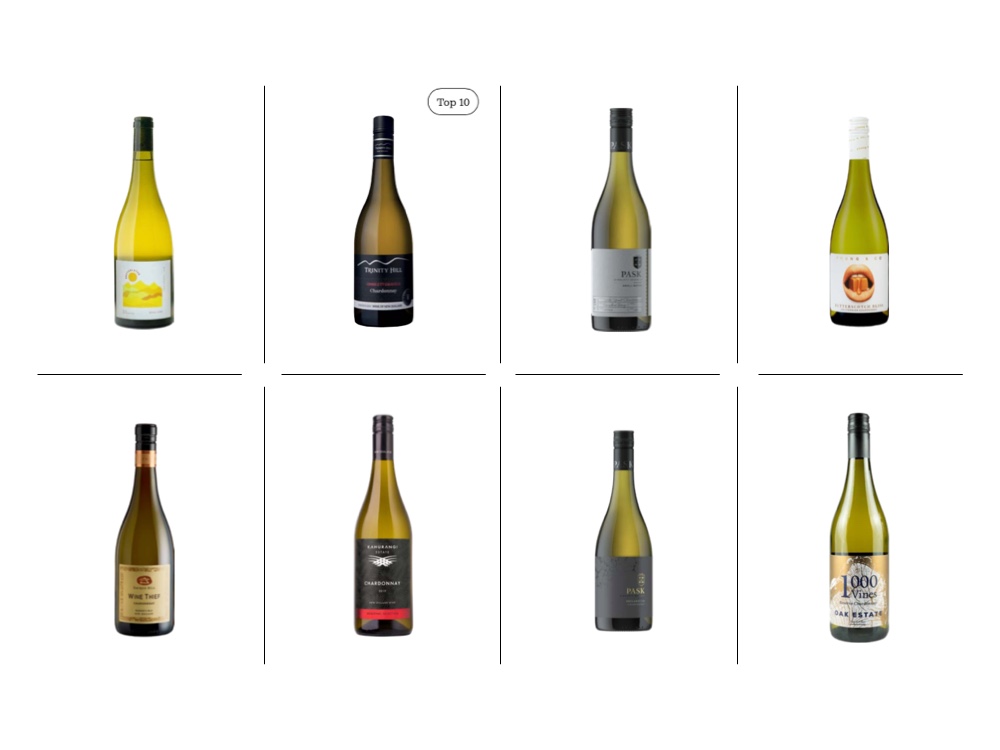 Rich Whites (basically the chardonnays)
TRINITY HILL GIMBLETT GRAVELS CHARDONNAY 2019
$40
Top 10
A showstopping chardonnay from Hawke's Bay stalwart Trinity Hill and its powerhouse winemaking team of Warren Gibson and Damian Fischer. The Gimblett Gravels is often pegged as a red-wine area, but with good yield and canopy management, whites can really flourish here, too. This is a modern — for want of a better pigeonhole — style of chardonnay with lingering acidity and notes of reduction on the nose (struck match). This wine still retains chardonnay's charm, too, with great use of oak. "Pear, apple, oak, butter, brioche, delish," said Nikki Weir.
VILLA MARIA RESERVE HAWKE'S BAY CHARDONNAY 2019
$35
Top 10
Although Villa Maria is among New Zealand's largest wine companies, one of the things often forgotten about it is the great range and diversity of its vineyards in the regions in which it operates. This wine comes from four sites across Hawke's Bay, from the warmer Lyons vineyard on and next to the Gimblett Gravels, Waikahu in Bridge Pa, through to the cooler climes of Mangatahi with growers Two Terraces and Keltern. Effectively, however, all the sites are linked by the Ngaruroro River. This wine belongs to the relatively new school of chardonnay, with earlier picking flavours helping to retain acidity and a higher proportion of unsettled barrel ferments aiming to give body and toast. It's got all of the above, with a touch of smoky reduction in the mix, too.
ESK VALLEY WINEMAKERS RESERVE BAY VIEW HAWKE'S BAY CHARDONNAY 2019
$40
Two Top 15 wines from what is basically the same vineyard. The Terraces site occupies the steeper, more amphitheatre-like portion of the hillside around the old Esk Valley winery site. Immediately below this, as the land flattens out (but still slopes down towards the sea), is the chardonnay that goes into this wine. There is an element to this wine that is free of artifice — which is a strange thing to say about that most winemaker-y of varieties — but it really just seems happy in its skin. Floral and pretty, with lovely palate weight.
PASK GIMBLETT GRAVELS WILD YEAST HAWKE'S BAY CHARDONNAY 2019
$25
Best Buy
Again, another chardonnay that shows the real potential for the variety on this de facto redwine piece of land. This got the editor's approval, landing Henry Oliver's "wine of the flight" moniker. And there really is a lovely nutty, smoky nose to this wine, which seems a little broad on the palate but finishes nice and dry. "Hay, silage, lemon, lime, salt — yum," said Dale, adding that the wine ended on a salted caramel note.
BILANCIA HAWKE'S BAY CHARDONNAY 2018
$35
Hawke's Bay likes to bang the river drum when it comes to talking about its vineyard sites and it's true, many of the region's vineyards are found on ancient (and not-so-ancient) riverbeds and terraces. But the soils on hillside vineyards in the area are gems in their own right. Esk's The Terraces and Bilancia's La Collina site are two prime examples of what can be achieved with a bit of slope and a lot of love. "I liked the 'juicidity'", said Dale, coining a term that perfectly captured the wine's judicious balance of juiciness and fresh, lively, acidity
SAINT CLAIR MARLBOROUGH ORIGIN CHARDONNAY 2019
$20
A blend of vineyard sites from across the Wairau Valley and partially fermented in French and American oak. A real winner for Dale, who rated it highly from start to finish. "Great colour, lime and arrowroot biscuits with fabulous green grapefruit," she wrote, before adding that this wine ticked all the boxes. "It's got momentum," she said later, "and I want to ride that wave all the way in." Weir noted "apple pie and slightly savoury notes ending on toasted almonds". "Summertime," said Farrera.
YOUNG & CO BUTTERSCOTCH BLISS CALIFORNIA CHARDONNAY 2019
$22
Best Buy
If you want to take chardonnay in a bit of a wild-card direction, this could be the wine for you. To a degree, it does what it says it'll do, providing some of those buttery vanilla aromas (along with a big, rounded palate) that seem to have gone out of fashion/come back/gone and come again, depending on who you ask. There's more to it than this, though, with more than one taster praising the wine's juiciness, its pear-drop, orange-blossom and spice notes. "It's really nice," said Dale, "I'm just not sure it's chardonnay."
PIRINOA ROAD HAWKE'S BAY CHARDONNAY 2019
$20
Best Buy
Pirinoa Road is Martinborough-based, but in this instance it sourced its fruit from further north. This wine shows some mineral, blossom and talcumpowder notes with a lovely, lingering palate. Dale loved the "crème brûlée nose" combined with the "lemon sorbet palate". Martinisi noted the almond perfume and fresh finish. "Vanilla and pineapple," wrote Farrera, while Weir noted "lychee, brioche and honeysuckle". Take your pick.
SACRED HILL WINE THIEF HAWKE'S BAY CHARDONNAY 2019
$35
A "wine thief" is that outsized pipette you see winemakers using in their cellars to draw samples from barrels of maturing wines. This Wine Thief Chardonnay is touted as a second wine to Sacred Hill's top-tier Riflemans Chardonnay, and it certainly shows a certain self-assurance. There's an aromatic note to the nose and a really lovely, almost saline, lingering finish. "I would drink this in winter," said Farrera, "there are just so many layers."
KAHURANGI ESTATE NELSON CHARDONNAY 2019
$18
Best Buy
Another solid effort from Nelson-based Kahurangi Estate. "Hay, oaky sulfide, marmalade, rich, obvious oak," said Dale, adding that the wine had a lingering acid/salt combination on the back palate. Farrera found rich toffee and caramel notes, while Martinisi noted "custard and beeswax".
PASK DECLARATION HAWKE'S BAY CHARDONNAY 2019
$40
Top-of-the-pile wine from Hawke's Bay's Pask winery. This is a classic chardonnay, and another wine that performed well across the whole panel — which is an achievement in itself. "Wet paper, grapefruit pith and great citrus drive," said Dale, while Martinisi noted "bread-crust, lemon and apple" on the nose.
OAK ESTATE 1000 VINES RESERVE HAWKE'S BAY CHARDONNAY 2018
$45
Another great wine from Hawke's Bay newcomers Oak Estate, albeit taking over an established vineyard (it was Salvare many moons ago). The fruit for this wine is sourced from the aforementioned thousand vines in the home block, where it was hand-harvested and fermented in French oak. "Orange blossom, brioche and pineapple," said Weir, adding that the wine had a warmth and length, finishing on peach and honeysuckle.
MAHI SINGLE VINEYARD TWIN VALLEYS MARLBOROUGH CHARDONNAY 2017
$39
Another good showing for Marlborough-based Mahi Wines, this time for chardonnay grown in cooler climes inland in the Wairau Valley, about 15km west of Blenheim. This was a particular favourite of Farrera, who loved its wild-herb nose and clean, pure palate.
LIGHTHOUSE WAIPARA THE BEACON 2017
$24
Best Buy
Lighthouse is the project of Canterbury-based winemaker Ben Austin. Quite an interesting number, this, with its fragrant notes of herbs, oak and spice. It is showing a bit of evolution, so if you like a somewhat developed chardonnay, check it out. Despite its age, though, it retains a lovely mineral note and a great length. "Great nose of quince and toast," wrote Farrera, adding "brandy and crème brûlée".
KAHURANGI ESTATE MOUNT ARTHUR RESERVE NELSON CHARDONNAY 2019
$28
Predominantly made from the Mendoza chardonnay clone and fermented and aged in a mix of French and American oak, this is a great chardonnay — nice, rounded, with some interesting oatmeal aromas. "Pear, stone fruits, apricot," said Weir, noting that the wine combined both minerality and warmth.
SACRED HILL SINGLE VINEYARD HAWKE'S BAY CHARDONNAY 2018
$25
Interestingly, another take on the Rifleman's vineyard. This combines aromatic interest with almost musky hints alongside a palate that delivers freshness and prettiness, with a fantastic saline edge to it. That two iterations of the same vineyard can rate so well in the same tasting only lends credence to what those at Sacred Hill already know: that the Rifleman's vineyard is a special spot.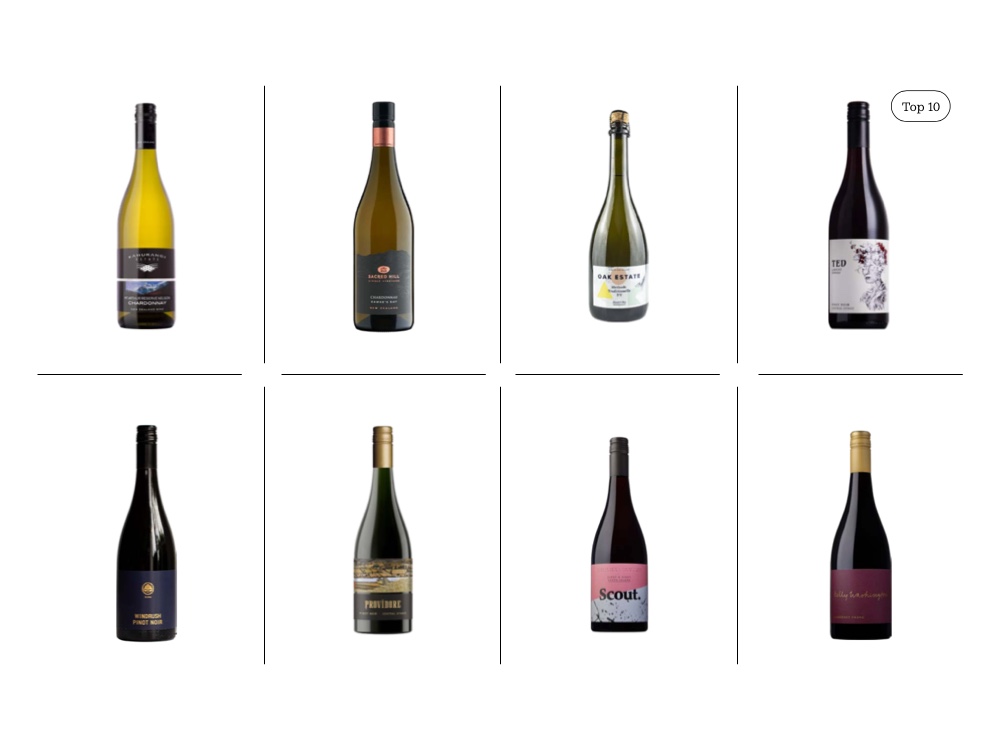 Inbetweeners (and sparklers)
SUPERNATURAL 'THE SUPER NAT' SPARKLING HAWKE'S BAY SAUVIGNON BLANC 2020
$40
Top 10
Everyone loves a pét-nat (from "pétillant naturel", French for "natural sparkling") The simplest method of making sparkling wine, you just bottle the wine before it has finished fermenting and that's it. Easy. This is a fantastic New Zealand pét-nat, made from sauvignon blanc grown organically on a hillside vineyard tucked just inland from the Hawke's Bay coastline, "Pears and quince," said Farrera. "Refreshes," said Weir.
OAK ESTATE MÉTHODE TRADITIONNELLE NV
$45
Swiss expats Nadine and Stefan Loetscher were the driving force behind Herne Bay's Pure restaurant for a decade before moving to Hawke's Bay and setting up Oak Estate, a restaurant property and cellar door surrounded by vines. Jascha Oldham-Selak looks after the winemaking. If you're looking for a classic, biscuity nose combined with a fresh, singing acidity, this is the bubbles for you.
SAINT CLAIR MARLBOROUGH ORIGIN PINOT GRIS ROSÉ 2019
$20
Best Buy
This wine is made from a blend of pinot gris and pinot noir. "Herbal, light, with a nice touch of fruit — aromatic," said Farrera. There's also a nice freshness to this wine and Weir found an intriguing "eucalyptus" note. Martinisi also found a "touch of sweetness". In all, one of the more interesting wines in the often-uninspiring rosé category.
Light Reds
MOUNT EDWARD TED CENTRAL OTAGO PINOT NOIR 2019
$35
Top 10

Last year, I called Mount Edward "perennial overdeliverers". Well, they've done it again. This time with a pinot noir. Mount Edward is a BioGrocertified organic producer with its own estate vineyards based in Central Otago. This one got a wild ferment, French oak, and no fining or filtration. The oak is a little forward at the moment but the palate is just the ticket: juicy, succulent, and incredibly moreish. "Fresh, warm, savoury, leather, chocolate, red fruits, delish," went Weir's tasting note.
UNTITLED "PURE MONGREL"
$25
Best Buy
Henderson-based Lee Winston crafts these multi-regional, multi-vintage wines from around the country. Buy a bottle and enter its lot number on his website and you'll get all the information about the blend. I don't care what anyone says, I love this approach. We tasted L19.10.04 — a 2019 red mostly from Auckland but with grapes from Marlborough, Hawke's Bay, Gisborne and Matakana also. The list runs to 10 varieties, red and white. It's a smoky, chewy, fresh and pretty red wine. "Light and earthy," said Farrera, who loved it.
WINDRUSH MARLBOROUGH PINOT NOIR 2019
$28
Windrush is a relatively new Marlborough grower/winemaker outfit headed up by Callum and Sarah Linklater. All of their wines are BioGro-certified organic. Again, a fair whack of oak shows through on the nose initially, but runs nicely through onto the palate, where it doesn't dominate. There's a lovely juicy "pop" to the fruit on the palate, though. Farrera really banged the drum for this wine, praising its "elegant nose, clean palate and great herbal notes".
PROVIDORE CENTRAL OTAGO PINOT NOIR 2019
$38
The personal project of Central Otago winemaking stalwart Pete Bartle, Providore specialises in pinot noir, pinot gris and rosés. This pinot noir is complex and juicy, Martinisi noted, and while Farrera admitted it wasn't his cup of tea, he nonetheless praised its deep, cherry notes and balance and grace on the palate. There is definitely a vibrancy to this wine combined with a cherry and spice interplay. Certainly worth checking out.
Scout Wines is headed up by the irrepressible Sarah Adamson who, with partner Greg Lane, settled in the South Island after stints winemaking around the world, including Australia. This is a pinot noir/pinot gris blend that is so fresh, it makes you wonder why more nouveau-style wines are not made. There is a touch of grip to this one but it is one of those rare wines that scored well across all members of the panel.
KELLY WASHINGTON CENTRAL OTAGO PINOT NOIR 2018
$60
Yet another cracker from Kelly Washington Wines. Funky nose, nice palate, juicy — what's not to like about this wine? The fruit hails from Gibbston, Central Otago, and is handpicked and fermented with a portion of whole bunches before being put to French oak for 11 months. It is unfiltered. "Strawberry, sour cherry — mouthwatering," said Weir.
VILLA MARIA SINGLE VINEYARD THE ATTORNEY ORGANIC PINOT NOIR MARLBOROUGH 2017
$70
This wine comes from predominantly Abelclone vines on land that once belonged to an Attorney-General and was BioGro certified as organic in 2012. Despite Marlborough's propensity to produce bright, fruit-forward wines, there's a baked element to the fruit here that isn't detrimental to the wine. "Yummy," said Weir. "Warming, raspberry, high acid." A really interesting, bright but warm pinot noir from a cooler region in a tough vintage.
MAHI MARLBOROUGH PINOT NOIR 2019
$34
Mahi is a project of long-standing Marlborough couple Brian and Nicola Bicknell. The grapes are hand-picked and a portion keep their stems in ferment. The wine gets 10 months in French oak before bottling. There's a lovely cherry-and-toast note. Farrera noted cranberries and soft acidity. This is a savoury, lingering, delicious pinot noir.
KELLY WASHINGTON HAWKE'S BAY CABERNET FRANC 2018
$45
Cabernet franc is one of the varieties getting more and more attention as tastes evolve beyond the classic staples that adorn our supermarket shelves. Almost synonymous with Loire Valley reds, cabernet franc combines the lightness of foot of pinot noir with the tannin of cabernet sauvignon and has a raspberry leaf aroma signature all of its own. There's something a little wild and primal to the fruit here, too. Martinisi really enjoyed the combination of "red fruits and black olives", which sounds odd, but really sums up cabernet franc, I think.
UNKEL JURASSIC NELSON PINOT NOIR 2020
$34
At the tiller is Rob Burley, who spent several years hanging around with bright young things and Australian natural winemakers Bill Downie and Patrick Sullivan before returning to New Zealand to eventually start Unkel. This is a funky beast, with prehistoric acidity and drive. I want to like this wine based on the label alone but there's more to it than that — which is a relief. "Savoury, forest floor, leather and tannin," said Weir.
LEFTFIELD MARLBOROUGH PINOT NOIR 2019
$18
Best Buy
Crafted by Hawke's Bay-based winemaker Richard Painter (who heads up the Leftfield brand in the Villa Maria stable), this is without a doubt one of the more widely available wines on this list, gracing supermarket shelves throughout the country. Despite its commercial leaning, there's still a lot going for this pinot noir, which shows great freshness and juiciness. "Bright fruits and some oak influence," said Weir. "Ripe strawberry and forest floor," added Martinisi.
MOUNT EDWARD CENTRAL OTAGO PINOT NOIR 2018
$49
A combination of whole-bunch and de-stemmed pinot noir fruit with a natural ferment and 11 months in French oak (15% new), this wine combines strawberry and raspberry fruit notes with a lovely, long finish. "Sappy, elegant, savoury, with dried flowers and forest floor," said Martinisi. What more could you want from a pinot noir?
Bigger Reds
BILANCIA HAWKE'S BAY SYRAH 2019
$35
Top 10

Bilancia is the project of the hugely respected husband-and-wife winemaking team of Lorraine Leheny and Warren Gibson (who lends his name to two wines in the Top 10). The fruit from this wine comes from their phenomenal hillside vineyard, overlooking the Gimblett Gravels. This is quite the syrah. "Juicy, ripe blackberries and black pepper," said Martinisi, and there really is a dense, brooding nose to this wine. It also has a real velvet, supple, generous palate. Really good stuff.
ESK VALLEY THE TERRACES HAWKE'S BAY MALBEC MERLOT CABERNET FRANC 2018
$160
Top 10
Another wine in the Villa Maria stable and yet another example of a truly unique terroir, or vineyard site. The Terraces is a New Zealand icon — due in no small part to grandmaster winemaker Gordon Russell's continued dedication to a brand almost as synonymous with him (he's been at the winery since 1990) as it is with the unique hillside terraced vineyard overlooking the sea. This wine shows real class, with polished, perfumed oak and a lovely sweet fruit core. Martinisi noted the perfume of "soft violets and graphite", while Weir enjoyed its youthful vibrancy. Quite the wine.
SOMOS TINTITO
$30
Top 10

"Somos" means "we are" in Spanish and they are winemakers Ben Caldwell from Australia and Mauricio Ruiz Cantú from Mexico. Crafting minimal intervention wines out of McLaren Vale, this is a multi-region blend of 39% grenache, 27% touriga nacional, 24% tinta cão, 5% carignan and 5% cinsaut. This is a big wine, make no mistake. "A monster!" exclaimed Farrera. It's warm, dark, red and almost chewy. If you want a break from New Zealand reds, this is the wine for you.
TRINITY HILL GIMBLETT GRAVELS TEMPRANILLO 2019
$35
Tempranillo is a Spanish import, rarely seen on our shores, and more readily associated with the wines of Rioja and Ribera del Duero. It's a shame there isn't more of it around (it can be found as far south as the Wairarapa, though) as its fruity, sometimes rustic charm is hugely underappreciated. The grape gives aromas from raspberry to tobacco leaf, and while there are broody notes of this on the nose, it's the palate that really works on this wine, showing a very supple structure. Weir and Martinisi noted the dark fruits and tannic but beguiling mouthfeel.
VILLA MARIA GIMBLETT GRAVELS NGAKIRIKIRI 2014
$150
Ngakirikiri, Villa Maria's recent flagship red wine (the first vintage was 2013), is named after a top-quality site on the Gimblett Gravels. It's designed to be an icon wine, so there's always a tinge of ambivalence about rating quite so highly — the phrase "gilding the lily" springs to mind — but there is no denying its appeal. First off, the aroma really is what some in the trade call "come hither": broody, inky, beguiling. There is a lovely juiciness to the wine, which needs to be there because the Gimblett Gravels tannins are undeniably present, too. A beautiful, serious wine.
MISSION BARRIQUE RESERVE HAWKE'S BAY CABERNET SAUVIGNON 2018
$25
Best Buy
Laying claim to the title of New Zealand's oldest winery, Mission Estate just seems to keep trucking along with the self-assurance that must have been evident in its missionary founders. There is a somewhat closed element to this wine but between Weir, who rated it for its big fruitiness, and Farrera, who, conversely, really liked its almost stalky bitterness, you get an idea of its appeal.
TRINITY HILL HOMAGE HAWKE'S BAY 2018
$136
Homage — a "homage" to the syrah-based wines of the Northern Rhône — is Trinity Hill's flagship wine. Praising this, and Villa Maria's Ngakirikiri and Esk's Terraces, is something of an act of supererogation. But there remains a reassuring element that, in a blind tasting, these wines still perform. "Full-bodied, high tannins, high acid, powerful and fruit-forward," Weir said of the Homage. Farrera noted a dry spice and an almost Valpolicella-like note to the wine.
PASK DECLARATION HAWKE'S BAY SYRAH 2019
$50
Another good showing for Hawke's Bay flagbearers Pask. There's an interesting, spicy, lifted, cinnamon nose — it's almost like sniffing bark. There is, though, a plump, juicy palate — a quality sometimes lacking in Hawke's Bay syrahs, especially on some of the drier sites. "Perfumed, light and bright. Good finish, very drinkable," said Farrera.
Judges: Renée Dale, Edmundo Farrera, Andrea Martinisi, Henry Oliver, Oliver Styles, Nikki Weir
Editor's note: Oliver Styles is one half of Halcyon Days, the producer of some of Metro's favourite wines, which (for obvious reasons) were not included in this tasting.