Jan 8, 2013 Drinks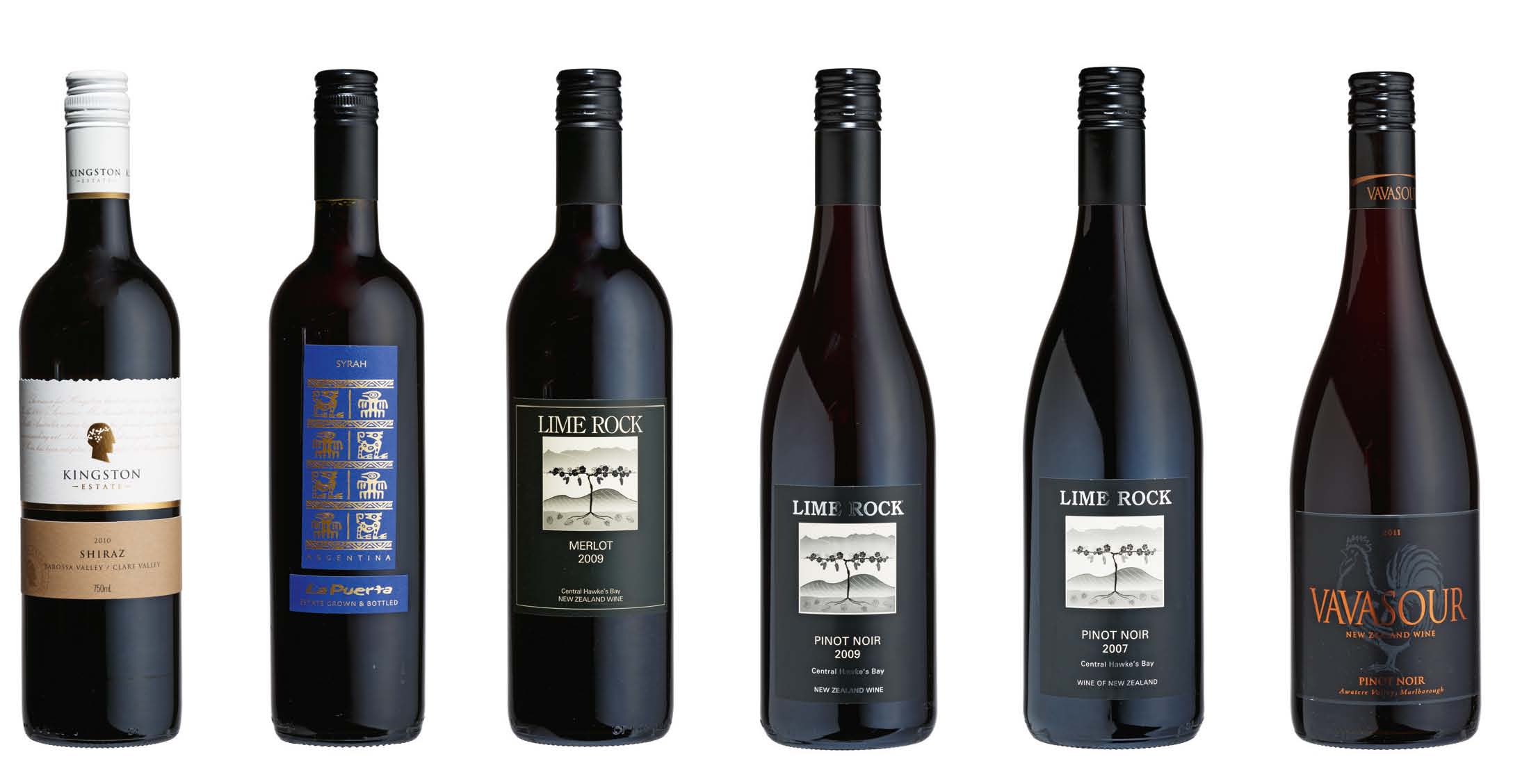 Good with a wide range of dishes, especially game.

Cable Bay Pinot Noir 2011, Central Otago. $35
A more extractive style of pinot, with dark fruits, spicy oak, chewy tannins, almost a liqueur-like intensity on the palate and
a dried-fruit, savoury finish. Really needs food to show its best. 14.5 %.
Castillo de Fuenmayor Gran Familia 2010, Rioja DOCa. $20
Game-meat, fruit-spice and liquorice notes; a supple, textured wine with great panache and personality. A benchmark example of rioja
at a very sharp price. 12.5%.
Concha y Toro Casillero del Diablo Shiraz 2011, Rapel Valley. $16
A pretty, simple yet fruit-oriented version of syrah, with raspberry and savoury notes. The spice characters are very restrained, and the palate shows supple, juicy tannins. 13.5%.
El Burro "Kickass" Garnacha 2011, Navarra. $19  BARGAIN
Fans of rojo garnacha will recognise the intensely fruity, plump, approachable style, with juicy tannins and moderate acidity. But this is a supercharged version — very ripe and very concentrated, sure to be a barbecue hit this summer. 14%.
Kingston Estate Shiraz 2010, South Australia. $17  BARGAIN
This budget-priced Aussie red has generous dark berry fruit, moderate spice and pepper, and friendly, juicy tannins. An upfront, fruity red that should be a real crowd pleaser. 14%.
La Puerta Syrah 2012, Famatina Valley. $19  BARGAIN
This Argentine syrah is intensely fruity and ripe; currants, dried herbs, smoky bacon, with spicy overtones. Meaty and dense in the mouth, with a long, dry finish. Very smart stuff. 13.5%.
Lime Rock Merlot 2009, Hawke's Bay. $21
An elegant, structured wine, with primary characters of plum, raspberry and leather. The outstanding feature here, though, is the lovely texture, with its fine, chalky tannins
and tight, dry finish. 14.5%.
Lime Rock Pinot Noir 2009, Hawke's Bay. $35
Dark cherry, spice and smoky characters, not a weighty wine, yet the palate is ripe and textured. Great finesse and elegance, this is a classy, fine, dry pinot, very much like Burgundy in structure. 14.5%.
Lime Rock Pinot Noir 2007, Hawke's Bay. $28
The older Lime Rock pinot has sweeter, more obvious fruit, yet with the same fine acid structure and chalky tannins. Moderately complex, suave and sophisticated, this will put a smile on the face of any true pinot noir fan. 13.5%.
Parusso Barbera d'Alba 2011, Piedmont DOC. $33
This northern Italian red exhibits dark berry fruit overlaid with savoury, earthy characters, moderate to high acid, but soft tannins. A characterful wine with a textured mouthfeel. 14%.
Vavasour Pinot Noir 2011, Marlborough. $34
Sweet plum and cherry fruit, enhanced by toasty oak and svelte, juicy tannins. Not especially complex, but this is a plump, fruity, generous wine, medium weight, well balanced. 14.5%.
Previously: Light and Aromatic Reds