Jan 9, 2013 Drinks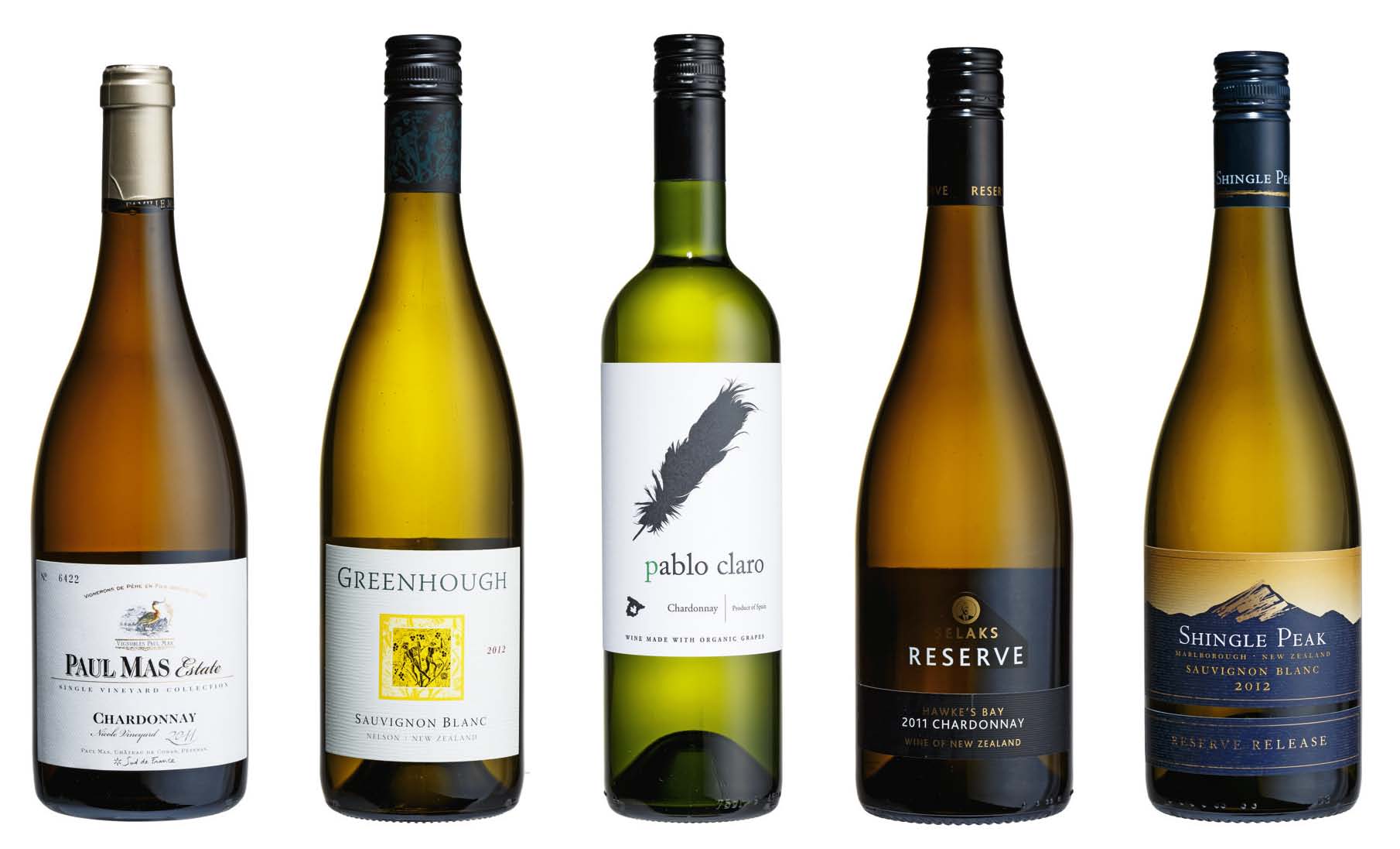 Textured wines that go well with lighter dishes.
900 Grapes Chardonnay 2011, Marlborough. $20
Citrus fruit with a splash of spicy oak, not completely dry, but a generous, fruity wine that will appeal to a wide audience. Well priced. 14%.
Auntsfield Sauvignon Blanc 2012, Marlborough. $25
Auntsfield is making some of Marlborough's most exciting wines and this latest vintage of sauvignon blanc is no exception: pungent, intense, weighty wine with an edgy, minerally complexity. 13.5%.
Cloudy Bay Riesling 2010, Marlborough. $34
An evocative nose of citrus blossom and riverstone; although only medium-dry, the wine seems rich and luscious, with a wonderful thread of acidity coming through on the finish. Classy stuff. 10.7%.
Domaines Paul Mas Chardonnay 2012, Languedoc. $20
This southern French white shows really good fruit, melon, fig and ripe stonefruit, relatively simple and soft mid-palate, firmed up with some gentle acidity on the finish. 13.5%.
Greenhough Sauvignon Blanc 2012, Nelson. $22
This expressive Nelson wine has a wonderful nose, redolent of capsicums, tropical fruit and passionfruit. Fruity and plump, this is classic sauvignon blanc for sauvignon lovers. 13.5%.
Joseph Drouhin Macon-Villages Blanc 2010, Burgundy. $26
This excellent entry-level white Burgundy (the home of chardonnay) exhibits just a hint of sappy oak, but otherwise is a textured, mealy, food-friendly style of wine with a firm, dry finish. 13%.
Nautilus Pinot Gris 2011, Marlborough. $29
Quite ripe, honeyed bouquet, with sappy, earthy secondary notes in the mouth, firm alcohol and just off-dry, but this is largely a textural, pithy wine to pair with lighter dishes. 13.5%.
Pablo Claro Chardonnay 2011, Castilla. $19
This fine Spanish white shows no overt oak characters, but there are some lovely textural components and an earthy, savoury, secondary element. Apple-y acidity, nicely balanced and poised. 13%.
Pyramid Valley Kerner Estate Pinot Blanc 2010, Marlborough. $36   TOP 10
Mid-gold, peach, citrus, honeyed fruit, with toasty, spicy undertones, but this is very much a textural wine, with a long finish and bold impact that would convert any dedicated pinot gris drinker into a pinot blanc fanatic. 14%.
Pyramid Valley Twin Valleys Savagnin Rose 2010, Waikari. $36
Savagnin rose is the non-aromatic version of gewürztraminer, and this has that same pithy texture and pronounced stonefruit characters. A fascinating wine that will stand up well to rich, fatty foods. 14%.
Selaks Reserve Chardonnay 2011, Hawke's Bay. $22
Ripe fruit on the nose, pineapple, papaya and peach, a lick of oak and sweetness to taste, and although relatively uncomplicated, this is a satisfying, everyday style of chardonnay. 13%.
Shingle Peak Reserve Sauvignon Blanc 2012, Marlborough. $22
2012 has produced a number of concentrated, flavourful sauvignons blancs, and this is another cracking example. Excellent value. 14%.
Stoneleigh Rapaura Series Pinot Gris 2012, Marlborough. $30
Subtle fruit here — apples, pears, perhaps even pink grapefruit — but this is all about the palate: toasty, savoury development and a creamy mouthfeel. Good weight and great balance. 14%.
Valdesil Montenovo Godello 2011, Vilamartín de Valdeorras DO. $30
Godello is an ancient Spanish variety which, with modern winemaking, produces exciting white wines like this. Delicate citrus and tropical fruit, creamy mouthfeel and fresh finish. 13%.
Previously: Light & Fruity Whites