Jun 23, 2019 Drinks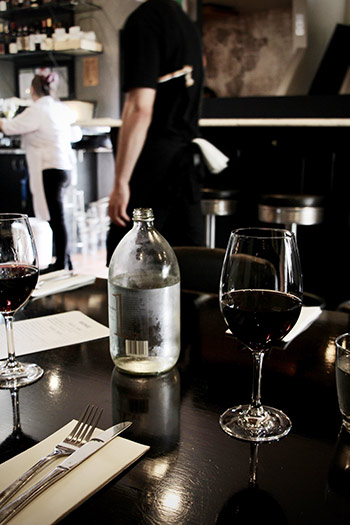 A stunning dining experience isn't just about food and wine. Water plays a big part too. Bottoms up…
To enjoy wine at its best, all the typical requirements are familiar — glassware, serving temperature,the right food match, and dealing with occasional cork issues. But what about what's in the glass to the left of the wine? How does the flavour profile of the water accompanying your swill of choice affect the taste of the wine?
Being 100% New Zealand owned, Antipodes is a long-time supporter of the New Zealand hospitality scene and the Metro Restaurant of the Year awards, as well as passionate believers in the value of drinking quality mineral water alongside quality wine. A core philosophy is good water should let you enjoy the wine as the winemaker intended: water has a supporting role, it's not the main act, and it should enhance the dining experience.
As with wine, there are factors that influence a water's flavour, such as minerality, whether it's still or carbonated, and the bottle itself. When it comes to packaging, traditional glass is best: drinking chlorinated tap or plastic-tainted water alongside a good wine just doesn't make sense.
It was the low minerality in the Antipodes aquifer that appealed to its founder Simon Woolley back in 2003. Working and living between New York and Mexico for several years, and a non-alcohol drinker himself, Woolley became aware of the flavour variance between international brands of bottled waters. Returning to New Zealand and immersed in the burgeoning hospitality industry, he was disappointed to find that while there was a proliferation of high-quality and organic produce and wines, the water being served to tables was imported from Europe. For Simon, the purity of New Zealand water should have been a standout feature of the hospitality scene.
Following lengthy discussions between like-minded friends and a year of research, four key factors were identified that met Simon's prerequisites: the water should have a very low mineral composition so as not to affect the palate, with a purity that enabled it to be bottled at the source with no cleaning or chemical additives required.
Antipodes' Bay of Plenty aquifer was selected after Woolley took samples to Master of Wine Michael Brajkovich to blind taste with the question, 'Which of these four waters would you prefer to taste against your best wine?' At its core, Antipodes was designed to be a water that doesn't interfere with wine.
The ambition of the original Antipodes founders for bottling a pristine water at the source, with little environmental impact, is evident at every level of production. Water flows to the surface naturally at the artesian aquifer, where it is bottled to order to ensure freshness. Seeing themselves as custodians of a special resource, the founders' preference is to leave the 50- to 300-year-old water in its natural state, keeping it as untouched as possible.
To consider how different water profiles affect the way wine tastes, MW and Metro wine writer Paul Tudor, Metro editor Henry Oliver, and water and wine connoisseur and Antipodes advocate Morven McAuley gathered to experiment. The group sat down with a line-up of Antipodes still and sparkling water, a selection of European mineral waters commonly found on restaurant tables, and Marlborough sauvignon blanc, chardonnay and pinot noir and an Argentinian malbec.
"Go through all the waters with the whites, then do the same again with the reds," McAuley asked the group. "Think about the water as you would wine. Is it full bodied? Is it oily? What's the texture? Once you've swallowed the water, what's the palate feeling — is it sweet, is it dry, is it refreshing?"
A standout impression is how the low minerality of Antipodes water allows the fruit and sweetness of the sauvignon blanc, chardonnay and pinot noir to come to the fore, compared to its European counterparts.
In technical terms, minerality is measured by total dissolved solids (TDS) per milligram — very small amounts, but still detectable as subtle flavour. Antipodes measures 130 milligrams per litre, made up mostly of silica which creates a silky smoothness in the mouth. The other waters in the tasting ranged from 308 milligrams per litre in a French still to 2488 milligrams per litre in a German sparkling. Dominant minerals, such as bicarbonate and calcium, also had an effect on the flavour of the wines.
After trying Antipodes and French still waters alongside the sauvignon blanc, Tudor noted that the "sweetness of the fruit disappears" with the French water and "the acid comes up — which is not a bad thing, some people like acid in their wine — but this wine should be gorgeous and luscious, opulent and tropical."
There's a similar effect on the chardonnay, a reduction in the fruit brings the oak to the fore. "Not a significant amount, but just enough to change what was quite an interesting, funky chardonnay to a more traditional oak-driven chardonnay," says Tudor.
A high bicarbonate content, as found in the French sparkling, has the effect of exaggerating the tannin in the malbec, which may suit a hefty food match — "it would be great if you were eating a big steak," says McAuley — but otherwise overwhelms the rich red berry fruits. "The tannins become much chalkier and firmer," says Tudor.
A consensus found the clean and subtle flavour of Antipodes was pure and refreshing and didn't interfere with the wine. "Antipodes opens up your palate to enjoy the wine," says Tudor.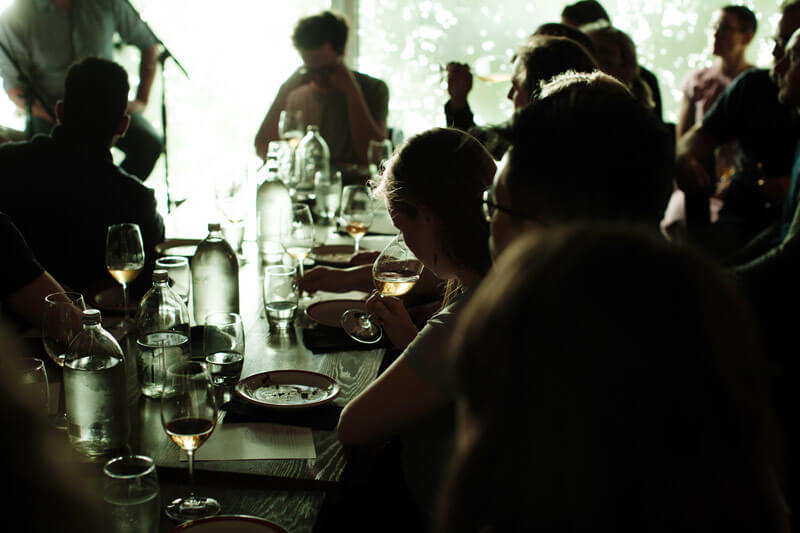 Still or sparkling?
"If people are going to buy water, they're usually going to buy sparkling," says McAuley. "The perception is it's fancy. It's special," says Tudor.
"When I'm out I want to get the most pleasure out of every component. Sparkling feels like a treat," says Oliver. "Before today, I would always order it because
I enjoy it. I just found the still is better for the wine."
The more carbon in the water the higher the acidity on the tongue, which is why there are only very delicate beads in Antipodes sparkling water, making it gentle on the palate and keeping it fresh. A good rule of thumb to follow is if there is a special glass of wine you're coveting, choose a water that's not going to mess with your palate.
Top tips for water and wine
Citric acid can affect the flavour of wine, so if you're drinking mineral water with your wine, don't add lemon or lime to the water.
If you're adding ice, remember it's likely to be made from chlorinated tap water, which can spoil mineral water. Waitstaff should have already chilled your mineral water to its correct temperature.
For a special occasion that calls for an indulgent bottle of wine or bubbly, think about the water you choose to drink with it. You don't want a memorable experience ruined with the taste of chlorine.
If your wine of choice has high acidity – think Sauvignon Blanc or Champagne – opt for still mineral water, not sparkling. That way you won't highlight the acidity.
Known for your sweet tooth? Choose a sparkling water with small bubbles that won't bloat you, so you have room for that tiramisu.
For more about still and sparkling water and how it can complement your dining experience, visit antipodes.co.nz.