Apr 18, 2018 Cafes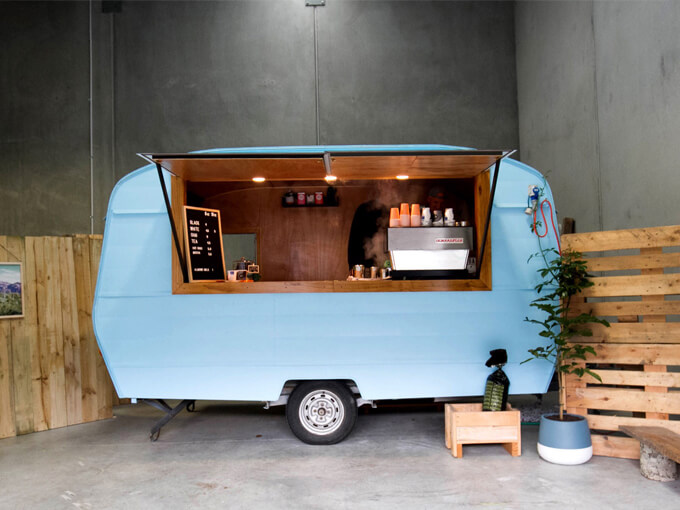 A new place to get coffee in Hobsonville
Yolanda and Wolfe is a little coffee caravan parked in Hobsonville with small but mighty dreams of delivering delicious coffee and baked goods to the west. Co-owners Amy and Chris Guy may just be the world's perfect coffee cart owning duo: Amy is a baker by trade and her husband is a coffee technician and barista. Her specialties are brioche doughnuts and gooey, sticky cinnamon buns which she claims even the most stoic patrons cannot resist.
After living in Melbourne they developed a love for the coffee the city is renowned for – so decided to bring it to west Auckland. Everything here is environmentally conscious from the compostable cups supplied by Innocent Packaging to the use of organic, fair trade Kokako coffee and Fine and Dandy teas – there's a delicious sticky chai.
The bright blue caravan clad in wood gives a rustic feel and the exposed interior of the van contrasts nicely with the stacks of Kokako coffee cups atop a shiny new La Marzocco. Complete with indoor plants and the concrete surrounds of its industrial setting, Yolanda and Wolfe looks like something you could find on the streets of Melbourne. 
The name was inspired by the movie Pulp Fiction, which the couple say they share personality parallels with. "My husband is like Winston Wolfe, cool, calm and collected," Amy says, "but more in an organisation sense, not in his ability to clean up dead bodies without putting a hair out of place." She describes herself as more of a crazy Yolanda-esque character, but we think you'll warm to her quite nicely.
Yolanda and Wolfe
Unit 5, 3 Workspace Drive 
Hobsonville