Mar 11, 2019 Cafes
The woman behind Herne Bay's Dear Jervois opens a new cafe in Remuera called Snö.
Snö Cafe occupies a light-filled corner lot of the new St Marks apartments in Remuera. They're undeniably luxe, with a lush green wall of plants climbing up the exterior to its penthouse apartment, sold for $6 million three years ago.
Owner Therese Hawkins migrated from Sweden to New Zealand five years ago, and not long after took over Dear Jervois in Herne Bay. After searching through the surrounding city fringe areas for a place to put her stamp on, she set her heart on St Marks. Enquiring minds who need to know: the name is just pronounced like "snow" and, spoiler alert, means snow in Swedish.
Although she thinks of Snö as a sister café to Dear Jervois, this one – which she's designed from scratch – has a distinctly Scandinavian feel. It's a generous, open space with white walls, herringbone floors and a splash of 'royal Scandinavian blue' across the counters which draw the eye directly to the cabinet, if the three glittery chandeliers hanging above them didn't do that first.
"A lot of new openings look similar," she explains. Hawkins was after something a bit more homely, a different interpretation to Auckland's thinking that Scandi means stark and minimalist. The fit-out is still clean, but not brutally so.
Read more: Auckland's best cafes 2019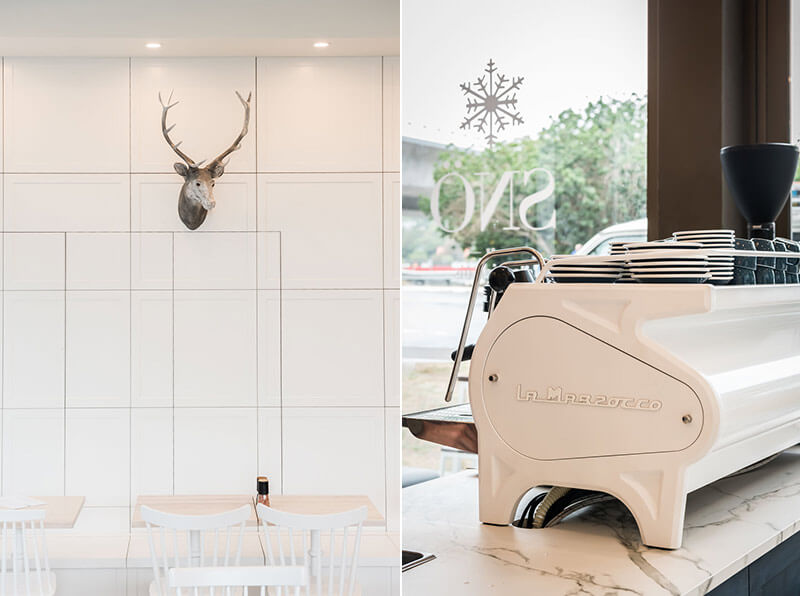 It seats 60; 110 in total if you add in the spill-over of seats and tables outside, looking into the development's leafy courtyard. On a nice summer's day, sitting outside with a latte and pastry could make you feel like an honorary resident.
The menu, too, has Swedish dishes, like the Swedish blueberry waffles, which she explains to me are made thinner than Belgium waffles and in the sweet signature heart shape. Pyttipanna (a delight to say out loud) is a refined version of the hodgepodge traditional dish, made from leftovers tipped into a pan. Their version has potatoes, pancetta, onion and other vege topped with a poached egg. Open sandwiches will dominate the cabinet, a good grab-and-go lunch option for the line of surgical centres on the café's block.
Snö's kitchen is in safe hands – they share the head and sous chef with Dear Jervois. The coffee is the same as well; Eighthirty beans will be going into the sleek and curvy La Marzocco sitting on the marbled counter. A selection of smoothies, juices, alternative lattes and alcoholic beverages – white, red, bubbles and beer – also feature.
Snö Cafe opens March 11.
@sno_by_dearjervois
12 St Marks Rd, Remuera
Follow Metro on Twitter, Facebook, Instagram and sign up to the weekly email for more food news.