Apr 3, 2013 Cafes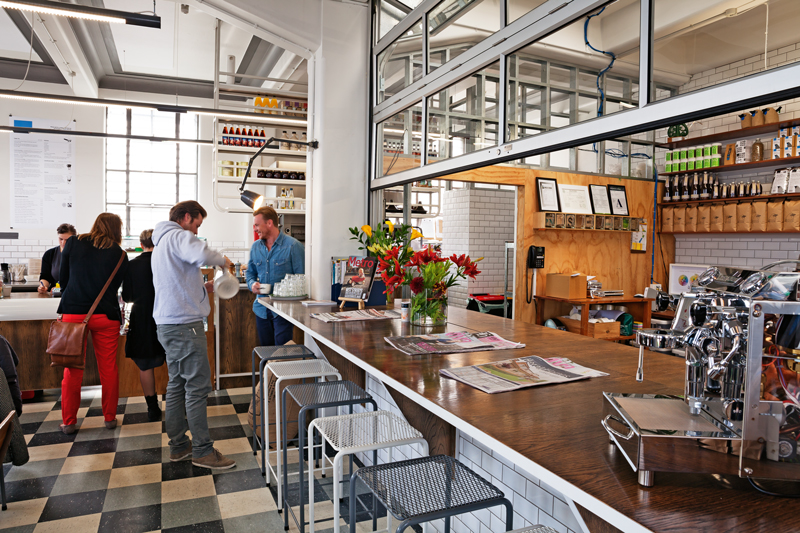 (This story appeared in the November 2012 issue of Metro)
Agnes Curran
181 Ponsonby Rd, Ponsonby. Ph 360-1551.
Ignore the street address, Agnes Curran is just around the corner from the main strip — and that's part of the attraction. Whether inside the sunny room or out in the tree-covered courtyard, this place is still a charming sanctuary after all these years. Altezano coffee. (Editor's note: Agnes Curran is now under new management, and known as Fred's)
Art Gallery Cafe
Kitchener St, City. Ph 369-1149.
The perfect spot after a hard morning with the art, this cafe is also great in its own right. With prompt service and a large, imaginative menu, it has a big terrace and balcony, which means you can take your coffee among the trees in Albert Park. Vittoria coffee.
Atomic Cafe & Roastery
420c New North Rd, Kingsland. Ph 846-5883.
A cafe inside a giant coffee machine, Atomic is a shrine to the bean. Coffee snobs can enjoy the freshly roasted single-origin grind of their choice while the rest of us Kingsland-people-watch out the big windows and eat some seriously good food. We love that they've added a menu. Atomic coffee.
Cafe on Kohi
2/237 Tamaki Drive, Kohimarama. Ph 528-8335.
The best cafe on the glorious Eastern Bays waterfront: an exciting menu, attentive staff and a view to order that second coffee for. Their takeaway outfit The Store, around the corner, is a wonderland of nice things to eat — especially the signature gelato. Allpress coffee.
Catroux
129 West End Rd, Westmere. Ph 376-3590.
Youth-cool meets kid-friendly in this stylish Westmere cafe. The salads are fantastic, the coffee faultless and then there are all those cute extras: jarred preserves, cakes to order and a glazed-ham-to-go service last year that brought precious extra drinking time to Christmases throughout the darling suburbs. People's coffee.
Cosset
1087 New North Rd, Mt Albert. Ph 846-0655.
The word means to delight or indulge and, despite the stereotypes, that's exactly what the super-ethical Cosset does. The opshop-chic interior is cheerfully cosy, while the vegan kitchen (with organic milk for coffee) produces heavenly cakes and does the most remarkable things with filo pastry. Kokako coffee.
Dida's Food Store
118 Wellesley St, Victoria Park. Ph 308-8319.
Excellent counter food, brilliantly done breakfast and lunch dishes and an exceptional range of tapas. Chicken, eggs, ham and bacon are free range, and milk is organic. Also at 54 Jervois Rd, Herne Bay, and 54 Victoria Rd, Devonport. Atlas coffee.
Dizengoff
256 Ponsonby Rd, Ponsonby. Ph 360-0108.
A classic, and still going strong, Dizengoff is popular for good reason: they make some of the best coffee in town, service is bright and breezy and there are very good things to eat from the Jewish-inspired menu. Allpress coffee.
Domain & Ayr
492 Parnell Rd, Parnell. Ph 366-4464.
A little bit of Grey Lynn-style conscious consumerism at the top of Parnell Rd. From the Okiwi Bay smoked salmon to the Omaha organic blueberry jam, everything at Domain & Ayr is sourced from top-flight ethical suppliers. And it all tastes amazing. Kokako coffee.
Elske at Imperial Lane
7 Fort Lane, CBD. Ph 929-2703.
The Newmarket and new Takapuna branches are fantastic for pastries, sandwiches and specialty breads, but the Fort St Elske, also known as Imperial Lane, takes the crown both for its atmospheric laneway setting and the extended menu, available into the evening. L'affare coffee.
Federal & Wolfe
10 Federal St, CBD. Ph 359-9113.
This downtown cafe has a refreshingly modern interior with bright and lively colours and a cool schoolhouse style. A glorious menu, leaning towards organic, and superb coffee are added bonuses. Kokako coffee.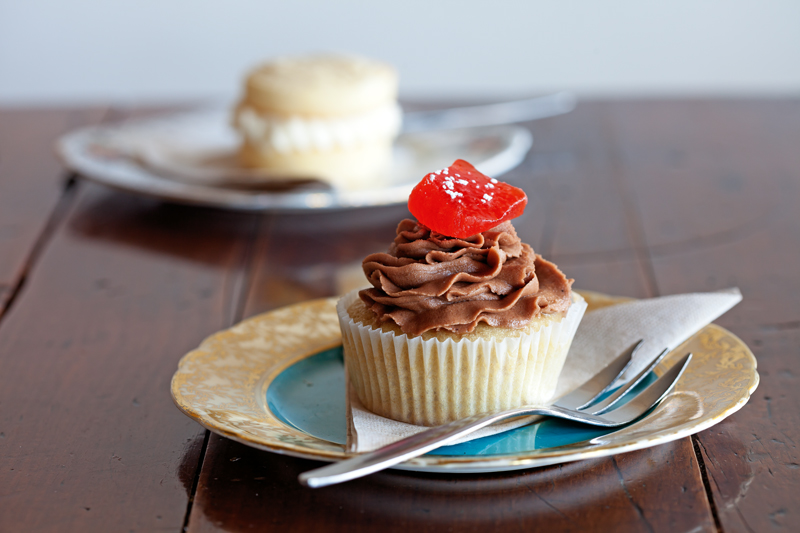 The Fridge
507 New North Rd, Kingsland. Ph 845-5321.
Famous for its pies, wraps and salads, The Fridge continues to hold its own in cafe-rich Kingsland, with consistency, efficiency and very friendly staff. Karajoz coffee.
Garnet Station
85 Garnet Rd, Westmere. Ph 360-3397.
Technically a cafe but much more like somebody's house, with rooms for old and young to explore while friendly staff heap your salad onto a plate, hopefully next to one of their home-cooked pies (we recommend the smoked fish). Chiasso coffee.
Gasket Espresso Kitchen
23/b Kalmia st, Ellerslie. Ph 215-2028.
In a light and bright old car workshop you'll find the Velvet roastery (hence the great coffee), an impressive and well-priced menu (good organic and free-range showing) and a counter chocker with delights — we can't go past the chicken caesar ciabatta. Velvet coffee.
Grano
48 New North Rd, Eden Terrace. Ph 308-9022.
It's just metres from TV3 so famous faces are inevitable, but the service is super-friendly, unpretentious and eager to help. The food is inventive and changes frequently according to the seasonal whims of the owner and chef, who work hard at their aim to create the perfect lunch — or die trying. Allpress coffee.
The Grassy Knoll
21 Shortland St, CBD. Ph 309-6056.
There are no photos of Jack Kennedy, or Jackie, and not even a hint of a book depository. Still, the Grassy Knoll is the coolest new cafe in the CBD, with smart service, strong coffee and very tasty food. Atomic coffee.
Jafa
551 Richmond Rd, Grey Lynn. Ph 361-1100.
Jafa has changed hands in the past year, but the new owners haven't let standards slide. It's a big place, with couches and a fireplace, and always bustling with customers drawn by the delicious menu and friendly service. Allpress coffee.
Kohu Rd Cafe
44 Portage Rd, New Lynn. Ph 827-9990.
Go for the excellent strong coffee, the retro caravan for the kids to burrow into, the clean, flavoursome menu, and not least the ice cream, made out the back and sold by the scoop. (Contrary to the saying, one is enough when it's this rich and delicious.) Coffee Supreme.
Kokako
537 Great North Rd, Grey Lynn. Ph 379-2868.
It was love at first sight between Kokako and the hundreds of organivores who swarm the counter daily for great coffee and the carefully chosen and delicious menu. It's light, and bright, and entirely vegetarian (which we swear you would not have noticed unless we told you). Kokako coffee.
Landreth & Co
272 Ponsonby Rd, Ponsonby. Ph 360-7440.
You can see and be seen out front, lounge happily in the main room or slip out to the sunny, peaceful and private courtyard in the back. There's lots of lovely food, a thoughtful drinks list and very good coffee. L'affare coffee.
L'Assiette
Atrium on Takutai, 9 Britomart Place, Britomart. Ph 309-0961.
We confess one of the lovely attractions of L'Assiette is that you can sit and listen to the gorgeous French voices around you. But we should also add that the classic French baking is very good, the kitchen food is superb, and so is the coffee. One of Britomart's very best. Allpress coffee.
Little & Friday
43 Eversleigh Rd, Belmont. Ph 489-8527 (also Newmarket)
Setting the benchmark for cafe baking for a number of years now, and helping to cement the communal table as a modern cafe must-have, this is a place to ignore calories and marvel at the wonders of butter and the way the pastry flakes just so… Coffee Supreme.
Little Bird Unbakery
385 New North Rd, Kingsland. Ph 550-7377.
The future of food has arrived, and right on time, judging by the queues. Everything is raw, dairy-free and gluten free. "But surely this bit is cooked," you'll say as you eat one of the most delicious lunches of your year. Nope, but don't try this at home. No coffee (but plenty of other drinks).
Luscious Food Store
547 Te Atatu Rd, Te Atatu Peninsula. Ph 834-8499.
Still the most kid-friendly cafe in the city, with the lawn out back beckoning for a game of tag while adults enjoy a good jolting coffee and food that includes daily specials and excellent pies. Allpress coffee.
Meola Kitchen
184 Garnet Rd, Westmere. Ph 360-6184.
It's all good, but Meola would probably have made it onto this list just for their orange and date scones. Good service, great coffee and on a still day one of the most wonderfully sunny spots in town. Allpress coffee.
Mezze Bar
551 Richmond Rd, Grey Lynn. Ph 361-1100.
Yes, we still love the Mezze Bar. The inner city's super-comfy place to take the weight off your feet, indulge yourself with a treat or two (many of them Spanish inspired) and recharge. Allpress coffee.
Mimosa
460 Lake Rd, Takapuna. Ph 486-4020.
From the natural-timber interior to the happy service led by owner Mayumi Abe, everything about Mimosa is warm and welcoming. You'll find well-priced European menu items, all with an organic/free-range bent, and also a few culinary nods to Abe's Japanese heritage. Kokako coffee.
Mojo Carlton Gore
110 Carlton Gore Rd, Newmarket. Ph 524-9619.
Wellington coffee roaster Mojo has had a small Auckland presence for a while now, but Mojo Carlton Gore, commonly known as Mojo Garage, is its first full-service cafe (a second, in the Vodafone Building in the Viaduct, opened late in 2012). A former WOF garage, it's a fabulously characterful space with an inventive menu and helpful staff. Mojo coffee.
Monterey Coffee Lounge
432 Richmond Rd, Grey Lynn. Ph 360-0488.
There's a distinct Kiwi-retro vibe to Monterey, with landscape paintings, Formica tables and classic sweet treats on offer. But that's only half the story. The food is interesting (and big on ethical ingredients), the service affable, and the courtyard a lovely suntrap. Three Beans coffee.
Olaf's Artisan Bakery Cafe
1 Stokes Rd, Mt Eden. Ph 638-7593.
Two great views to enjoy as you tuck into a richly European pastry or two: the mighty Maungawhau through the glass front, and German baker Olaf at work in his open kitchen — the man never stops moving — and boy, does his bread taste good. Coffee Supreme.
Pyrénées the French Deli
756 New North Rd, Mt Albert. Ph 846-8561.
Cocooned inside this lovely little French oasis with a long black and a chocolate tart (and a stash of cheese and sausage to take home for later,) it's so easy to let the clamour of the busy world outside disappear. Volt coffee.
Quay Street Cafe
130 Quay St, Britomart. Ph 337-0088.
Housed in a very elegant art deco building, with service that is both smart and bubblingly friendly, Quay Street Cafe has sharpened itself into a sophisticated and very reliable eatery, with good coffee and a solid menu. Allpress coffee.
Queenie's Lunchroom
24/a Spring St, Freemans Bay. Ph 378-8977.
To know Queenie's is to love it. There's barely room to swing a cat but the wall fresco is stunning, the room is charming, and if the weather is good, you can sit outside while you enjoy one of the tastiest, most original brunch menus in town. Coffee Supreme.
Raven & Cook
565 Manukau Rd, Epsom. Ph 630-6537.
Housed in an old butcher's shop, the imperfectly beautiful tiling has been retained, as has the window display, which now houses imported European cheeses and charcuterie items. There's a whole page of the menu especially for kids, with not a chicken nugget in sight. Lucky Epsom. Allpress coffee.
Reslau
39 Elliott st, CBD. Ph 309-5039.
The smartest little cafe in the CBD, and the jewel in the crown of Elliott Stables, Reslau has superb coffee and a great little menu, and if you're on the go, its takeout counter around the corner on Wellesley St, McGregor Brothers Kitchen, hits the same high standard. Allpress coffee.
Richmond Larder
166 Richmond Rd, Grey Lynn. Ph 215-7910.
It's not as if Grey Lynn needed any more good cafes, but the locals have fast caught on to the delights of this one. From the muesli (home made, toasted, with figs) to the savoury mince, the food is a big step up from most, and the service is outgoing and attentive too. Coffee Supreme.
Richmond Rd Cafe
318 Richmond Rd, Grey Lynn. Ph 360-5559.
If you made yourself a checklist for a great cafe it'd look a lot like this. Sunny deck, genuinely interesting menu, off-street parking, efficient service (they greet you at the door!), lovely sweet treats and excellent coffee. We love it. Allpress coffee.
Rosehip Cafe
82 Gladstone Rd, Parnell. Ph 369-1182.
The Hip Group, the folks behind Cafe on Kohi, Richmond Rd Cafe — and our supreme winner — can't seem to put a foot wrong. Their Parnell cafe is packed with things you want to eat right this second, and the quality of service would put many upmarket restaurants to shame. Allpress coffee.
Ruby Red
30/b Coronation Rd, Mangere Bridge. Ph 634-6454.
On a good day, Mangere Bridge feels like one of nicest parts of the whole city —and it has a lot of good days. Ruby Red is one of the key attractions. Run by Herald food writer Amanda Laird and full of the kind of delicious treats she tempts us with in print. Miller's coffee.
Salta Espresso
285 Ponsonby Rd, Ponsonby. Ph 360-1295.
When the sun comes out, Salta is untouchable, with enough outdoor tables to give a bylaws officer nightmares. The extensive menu offers a good mix of the predictable and the interesting, served up by smiling, highly skilled people behind the counter who will learn your name if you visit them twice. Allpress coffee.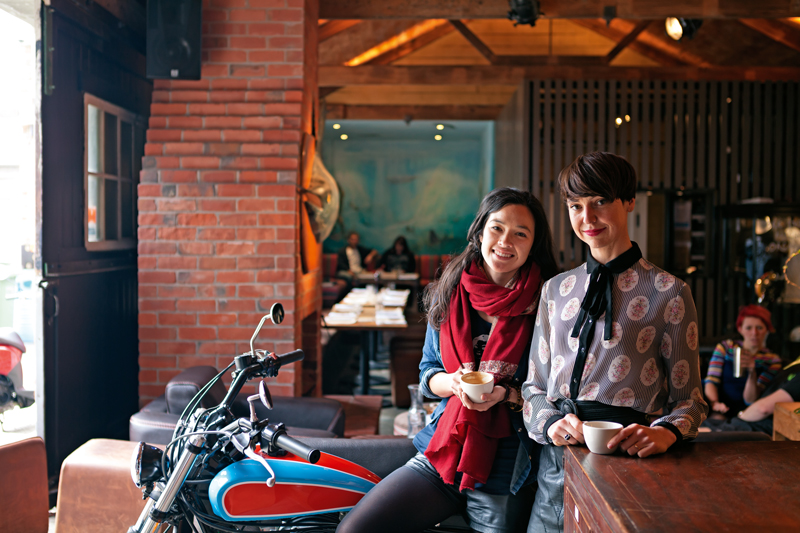 Shaky Isles
492 New North Rd, Kingsland. Ph 815-3591. (also Britomart)
Don't let the quirky branding fool you — Shaky Isles takes its food and coffee very seriously. We love the hot-cake-style pikelets, and the huge Shaky Burger is guaranteed to sort out the meanest hangover. L'affare coffee.
Sheinkin
3 Lorne St, CBD. Ph 303-4301.
Originally from the same folk who created Dizengoff, Sheinkin has maintained the standards admirably. With its own special blend of Allpress coffee (hints of chocolate and fruit), terrifically attentive service and an excellent menu. Allpress coffee.
Shore Rd Cafe
13 Shore Rd, Remuera. Ph 522-2783.
At long last, a cafe with a view in Remuera and one of the few places you can sit in the sun. The Tohill brothers (formerly at Jafa) have created a pitch-perfect cafe with a signature menu, easy banter and exceptional coffee. Allpress coffee.
Supreme
42 Douglas st, Grey Lynn. Ph 366-2784.
It may not have the largest menu — hell, it doesn't even have a kitchen — but Supreme (formerly Good One) makes the list for its obsessive dedication to great coffee. And, let's be honest, for being, still, quite possibly the city's coolest cafe. Coffee Supreme.
Takapuna Beach Cafe SUPREME WINNER
22 The Promenade, Takapuna. Ph 484-0002.
What can we say? All the others are very good. Takapuna Beach Cafe is exceptional. Got a special guest you want to show off Auckland to, or a special occasion for breakfast or lunch? Go to Takapuna. The menu is enormous, with treats in every part of it, the service is a delight and the view along the beach and out to Rangitoto is just divine. Allpress coffee.
Teed St Larder
7 Teed St, Newmarket. Ph 524-8406.
Fresh baking emerges from the kitchen throughout the day and crowds the long counter. The menu is varied and adventurous. An excellent place to relax into a long brunch before perusing Newmarket's wealth of shops. Three Beans coffee.
Twenty Three
23 Mt Eden Rd, Newton. Ph 354-4505.
There is vigorous competition in this neighbourhood and Twenty Three has improved because of it. There's a large courtyard, a wide variety of food and very friendly service. Coffee Supreme.
Wai Kitchen
149 Ocean View Rd, Oneroa, Waiheke. Ph 372-7505.
All the class, sharp service and smart menu of a top-rate city cafe — but in a decidedly superior setting, overlooking the magical Hauraki. Downstairs, Little Wai offers counter food and ice cream. Three Beans coffee.
York St Mechanics
3 York St, Newmarket. Ph 531-4214.
Fancy a breakfast with roasted apple slices wrapped in bacon? This place is part bespoke motorbike workshop, part highly original cafe, part Texas blues fanzone, and all charm — the kind of place you just might want to linger all day. Coffee Supreme.
Zus & Zo
228 Jervois Rd, Herne Bay. Ph 361-5060.
It means a little bit of this and a bit of that. This delightful cafe on the sunny side of the street has a menu inspired by the owners' Dutch origins. Their newly opened sister cafe, Zomer, is set to be a summer standout at the McKenzies Precinct in Takapuna. Miller's coffee.