Aug 19, 2012 Cafes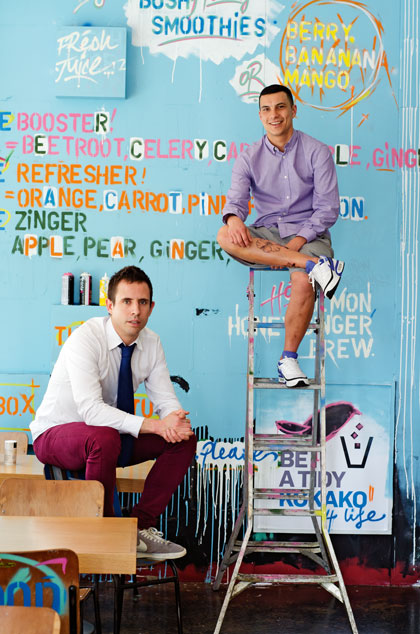 This list appeared in Metro, November 2011. The 2012 Best Cafes list is here.
AGNES CURRAN
181 Ponsonby Rd, Ponsonby. Ph 360-1551.
All cafes should be like an oasis: a place of taste delights in which you can relax and feel special just for being there. And the best ones have a character all their own. Under the courtyard trees at Agnes Curran, or in the little room surrounded by the beautiful bric-a-brac, with a fine cup of coffee and an exquisite cake, you'll come to know what we mean. We always love it here. Altezano coffee.
ART GALLERY CAFE
Kitchener st, City. Ph 379-1349. aucklandartgallery.co.nz
The cafe in the new Auckland Art Gallery makes the most of its lovely setting, with an indoor/outdoor flow, grand views, quality food and — how rare is this in an institution? — brisk, friendly service. Vittoria coffee.
ATOMIC ROASTERY
420c New North Rd, Kingsland. phone 815-4668. atomiccoffee.co.nz
Coffee remains a serious business at this roasting house — choose your origin and method of extraction. But with a big new kitchen, an emphatically stylish refit and a whole lot more space, Atomic has leapt back to the top of the list in cafe-rich Kingsland. Atomic coffee.
BAMBINA
268 Ponsonby Rd, Ponsonby. Ph 360-4000.
Yes, you can judge a cafe by its popularity. Bambina is invariably full, with people drawn by the good coffee, smart menu, very tasty little cakes, and its alchemical mix of informality and class. A Ponsonby classic. Also in Teed St, Newmarket. Allpress coffee.
BEN
57 Fort St, City. Ph 308-9338.
City sophisticate Ben is all about the coffee — single origin and siphon-filtered — but it's well worth opting for something to eat from the counter, too. Barista Empire coffee.
BEN GUSTO
111 Clyde Rd, Browns Bay. ph 479-7288. bengusto.co.nz
The Browns Bay village is blessed for being right on the beach, and Ben Gusto makes the most of it, with a courtyard on the sea-side and a large internal area connecting to the main street beyond. The food is an eclectic mix, with Asian, Middle Eastern and European influences all evident, and the atmosphere is warm and inviting. It's like they're stuck in summer, which is no bad thing. Altura coffee.
CAFE ON KOHI
2/237 Tamaki Drive, Kohimarama. Ph 528-8335.
Quite simply, the place with the best coffee, brunch, lunch and views on the entire Tamaki Drive. Allpress coffee.
CAFE PEOPLE
38 Ponsonby Rd, Ponsonby. ph 360-6876.
No points for the silly name but everything else is just right at this big, bright and friendly cafe. Perfect for a business meeting and the best coffee for miles — well, for 100 metres anyway, which around here is pretty much the same thing. Velvet coffee.
CALLIOPE RD CAFE
33 Calliope rd, Devonport. Ph 446-1209.
The owners of Devonport's late, much-lamented Ice It are back, with a beautifully restored historic building (check out those ceilings) and some very fine food to match. Chiasso coffee.
CATROUX
129 West End Rd, Westmere. ph 376-3590. Catroux " href="/uploads/MetroEats/2012/08/www.catroux.co.nz" data-mce-href="/uploads/MetroEats/2012/08/www.catroux.co.nz">catroux.co.nz
It's been years since anyone made this little shop in Westmere into something really good, and we are delighted. Once dark and gloomy, it's now white and full of light, with a kids' play zone (including sandpit) at the back, great bowls of lovely salads, tempting cakes and extremely attentive service. Peoples coffee.
COSSET
1087 New North Rd, Owairaka. ph 846-0655. cosset.co.nz
Meat is not on the menu, and they really know what they're doing. Wonderfully tasty vegan, vegetarian and gluten-free dishes, organic ingredients, brilliant baking, a lovely homespun fitout: Cosset is a cafe to warm your heart as well as your stomach. Kokako coffee.
DELLOWS KITCHEN
212 Jervois Rd, Herne Bay. Ph 378-6156. dellows.co.nz
New owners have expanded the catering side of Dellows and also expanded the room into a fully fledged cafe, with comfortable seating and a busy kitchen out the back. They do an "authentic" Caesar salad, with anchovies, not chicken, and an "express breakfast" for those in a hurry. Kokako coffee.
DIDA'S VICTORIA PARK
118 Wellesley St, City. Ph 308-8319. didas.co.nz
Their first cafe was in Jervois Rd, and we love that still. But we're totally seduced by the "wine lounge" near Victoria Park, serving breakfast from 7am and rolling through the day. It also has lovely park views and a Parisian charm unbeaten in the city. Free-range everything, and Atlas coffee.
DIZENGOFF
256 Ponsonby Rd, Ponsonby. Ph 360-0108.
Ponsonby excellence: an appealingly spare fitout, brilliant coffee and a long menu full of favourites. Allpress coffee.
DOMAIN & AYR
492 Parnell Rd, Parnell. Ph 366-4464.
In the hands of Clinton Henry and Cibo's Jeremy Turner, this corner cafe near the Domain serves superb coffee and a mouth-watering array of free-range and organic food. Kokako coffee.
ESPRESSO WORKSHOP
2 Owens Rd, Epsom. Ph 630-9397. espressoworkshop.co.nz
They're serious about coffee — like, they use different blends for milk drinks and espresso, and their website is so coffee-obsessive it forgets to mention the cafe. That cafe's full of character, though, with good food and a long espresso bar if you fancy a hit and run. Now with outlets in Britomart and Parnell. Espresso Workshop coffee.
FEDERAL & WOLFE
10 Federal St, City. Ph 359-9113.
The second cafe operated by Jeremy Turner and Clinton Henry is an inner-city star: the old Rice restaurant has been given a super-cool grunge-style makeover and it's now really charming, with excellent coffee and food, all with an organic bent. Kokako coffee.
GALA CAFE
23 Edwin St, Mt Eden. Ph 623-1572. galacafe.co.nz
Hidden away behind large buildings, Gala is a purveyor of competence, attention to detail, perfect coffee and a menu with unshakable élan in a bright, pleasing setting. Allpress coffee.
GOOD ONE
42 Douglas St, Ponsonby. Ph 360-5040.
The cafe to take smug Wellingtonians to when they start banging on about home. It's indie-cool with unimpeachable coffee, and the food combines their own specialties with Kokako and Il Forno treats. Supreme coffee.
HUBCAP CAFE
130 Ponsonby Rd, Ponsonby. Ph 360-2568.
Some retailers stick an espresso bar in the corner, and that's fine. But upstairs at the Mini Garage, you'll find a very decent cafe, with excellent coffee and all sorts of tasty Italian treats. Supreme coffee.
IMA
57 Fort St, City. Ph 300-7252. Ima " href="/uploads/MetroEats/2012/08/imacuisine.co.nz" data-mce-href="/uploads/MetroEats/2012/08/imacuisine.co.nz">imacuisine.co.nz
A haven of hospitality, Ima is like a neighbourhood bistro for the downtown area. Yael Shochat's Middle Eastern and Mediterranean flavours are enlightening and generous. Fred coffee.
ISLAND THYME
8 Miami Ave, Surfdale, Waiheke. Ph 372-3400.
Without a view to rake in the punters, Island Thyme draws them in with great coffee (organic with organic milk, served all pretty on a silver tray with sparkling water and a treat), filled baguettes, delightful baking and Bian sushi, plus a large deli selection. Supreme coffee.
JAFA
551 Richmond Rd, Grey Lynn. Ph 361-1100.
A Grey Lynn darling because of its consistently high standards. Affable staff keep the ever-crowded place running slickly, and the well-honed menu is served generously. Allpress coffee.
KOHU RD CAFE
44 Portage Rd, New Lynn. Ph 827-9990. kohuroad.co.nz
It's their ice-cream factory, with a plain single door opening into a plain simple vestibule — but keep going and you'll find yourself in one of the most delightful old cafe spaces in the city, serving very moreish counter food and with a tidy menu to back it up. As for the kids, they get a caravan to play in, and movies, and, yes, the divine Kohu Road ice cream is served in the cone. Kokako coffee.
LANDRETH & CO
272 Ponsonby Rd, Ponsonby. Ph 360-7440. landrethandco.co.nz
Reliable, and for cafes there's no better accolade. The outdoor area is a great local secret and, speaking of secrets, there are enough media people passing through that if you keep an ear out, you can often find out who's losing their job even before they do. Roasted Addiqtion coffee.
L'ASSIETTE
Atrium on Takutai, 9 Britomart Place, Britomart. ph 309-0961. lassiette.co.nz
A busy interior, a sunny terrace, French tarts, stuffed baguettes and other counter treats, a menu that includes very tasty lambs' kidneys — L'Assiette is Gallic charm personified. Allpress coffee.
LITTLE & FRIDAY
43 Eversleigh Rd, Takapuna. Ph 489-8527;
12 Melrose St, Newmarket. phone 524-8742. littleandfriday.co.nz
Last year, Belmont was the lucky suburb in possession of this well-kept secret. Now, irrepressible cravings for glorious sweet and savoury baked treats needn't require a bridge crossing, with a charming new outlet opened inside Martha's Furnishing Fabrics in Newmarket. Supreme coffee.
LITTLE HERO
181 Pt Chevalier Rd, Pt Chevalier. ph 845-3249. littlehero.co.nz
Great coffee, organic everything and some of the best vegan superfood in the city. The cafe is true to its name, making heroes of ingredients such as kale, quinoa and seaweed. You feel like a better person afterwards, but thankfully the food is tasty, not worthy. Kokako coffee.
LUSCIOUS FOOD STORE
547 Te Atatu Rd, Te Atatu Peninsula. Ph 834-8499. thelusciousfoodstore.co.nz
Beware the sandpit trap that sees many a poor parent settle for crappy coffee and a stale muffin. Luscious Food Store is openly kid-friendly — wee tables, chalkboards, a shaded lawn big enough for cartwheels — but the fuel and service are, thank the stars, equally as appealing. Allpress coffee.
MEOLA KITCHEN
184 Garnet Rd, Westmere. Ph 360-6184.
They must be doing something right here, because despite robust competition, it's still beloved by locals. The young, energetic staff can take a lot of credit for the loyalty, while good food and plenty of sun help make this a Westmere institution. Allpress coffee.
MEZZE BAR
9 Durham St East, City. Ph 307-2029. mezzebar.co.nz
Is this the most comfortable room in the city? You get your choice of tables, armchairs and couches, and we've seen people spend the afternoon here knitting, reading, spinning out meet- tings, enjoying each other's company. The food is Spanish-themed and the service very efficient. Millers coffee.
MISTER MORNING
374 Karangahape Rd, Newton. ph 307-0076.
The Coulter sisters weren't planning a K' Rd empire, but rather than watching another booze store open next door to their award-winning bistro, Coco's Cantina , they took the chance to craft this little coffee shop boasting unfussy, tasty counter food and sandwiches made to order with high-quality ingredients. Supreme coffee.
NEXT DOOR
589 Mt Eden Rd, Mt Eden. Ph 638-9676.
In the fashion of a sitting room circa 1970s (or is that 1950s? Retro gets a bit confused sometimes), Next Door is comfy with welcoming, on-the-ball service — proving that topping up water isn't just the domain of restaurant waiters — and a smart kitchen menu. Also licensed. Caffe L'affare coffee.
OLAF'S ARTISAN BAKERY AND CAFE
1 Stokes Rd, Mt Eden. ph 638-7593. olafs.co.nz
With a large seating area opening directly onto a busy bakery, a big menu and a counter filled with breads and pastry delights, Olaf's has significantly raised the game in the Mt Eden village. Supreme coffee.
PYRÉNÉES THE FRENCH DELI
756 New North Rd, Mt Albert. Ph 846-8561. pyreneesdeli.co.nz
The glory of French baking is yours to behold at this deli/cafe — crusty baguettes, glossy fruit tarts and intense little chocolate numbers. Sit at the big table and get stuck in. Volt coffee.
QUEENIE'S LUNCHROOM
24a Spring St, Freemans Bay. Ph 378-8977. queenieslunchroom.co.nz
A great room: retro-funky, busy and bold. A spectacular menu: cafe staples with exotic twists. And a small but exquisite lineup of countertop baking. It's a real charmer. Supreme coffee.
RESLAU/MACGREGOR BROTHERS KITCHEN
39 Elliott St, City. Ph 309-5039. elliottstables.co.nz
Tiny MacGregor Brothers Kitchen is flagship to neighbouring Reslau (and now Rushworth at North Wharf) and home to home baking of brilliance. Reslau has a clever menu, stylish but comfortable surrounds, and is open till 6pm on weekdays. Allpress coffee.
RICHMOND RD CAFE
318 Richmond Rd, Grey Lynn. Ph 360-5559. richmondrdcafe.co.nz
Another Grey Lynn favourite for clear reasons: it's a smooth all-rounder. Licensed, and with an impressively wide-ranging menu, here's somewhere you can enjoy a Bloody Mary with your sautéed chicken livers. Allpress coffee.
ROSEHIP CAFE
82 Gladstone Rd, Parnell. Ph 369-1182.
An oasis in suburban Parnell, with plenty of seats in the sun, and a pull-down screen for those who want sun minus wind. The food is delicious, the coffee perfect and the service brisk and plentiful. Allpress coffee.
RUBY RED
30b Coronation Rd, Mangere Bridge. Ph 634-6454.
Amanda Laird, resident food writer for the Herald's Viva supplement, has opened this cafe to widespread acclaim, and we agree with the praise. It's like the very best home cooking (the best porridge we've had in ages; mince on toast with an egg!) and the service is warm and friendly. Every suburb should be so lucky. Millers coffee.
SALVATION KITCHEN
1843 Great North Rd, Avondale. Ph 828-1844.
In a retro-styled converted gas station, this recent saviour of the 'dale is run by rock'n'rollers Aaron and Fran, the latter a baking goddess. Currently it offers a fresh feast of counter food and strong coffee, and with luck there will soon be a kitchen menu. Karajoz coffee.
SHAKY ISLES
492 New North Rd, Kingsland. Ph 815-3591. shakyisles.co.nz
On the sunny side of the Kingsland strip (and also in Britomart), the extremely popular Shaky Isles does urban hip better than anyone in town. And you get a choice of three strengths of coffee. Caffe L'affare coffee.
TAKAPUNA BEACH CAFE
22 The Promenade, Takapuna. Ph 484-0002. takapunabeachcafe.co.nz
It's an ignominy that there are so few decent waterside eateries in this maritime city. Drum roll for Takapuna Beach Cafe : not only do they make the most of their very beautiful Takapuna Beach location, they have the best cafe menu in town, offering some of the best breakfasts, best baking, best salads, and on it goes. And did we mention they have bustling takeout counters for their own bread, ice cream, and fish and chips? Next time you wake up and know it's time for a treat, well, there are 49 other places on this list that will serve you very well. But this is the best. And, it comes with a free walk along the coastline afterwards. Allpress coffee.
TEED ST LARDER
7 Teed St, Newmarket. Ph 524-8406. teedstreetlarder.co.nz
The made-to-order sandwiches are supreme and on the huge blackboard baked goodies announce their continuous emergence from the oven. When faced with all the good stuff on offer, an acute episode of indecisiveness often results. Millers coffee.
THEATRE
256 Karangahape Rd, Newton. Ph 303-0501. theatrecoffee.co.nz
This idiosyncratic space in the heritage Norman Ng building has been granted a new and very beautiful life as Theatre. We love the Big Greek Breakfast, the excellent sandwich-style counter food, the strong coffee, the rich ambience of this deco delight. Millers coffee.
THE FRIDGE
507 New North Rd, Kingsland. Ph 845-5321.
The Fridge has responded to energetic competition in its suburb in the best possible way — by continuing to improve. They've got an extra room now, and the pies are still brilliant, the wraps and salads still among the best in town, the baking still so moreish. Karajoz coffee.
THE PIHA CAFE
20 Seaview Rd, Piha. Ph 812-8808. thepihacafe.co.nz
We always knew it would be great. And it is. Why aren't there more lovely little cafes by our beaches? Santos coffee.
VOILA
573 Sandringham Rd, Sandringham. Ph 846-8393.
Beautifully tasty French/North African food deservedly make Voila a destination cafe. Leave room for a cake. Supreme coffee.
WAI KITCHEN
149 Ocean View Rd, Oneroa, Waiheke. ph 372-7505. www.waikitchen.co.nz
With panoramic water views to remind you to buy a ticket for Saturday night's Lotto draw, the island sister of Teed St Larder is all modern-meets-mid-century, with clean lines and lots of glass through which to gulp in the view. A robust brunch and lunch menu, plenty of Waiheke wines, and a cute takeaway outlet recently opened downstairs: Little Wai. Millers coffee.
ZUS & ZO
228 Jervois Rd, Herne Bay. Ph 361-5060. zusandzo.co.nz
A light and tidy space, distinguished by delicious Dutch baking and treats such as Auckland's best croque madame (think croque monsieur with an egg on top). A total charmer. Millers coffee.