Aug 19, 2012 Cafes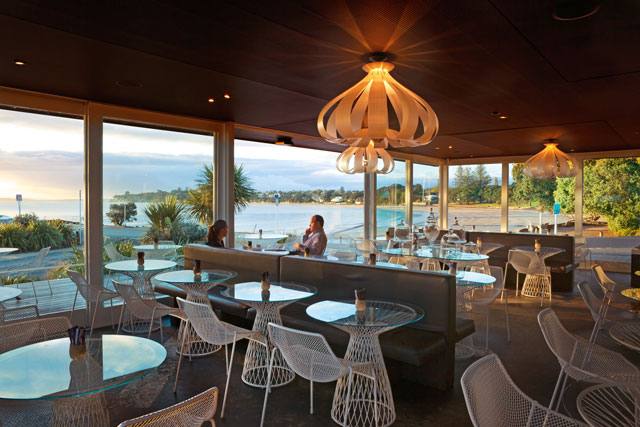 The 2011 Best Cafe in Auckland, Takapuna Beach Cafe
Good keeps getting better. Great new cafes have been transforming this town, and 16 of them have leapt straight into our Top 50 — ranging from the big, smart operations in the new Auckland Art Gallery and at Mt Eden's Olaf's Artisan Bakery Cafe, to lovely little suburban cafes like Catroux in Westmere and Ruby Red in Mangere Bridge. Others, like Atomic Roastery in Kingsland and Dellows Kitchen in Herne Bay, have had impressive makeovers.
Cafes are also getting more serious about the quality of their coffee: Espresso Workshop and Shaky Isles lead the way in offering a choice of strengths and styles, and there is a rapidly growing commitment to using beans from fair-trade sources. That ethical stand shows up in the food too, with eggs from happy chickens and bacon from happy pigs now common.
Menus are also on the march. Gorgeous granola, splendid spicy eggs, home baking in which you can taste the love, and — the hottest item on menus right through a winter that still lingers — perfect porridge, served as often as not with cream, stewed fruit and soft brown sugar. Plus, we are especially pleased to say, in Owairaka's Cosset we've found a really good vegan and vegetarian cafe.
As always, our judges gave high marks for original style and excellent service: core requirements for any cafe that wants to make its customers feel special. At old favourites like Ponsonby's Agnes Curran and Ima in the CBD, along with newbies like Federal & Wolfe, also in the CBD, and Kohu Road in New Lynn, you know you could be nowhere else and you wouldn't really want to be. For the second year, our top accolade goes to Takapuna Beach Cafe. Just look at this photo. So lovely. Think how good the food and service should be in a place like that. Well, they are. Bravo, we say. Bravo.
BEST MENUS

Olaf's Artisan Bakery & Cafe
BEST FOR COOKED BREAKFASTS

Beans with Chorizo at Atomic Roastery
Mother-in-Law Eggs at Gala Cafe
Handmade Sausages and Baked Beans at Ima
Porridge with Stewed Fruit, Borwn Sugar and Cream at Ruby Red
Moroccan Eggs Baked in Spiced Tomato with Puy Lentils at Takapuna Beach Cafe
BEST FOR CEREAL BREAKFASTS

Organic Roughage, Orange Blossom & Blueberry Compote at Domain & Ayr
Granola with Raspberries, Honey and Yoghurt at Queenie's Lunchroom
Muesli, Fresh Fruit, Vanilla Bean Yoghurt & Honeycomb at Richmond Rd Cafe
Roasted Brazil Nut & Seed Granola "Bix", Poached Figs & Greek Yogurt at Takapuna Beach Cafe
Cashew & Pumpkin Seed Granola with Poached Rhubarb & Yogurt at Teed St Larder
BEST FOR COUNTER FOODS

Olaf's Artisan Bakery & Cafe
BEST FOR KIDS

BEST NEW CAFES

Olaf's Artisan Bakery & Cafe
BEST FOR COFFEE

Reslau/Macgregor Brothers