Aug 14, 2019 Cafes
Onehunga's Pacific cakery Sweet & Me is a success story for the Pacific community as well as Auckland Council's the Kitchen Project initiative aimed at getting food businesses up and running. Alex Blackwood talked to cafe owner Bert Jang and the Kitchen Project Manager Sreshta Sridhar.
Bert Jang has known he wanted to be a chef since he was five, watching his father cook Chinese food on the stove and helping his mother with her baking (licking the bowl, he clarifies).
When Jang was growing up in Fiji, he and his friends made treats for themselves out of cassava (a kumara-like starchy root vegetable) and coconut with flour and sugar wrapped in banana leaves. Kiwi staples like bread were luxuries they didn't often get and cassava was $3 a bundle so they ate it every day for breakfast, lunch and dinner – though he had to keep it away from his six brothers or they'd eat it all.
When he goes back to visit his family in Fiji, all Jang does is cook. He does it well, he loves it and it comes naturally to him. But when it came to starting Sweet & Me, his new Onehunga cakery "true to the Pacific spirit", he needed a little help.
"I couldn't even do maths," he says. "I sucked in accounting." Enter the Kitchen Project, Auckland Council's initiative to help fledgling food businesses get off the ground (more accurately, Council entities Panuku and ATEED, along with Healthy Families Waitakere). They set Jang up with a mentor, Martin Smith (then of Collective Hospitality Ltd, now the owner of Great Catering) who got him up to speed.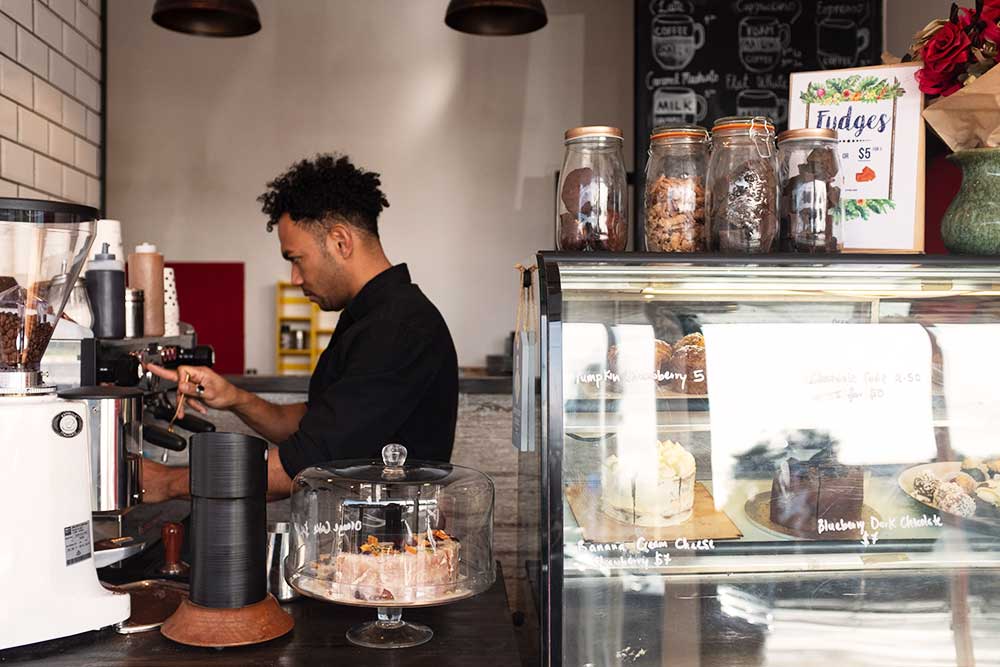 The Kitchen Project Manager Sreshta Sridhar explains they assign mentors on a case by case basis. Jang already had a strong concept of the cafe he wanted to create and knew his way around the kitchen but he needed a bit of help with the legislation and business basics. Those were things Smith knew well – so it was a good fit.
That was in early 2018 – The Kitchen Project's pilot programme – but the proof is in the pudding because Sweet & Me is certainly off the ground and the programme has just started its fourth intake.
The fit-out of Sweet & Me wasn't easy – at one point, Jang and his partner Daniel Osbourne were arguing so much they were sleeping in separate beds. They sanded, painted and tiled the interior themselves, under the direction of designer Lizzie Koroivulaono – who also did Sweet & Me's tapa cloth logo.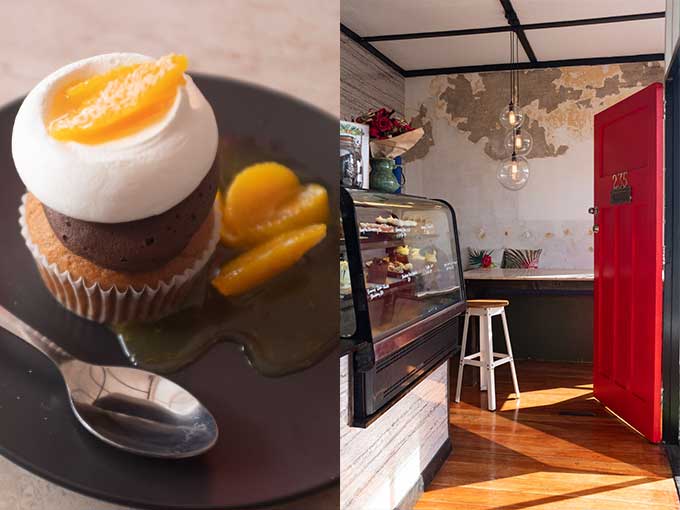 Now the little bakery is open in the sunny Onehunga spot chosen for its proximity to the suburb's proud Pacific community as well as Jang's house. Jang has been feeling the community spirit; Pacific Islanders (and especially Fijians) who Jang doesn't even know have been visiting and spreading the word about the cafe.
READ MORE: Pacifica : The Napier restaurant quietly shaking up our food scene
And we can see why – Jang is serving those same banana-wrapped cassava treats that he made with his friends as a child with ingredients from the local vege shop. He's added koko Samoa, a chocolate and coconut based sauce to the cake, beverages and macaroons (he has to get friends to bring it to New Zealand for him because it isn't sold commercially often). He makes pineapple pie from fresh, tart pineapple (he scoffs at the idea of canned) with a dollop of coconut cream.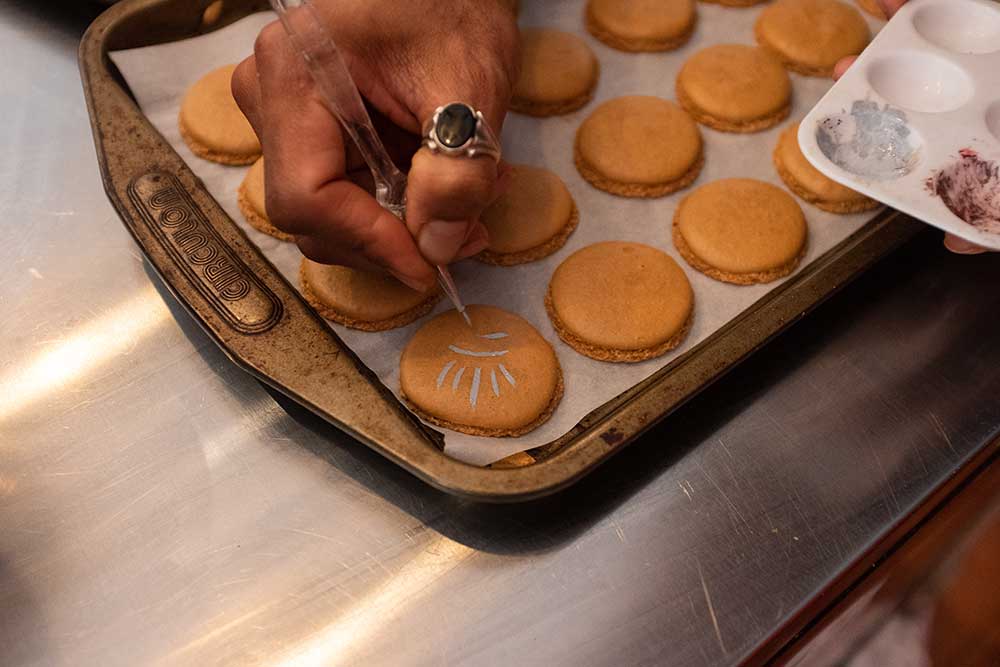 Even the coffee bears a stamp of Pacific inspiration; try the caramel macchiato, but don't expect a butterscotch taste. This one has a rich, smoky coconut flavour.
All the goodies they sell are Jang's own creations. The orange, chocolate and meringue cakes even have tart, juicy oranges that he's grown on his own tree. He even hand-paints the macaroons with a Fijian design from his home place of Nayau, Lau, Fiji – similar to tattoos on his own chest. He aims to merge the Pacific elements with modern trends.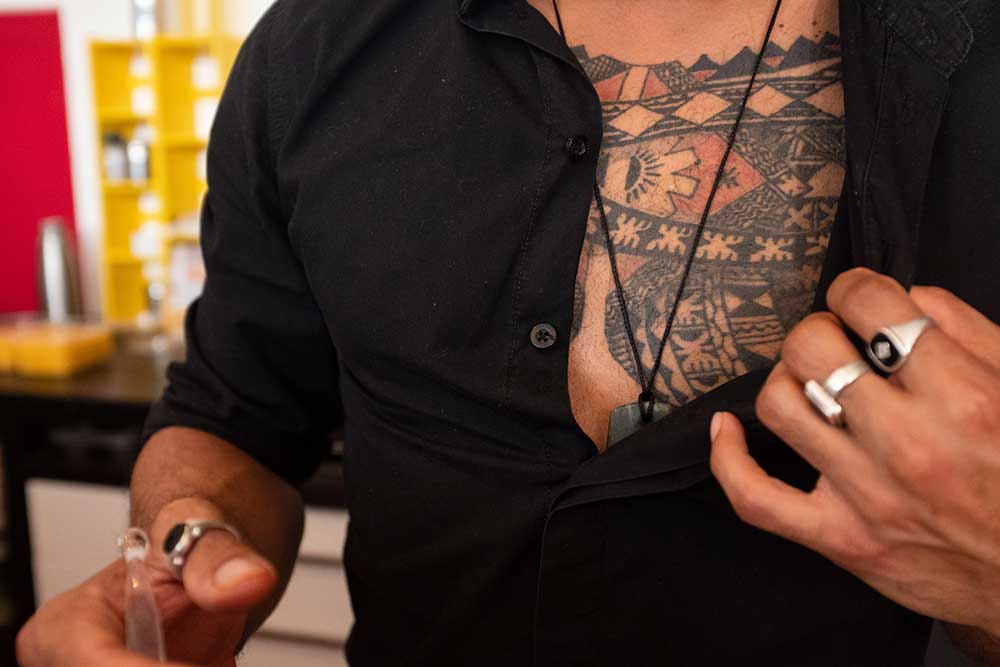 In doing so, he hopes that Pacific youths might look at Sweet & Me as inspiration to celebrate and reinvigorate their culture. He urges Pacific Island youths to do research and educate themselves to celebrate and share the culture as he has.
It's heartening to know that Jang is opening the doors to Sweet & Me after only starting to make moves toward owning a cafe in early 2018. He had quit as Head Chef of Kai Pacifika and had been unemployed for a couple of months when he enrolled with the Kitchen Project. Now, the doors are open and Jang barely has time to talk to me, thanks to all the customers coming through. When I ask Sridhar if Jang could one day be a mentor for the programme himself, she's positive. "Hopefully," she says.