Oct 29, 2019 Cafes
This new Sri Lankan cafe in Kingsland is full of heart and hospitality. Alex Blackwood pays them a visit.
You might recognise St Anthony's Food from their original location in Sandringham, where the Peiris family took over what was formerly a Sri Lankan grocery store. They named the place St Anthony because the Saint is significant to the Sri Lankan community. The second location's name has a more poignant story behind it.
It pays homage not only to the Saint, but to a church dedicated to him in Colombo, Sri Lanka. The Portuguese Catholic church was the site of one of eight bombing attacks on the Catholic community by Isis on Easter Sunday this year – a day deliberately chosen because the pews of Sri Lanka were packed with happy churchgoers. 6.2% of Sri Lanka's 21 million people are Catholics – and the tight community was devastated.
"It's been hard", says Lakshan Peiris, the Director and son of the couple who own the Sandringham branch. He lost friends and family in the attacks and felt compelled to do something to help the community heal. St Anthony's Kingsland was the resulting something, and every aspect proclaims proud support of the Sri Lankan Catholic community.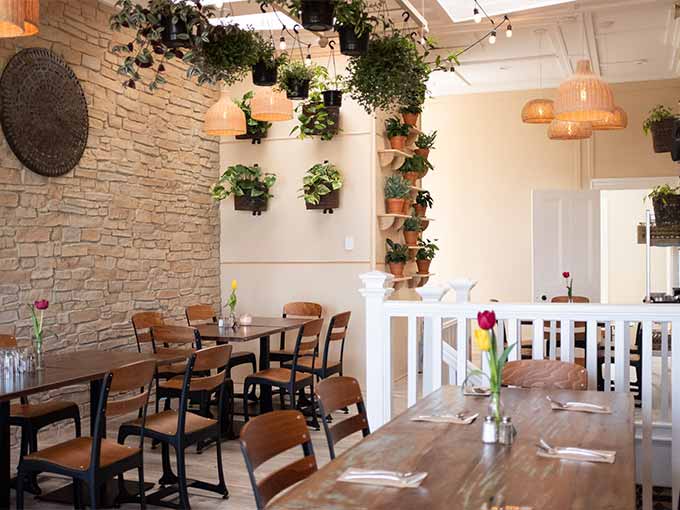 The space itself (which used to be the legendary 69-flavour milkshake joint Grill and Shake) is lined with real rock walls moulded and imported from Spain – they remind Peiris of rocks found in Sri Lanka. A blue tile wall and brightly coloured flowers bring in the bright colours that Peiris associates with his childhood in Sri Lanka. A bible sits on the shelf next to statues of Jesus and Mary. Those aren't just for show; Peiris prays there every day.
Upstairs, a small forest of plants hang from the ceiling (Peiris gets on a ladder to water them daily) and the huge sash windows let in plenty of light to the dining area. There is another, smaller, dining area for private dinners which Peiris calls the family room.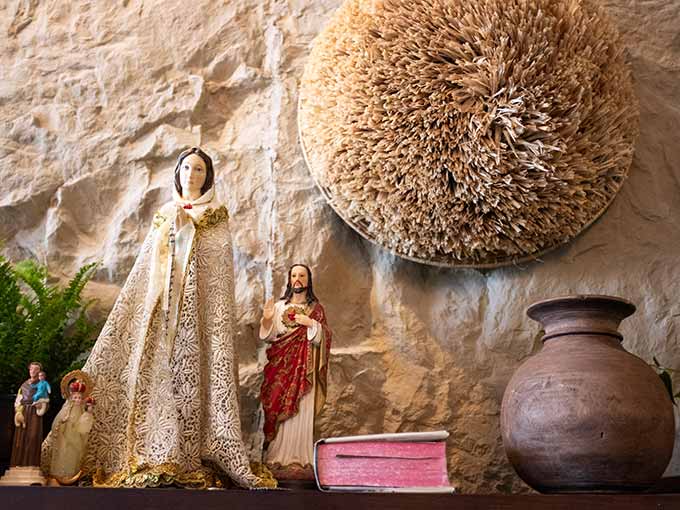 The food you'll find is a similarly heartfelt homage to Sri Lanka. In one cabinet there are Sri Lankan staples like wada ("a spicy doughnut"), fish buns, spring rolls, and savoury puffed pastries. In another area there's Kiwi-inspired baking by Sanduni Peiris, Lakshan's wife, whose father was a baker when she was growing up in Sri Lanka. They've got New Zealand favourites: chocolate chip cookies, chocolate cake, and scones.
St Anthony's also do brunch – Sri Lankan rolls, platters, omelettes, hoppers, roti, plus Ceylon versions of pancakes and French toast. For dinner, the menu is similarly full of foods which celebrate their homeland – but that hasn't stopped a few Sri Lankan patrons from coming in and going off-menu to ask for simple curry and rice combos. The Peiris family were so happy to oblige they went ahead and added those dishes to the menu too.
When Peiris offers me a ginger tea, he says it's because he'd do the same if I came to his home. In every aspect here, you see an exuberance for Sri Lanka and the culture's love for hospitality, family and people.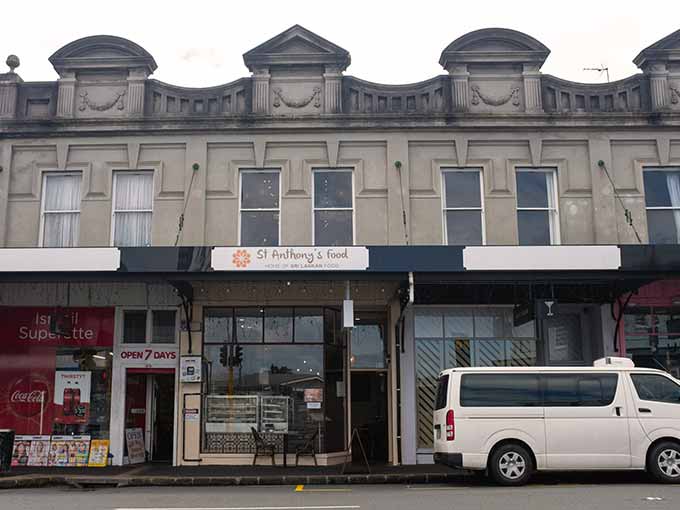 St Anthony's Food, 473 New North Rd, Kingsland and 585 Sandringham Rd, Sandringham