Jun 18, 2018 Cafes
Julien Albe and Matthieu Gosset's new Point Chevalier cafe-bistro Ambler has been a long time coming.
There's been paper over the windows of 181 Point Chevalier Road for months now, and a constant trickle of inquisitive locals trying to peer through the cracks to see what's been going on inside. But it's taken much longer than months for new cafe Ambler to open; owner-operators Julien Albe and Matthieu Gosset have actually been leasing the building for four years. Their contemporary all-day eatery finally opened this week, after being delayed by consent issues for some time. Despite these obstacles, co-owner and chef Albe, formerly of Meadow and The Tasting Shed, and Gosset, formerly of Petit Bocal and Woodworks, have successfully opened Ambler's doors.  
Possibly due to being in the works for so long the fit-out is well put together, especially considering they had no help from an interior designer or architect. The interior has a Melbourne-like contemporary feel, the space divided into two rooms; one with the bar, kitchen, and tables while the other is home to a large communal dining table. They've taken a white-out approach to their colour scheme with a thoughtful addition of rustic wooden accents such as vintage Bentwood chairs and polished matai (black pine) floors.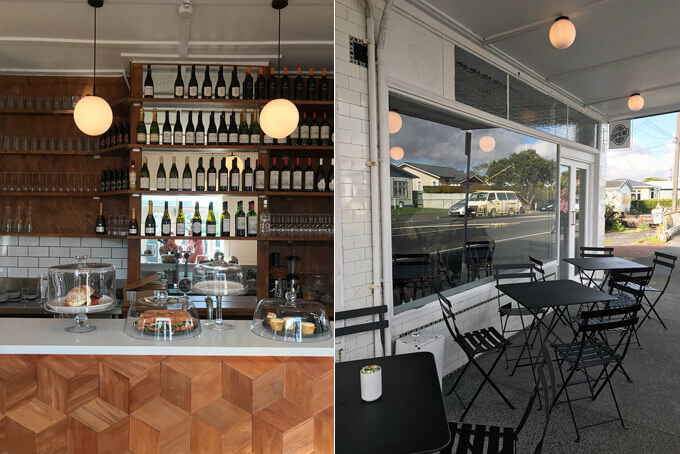 There are elements of past ventures evident in their latest opening; Albe has cast his French hand over the menu, making slight tweaks to classics. The brunch menu includes croissants with yuzu jam and butter; croque-madame, the quintessential French equivalent of a ham and cheese toastie, with a fried egg on top and a side of fries and salad. For the later diners there are a number of cuisines on offer on their bistro menu, from Peruvian ceviche, to an Italian slow-cooked lamb shoulder ragu served with velvety pappardelle and a generous serving of fresh basil. Don't fret millennials, you can get smashed avocado for only $19, which is on par with the market price for one Hass at New World College Hill.  
Like Petit Bocal and Woodworks, the coffee is Supreme – alongside an impressive offering of wine and Sawmill Brewery beer on tap. The wine is a mix of local and farther afield, including a number of French drops, of course. Despite the bumpy road to opening day, this is an exciting new addition to Point Chevalier and the surrounding properties will quite enjoy their new coffee-serving neighbour.
Ambler
181 Point Chevalier Road
Point Chevalier
Auckland