Nov 1, 2019 Cafes
Not so long ago, swathes of strawberry patches covered much of Hillcrest. In the now densely industrial suburb, you'll now find Patch café standing proud instead.
Owners Allen Zhang and Jenny Che have had fun bringing the area's strawberry-filled history to life. The striking right red details and a playful strawberry mural by artist Hayley Brown help turn what was previously a dark and crowded antique store into a bright and open space, filled with natural sunlight streaming through skylights and glasshouse-esque joinery. They've stayed true to the industrial bones of the building, maintaining the original rafters, raw concrete detailing and recycled timber.
Everything is softened with details like the juxtaposition of terracotta bricks against maroon tweed; brown leather and blue stained plywood lining the booths. Zhang's mum made the delicate, draped linen lampshades that float above the floor space.
Patch is big – it can seat up to 80 people. Tables spill into the front area outside the cafe, which includes a kids corner with a very fun-looking jungle-gym.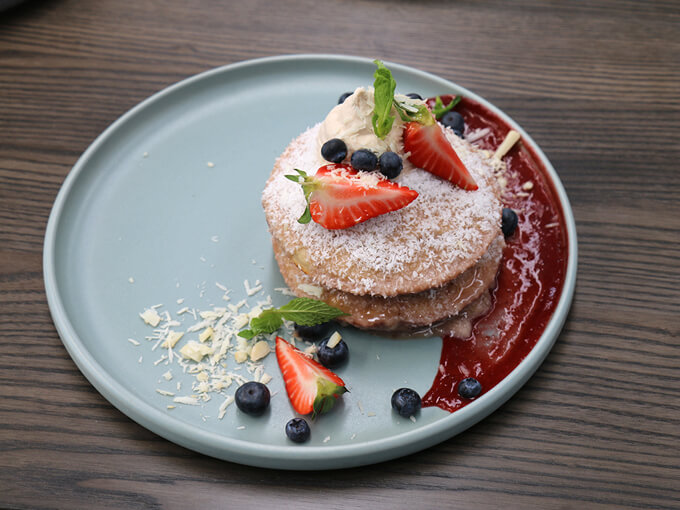 Zhang and Che also run William Souter Espresso in Forrest Hill, but Patch is the first venue they've built from scratch. They're no strangers to a cafe menu, but they don't stick to the rules: almost every dish incorporates a creative twist. The Korean head chef's influence is obvious on the menu: shakshuka with a kimchi base; galettes topped with sticky, sweet and spicy Korean fried chicken with kimchi salsa and cute little tteokkochi skewers.
There are a few nods to the not-so-humble strawberry too, of course. Take the buckwheat strawberry lamington hotcakes smothered with strawberry white chocolate icing and sprinkled with strawberries. Serious sweet-tooth territory.
Ample cabinet space means plenty of room for the ever-changing seasonal whole cakes, salads and other treats which fill them daily. When we visited, there was a raspberry and white chocolate mousse cake which was so pretty, I felt guilty stabbing my fork into it. There's also a whole plum cake with an eye-catching tumble of freeze-dried plums on top, which I make a note to come back and try later.
Much of what's on offer at Patch caters to the location's blue-collared surroundings. The cabinet is filled with corn fritters, sausage rolls (double stuffed with an actual sausage!), and scones. All generously portioned and easy to eat on the go.
The coffee is Kokako, made with Patch's customised red and blue coffee machine. If you're not a coffee drinker there's a variety of teas and juices as well as milkshakes and smoothies made in house.
In Auckland, cafes so often become hubs for communities. When we visit (before Patch has even opened) people are walking in curious and excited about the prospect of a new cafe in an area not well populated by them yet. Many passersby mention they've been keeping a keen eye on Zhang and Che's progress. Watch this space.
Patch cafe opens on Thursday 7 November
108 Sunnybrae Rd, Hillcrest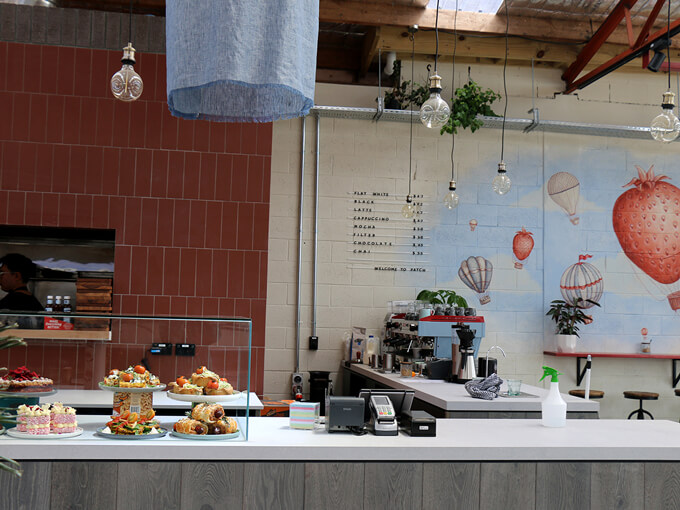 Follow Metro on Twitter, Facebook, Instagram and sign up to our weekly email