Aug 1, 2018 Cafes
Francesca Mazza and Aaron Carson add a fourth bright and bold eatery, Rude Boy, to their cafe family.
No, it's not a Rihanna reference, Sale St's newest resident
Rude Boy Deli and Eatery
is named for the 1960s Jamaican street slang term meaning cheeky boy or man about town. Owners Francesca Mazza and Aaron Carson who also own Winona Forever,
Major Tom
and Friday I'm In Love, like to think they've positioned themselves as rude boys in the Auckland cafe market; over the top and proud, unapologetically doing what they do.
"We're a bit brash, a bit bold," explains Aaron, "there are plenty of quieter cafes if you're into that kind of thing." The cafe's mascot appears as a neon line drawing in the front window, a badass dressed in tight pants, dark shades and slick bomber jacket akin to the clothes worn by stylish rebels who embodied the rude boy mantra in its heyday. You know what they say, people love a bad boy.
Read more: Auckland's best cafes 2018 | O'Connell St gets new dumpling slinger Sumthin' Dumpling | Freaky, a new minimal cafe opens in central Auckland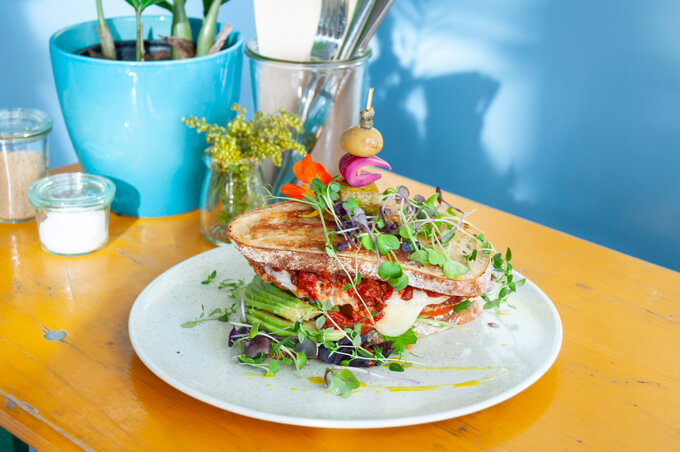 Inside, the space centres on an oblong workstation comprising the coffee machine, and "the longest cabinet we've ever installed," says Aaron, which, if you've seen Winona Forever's enormous offering, might astonish you. Rude Boy's cabinet is more than two metres long and positively heaving with baked treats, salads, stuffed potatoes, sandwiches and more. If it wasn't made of glass and marble it might collapse under the weight of itself.
The back side of the central counter makes good use of space by acting as a row of bar-like seating. Elsewhere there is a bold, budgie mural, a mix of banquette, communal and individual tables, two kitchens – one for pastry, one for a la carte food – and three UFO-like statement light fixtures. The floor is bright blue polished concrete and the menus are branded with suggestive looking half-peeled bananas, as are the staff's uniforms.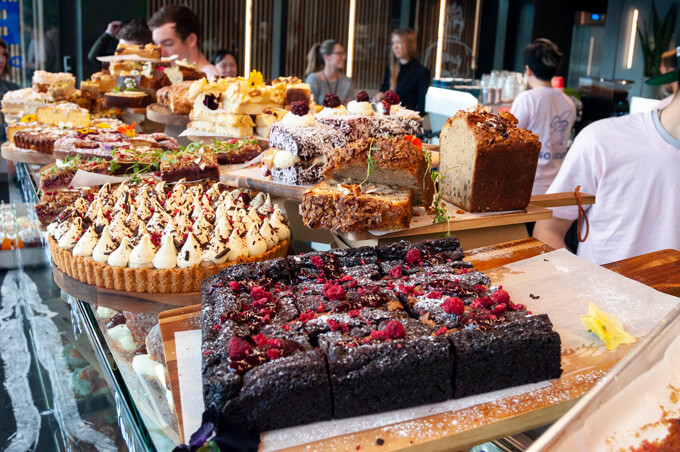 Small portion haters/hungry people will love the size of Rude Boy's food. Head chef and baker Francesca's signature style is generous – a true Italian in heritage and at heart, she loves to feed people well. Her Italian lineage seeps onto the menu in other more subtle ways too like a tomato-based puttanesca sauce in the chicken schnitzel sandwich, in dots of meringue, melty mozzarella cheese, and expertly made Coffee Supreme espresso. Kids will go nuts for the likes of a brownie waffle with ginger ice cream, and grapefruit-sized lamingtons. "Food is based on New Zealand home-style cooking," says Aaron, and a lot of it is defiantly old school. He and Francesca are bucking the trend of minimalism in favour of the things they like to eat. They're rebels, just like their namesake rude boys. And RiRi.
Rude Boy
34 Sale St
Freemans Bay
@rudeboydeliandeatery