Feb 7, 2019 Cafes
New Epsom cafe Flour Mill is fun new space with a muted pink palette, shimmering light boxes and brick walls.
New Epsom cafe Flour Mill's striking silhouette is a siren's call from Manukau Road, rising above its neighbours with the front's stark black lettering matching sweetly with the painted black stripes on the awning.
Rebecca McRobie was the original owner of sprawling Stonefields cafe, Charlie and George. Since she handed that off a couple of years ago, her restlessness ("I was bored… really bored") pushed her to contact Kokako about potential new sites; it was love at first sight when she saw the old flour mill building in Epsom.
Read more: Metro's 10 favourite Auckland cafes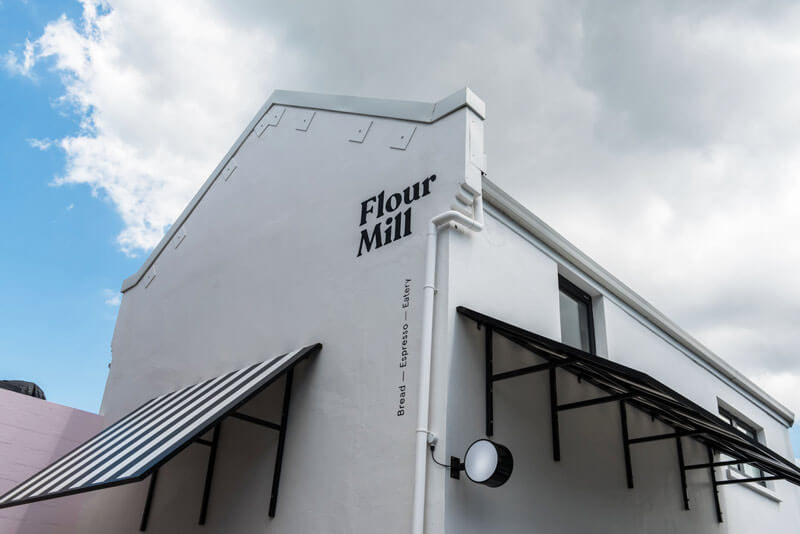 It's a fun space. The cafe is small, seating 25 and pitched as a "petite dynamo" that spills out into a courtyard neatly tucked to the side of the entrance, seating cafe-goers on sloping stools that pop with colour. Outside, there are looping drawings of a dog and woman holding a loaf of bread; inside, a playful minimalist etch of a boy's face with a croissant for hair (Rebecca says she's worried it doesn't read as a croissant – please assure her it does) is painted in pink on the exposed brick.
The brick is original from the flour mill's old bones. Its rustic texture contrasts with CTRL Space and Fitout Collaborative's fit-out of clean, light timbers, big open windows and soft grey-cushioned benches that hug both corners, casting character on the otherwise-modern decor. Two light features hang over the small tables; boxes with tinted surfaces that throw out shimmering colour above the neutral palette.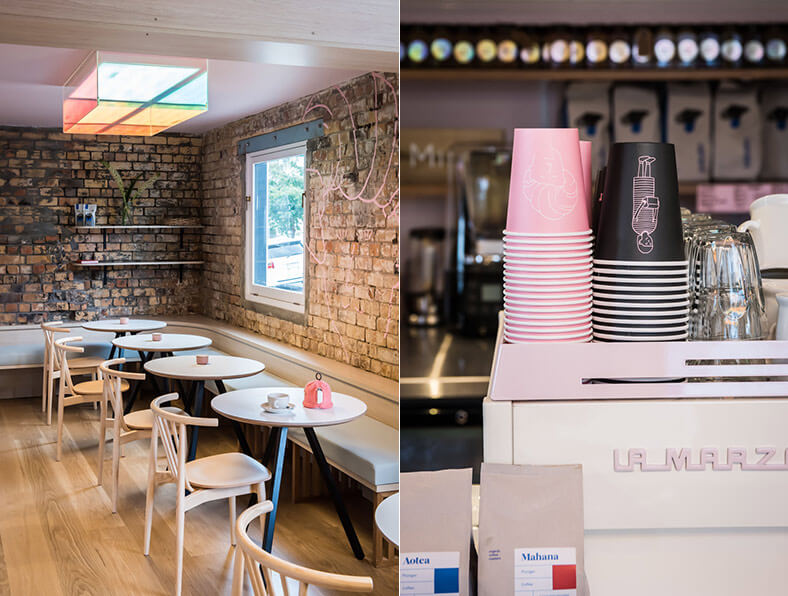 Their signature baby pink adorns the walls and accents the coffee machine. I would say it's 'on trend', but Rebecca says she dislikes the term. "We just do what we do and hope people like it."
Chef Brian has devised a menu around comfort foods informed by his American background: among the dishes are steak and eggs for breakfast, skillet mac and cheese and a sweet-toothed "gypsy toast" with a brioche soaked in orange. Elsewhere, there's Kokako coffee, baked goods from Dan the Baker and Wild Wheat, Yolanda and Wolfe doughnuts, and Flower Van flowers sold in a wheelbarrow parked outside. They will also be selling their own homemade relishes and marmalades, to take home in glass jars.
Opens today, 7 February.
@flourmillcafe
Down Queen Mary Ave, 409a Manukau Road, Epsom, Auckland
Follow Metro on Twitter, Facebook, Instagram and sign up to the weekly email for more food news.