Jun 13, 2018 Cafes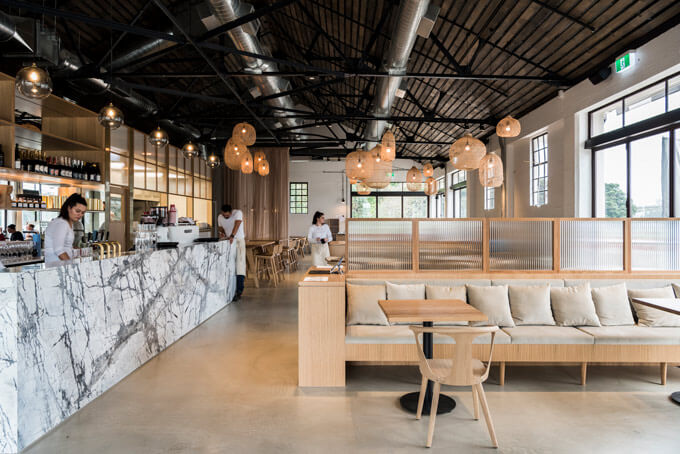 Fabric is an urbane addition to Hobsonville Point" width="680" height="454">
Hobsonville Point's new cafe-bistro Fabric makes the most of a former aircraft repair space.
What's initially striking about Fabric, the first hospitality venture to open as part of the wider Willis Bond Co Catalina Bay development near Hobsonville Point, is how restful it feels inside. It's a far cry from its days as a fabrication room for plane wing repairs when the area served as a post-war Air Force base. Keeping much of the character intact, designers Walker Mitchell have seamlessly fused old and new in a plush, high studded room with postcard views of the ferry terminal and the sailboats anchored in Catalina Bay. Looking out over the water on a moody day, the whole place feels particularly cosy.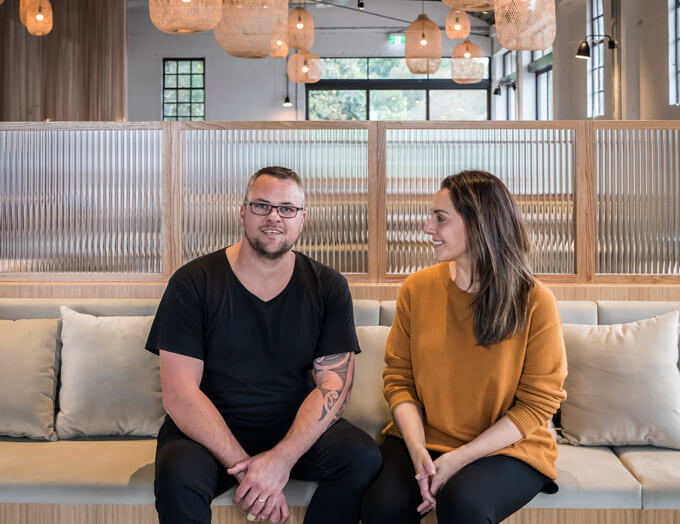 Co-owner Melissa Shore calls the fitout aspirational but you might say intentional and sophisticated, what with the boxy, neutral-toned squabs, marble-fronted bar, oak, and subtle blush and brushed-brass accents. The development as a whole is bordered by 11 hectares of wilderness reserve, coastal walks and a new housing development which features 450 homes. It will soon include a Lion-owned Little Creatures brewery, and restaurant Siamese Doll. Fabric is situated at the front of all this, next to the ferry terminal that runs the downtown-to-west-Auckland commute several times a day. As such, it features a handy outdoor-facing kiosk for takeaway cups of L'Affare coffee.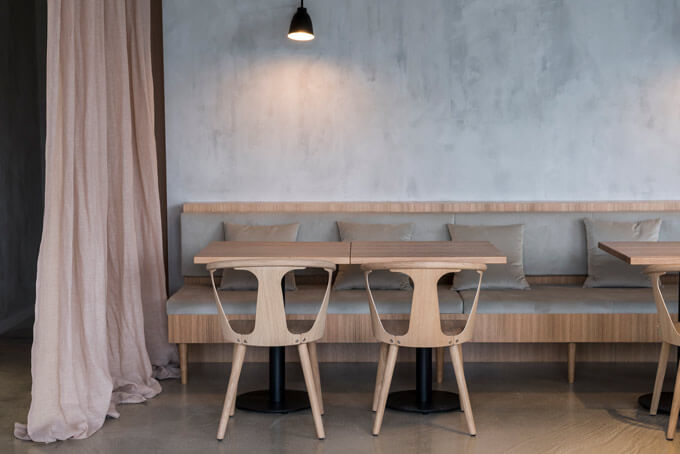 There are 160 seats across Fabric's dine-in areas but despite its size, clever design lends a sense of intimacy. Frosted glass panels divide the restaurant into four distinct sections, while mirrored cabinetry gives the sense the room is bigger than it actually is, not that the space wants for it. If all these hard surfaces sound a bit clinical, there's softness to the finish in dried flowers by Mark Antonia florists and a blush linen floor-to-ceiling drape. There's also warmness from hosts and long-time hospitality workers Shore and her partner Luke.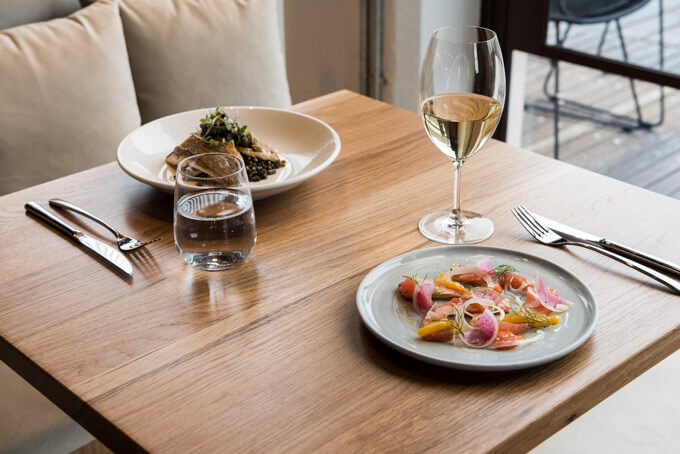 Queenstown export, chef Kei Suzaki has worked extensively under Josh Emett at both Rata and Ostro, and will bring high-end refinement to the all-day bistro menu. The offering, which includes market fish crudo with fennel and citrus, braised duck ragu with pappardelle, and market fish with braised lentils and olive tapenade, is distinctly grown-up. The wine list takes inspiration from Luke's private collection. On the other end of the spectrum there will be a sinfully calorific chocolate milkshake full of ice cream and chocolate ganache, as well as the more virtuous smoothies and kombucha.  
Fabric opens Thursday 14 June.
Fabric
8 Boundary Rd
Catalina Bay
Hobsonville Point