Sep 11, 2019 Cafes
Jean Teng visits a vibrant new eatery aiming to be fun, friendly and exciting with colour and character.
The face of Lola is neon-lit and cheeky; a looped mouth, nose and winking eye-popping off the baby pink walls. Owner Rebecca McRobie wants Lola to be fun, friendly and exciting – an antithesis to the minimalist, sterile cafes she sees popping up around the city.
The interior certainly aims to tick off all three of those boxes. The colour palette – done by designers CTRL Space – is immensely fun, with energetic pink, reds and yellows being off-set by a pale mint-green on the ceilings. The neon art reflects to create even more colour, a green bouncing through the window. In many ways, including colour, Lola is very much a little sister to McRobie's other baby, Flour Mill in Epsom.
It's much bigger than Flour Mill, though, sitting around 100 people. McRobie isn't worried – she sees this area of Mt Wellington as a dead zone of good cafes, or at least a community hub for workers and families alike. "The area deserves something like this," she tells me.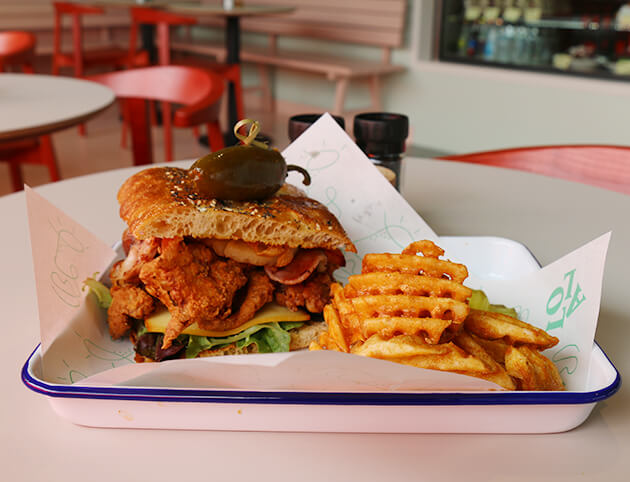 The food drifts between indulgent nostalgia and healthier classics: think chilli cheese dogs and buttermilk fried chicken, plus a vegan breakfast bowl McRobie considers her favourite dish on the menu. That's with a coconut quinoa falafel, tahini carrots, beetroot hummus and other yummy additions.
I go for their Lola Hawaiian Sandwich, a toasted Turkish bun, fried chicken, chicken skin, bacon, grilled pineapple and cheese. "I hope you're hungry," McRobie warns. Be prepared for some tricky eating, cutting through layers of fillings. But it's worth it once you wrangle all the elements in a single bite, though, especially if you manage some of that crunchy chicken skin. (I firmly believe in the deliciousness of crispy skin.) Don't attempt this on anything other than an empty stomach.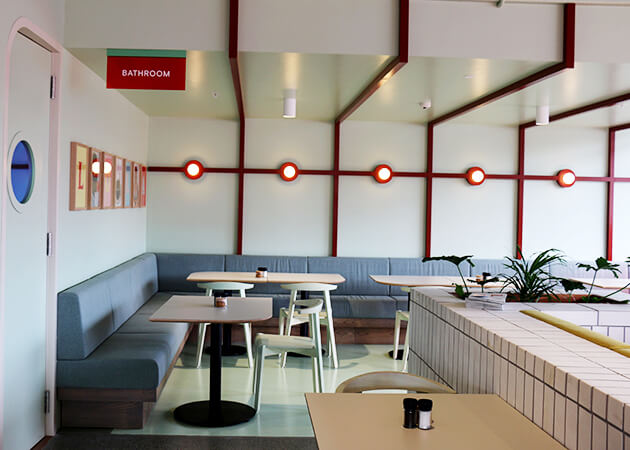 The cabinet is chocka with sweet treats (vegan brownies, marshmallow and peppermint slices, rocky roads and more), plus takeaway salads and sandwiches for any workers in the area.
Coffee is Kokako, with a filter batch brew option and nitro cold brew on tap. Also on tap is kombucha from Metro favourite Batchwell and a range of four hot chocolates (including coconut white chocolate and chilli). My go-to flat white is strong and smooth.
One last thing – if you're having trouble on the 'ole GPS, it's right by the Mt Wellington McDonald's.
Lola Cafe
517 Ellerslie Panmure Highway, Mt Wellington
@lolacafenz