Jun 8, 2018 Cafes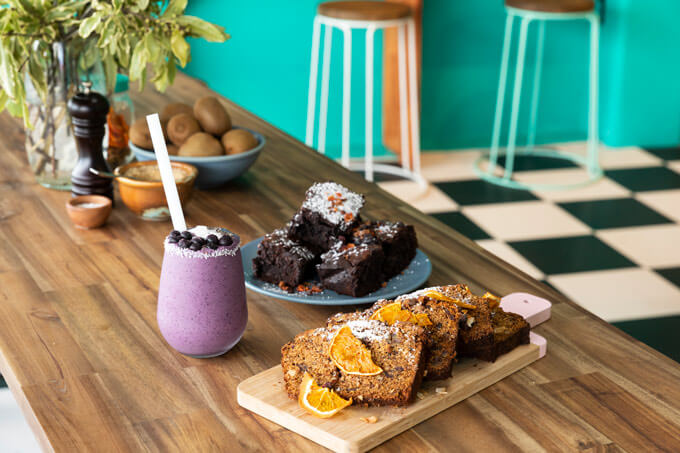 New cafe-bakery Manny Moo in Belmont is the talk of North Shore.
I was accosted at the door of new Belmont cafe Manny Moo by an older, woollen-hatted woman who wanted to say just how pleased she was that something new had opened in the area. Owner Manny Satisfied's baking, she went on to explain, had inspired her to dust off her own cookbooks and get into the kitchen, but she was still thrilled to be able to pop in here when she didn't feel like cooking.
Manny Moo has only been open two weeks, but hat lady wasn't the only excited-looking customer. At 2.30pm – not the traditional time of day for coffee – there was a steady stream of people trickling through the door for afternoon tea: mums with prams, young families, and little old ladies in for a natter. Manny Moo, it seems, has been the talk of Belmont.
This is sort of unsurprising; from the road, the cafe is visually arresting, painted bubble-gum-pink with prominent white and pink signage. Inside it's even louder, a kaleidoscope of teal paint, mismatched furniture, flowers, dried fruit, exposed wood and checkerboard vinyl flooring. Music is the best of the 80s and 90s. Next to the other dining options on this busy intersection – a McDonald's and a pub called The Jolly Punter – Manny Moo feels positively cosmopolitan.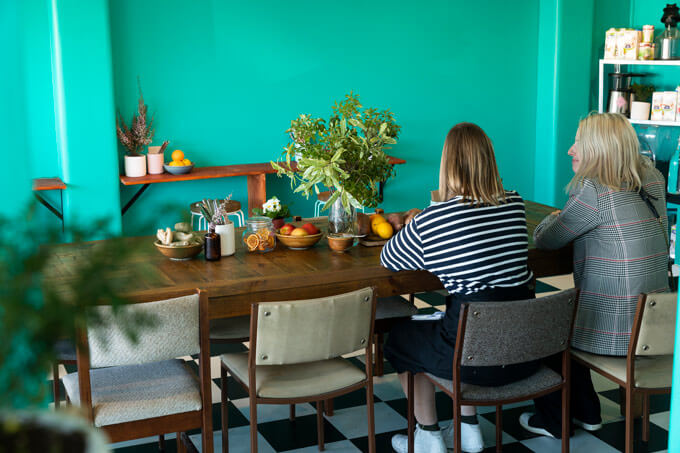 This is Satisfied's first solo hospitality venture and as such he's been taking feedback from the community into account. His offering, which for the time being is limited to cabinet food, will change depending on what the locals ask for. People like his kumara-topped pies, he says, so those will stay. "But I think what they really like is that it's home-cooked, healthy and affordable food. You can have a coffee and a great sandwich for $15 and that's lunch," he explains.
Other older diners have been pretty vocal about what they want to see in Manny Moo's cabinet. "Oh we've had requests for stuffed potatoes," laughs Satisfied, "It's some old school stuff, but I don't mind."  Coffee is a very 2018 roast by Wellington's Flight, and there's a 50 cent discount if you bring a reusable cup. And don't panic, there's kombucha. How hip.  
Manny Moo
131 Lake Rd
Belmont
@mannymoocafe