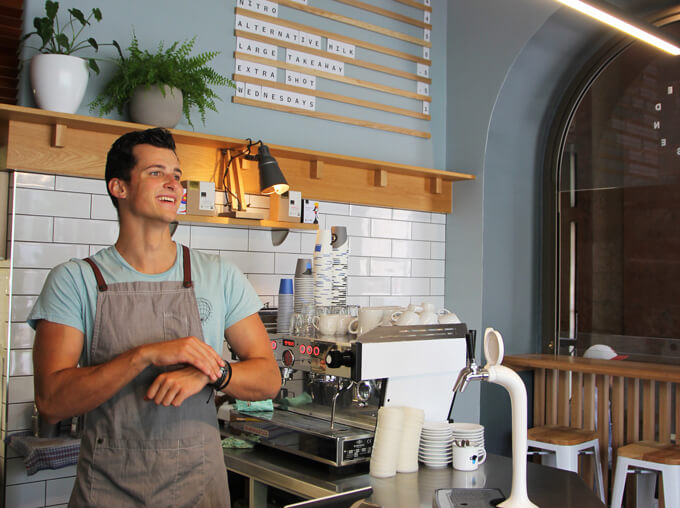 First look: Wednesdays Espresso Bar
While most of us spent the Christmas holidays mastering the art of eating food from a plate carefully balanced on our chests, barista Tyler Kells got to work refitting his first café with the help of his dad and brother. Wednesdays Espresso Bar occupies a compact space at the base of the heritage Elliott Hotel (where Wellesley St Barista used to reside) and features a resourceful but design-focused interior conceived with advice from Mike Murphy of Kokako, and Chris Stevens of Ctrl Space.
Having established his hospitality career aged 17 at Kokako's flagship Grey Lynn café, Kells' loyalty to the ethical coffee brand comes through in the familiar white butcher tiles and LED strip light, and the fondness with which he describes his three years there. A white La Marzocco espresso machine and shiny beer tap (for Kokako's nitro cold-brew coffee) are the focus of the store's offerings, alongside a selection of Bread and Butter Bakery cabinet goods that will soon feature sandwiches made on site. Named after so-called hump day and located at the foot of a literal hill, Wednesdays is an easy, everyday local that'll put pep in your step for the road/day ahead. 
Wednesdays Espresso Bar
17 Wellesley St West
Central city
@wednesdays.espresso.bar on Instagram
For more first looks, follow Metro on Twitter, Facebook, Instagram and sign up to the weekly e-mail