Sep 2, 2016 Cafes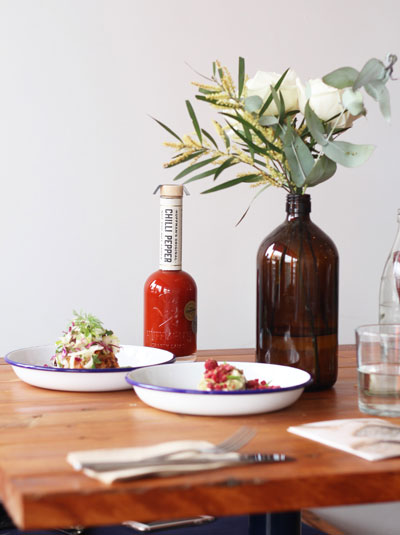 A sneak peek at The Midnight Baker
If you look carefully, you'll notice the room is tilting ever so slightly to the left. The Dominion Rd building 30-year-old entrepreneur Yeshe Dawa has chosen as the new cafe and headquarters for her seeded loaf empire, The Midnight Baker, has been on a demo lease for the last 10 years. It used to be the home of Vinyl, a cafe that's since merged with burger bar Ralph's around the corner, but the building is owned by the council, earmarked for a bypass that never eventuated.
Its flaws enhance the homely character of the narrow space, a spot of leveling preventing the tables wobbling and the rolling pins clattering. Dawa's made the most of the room's generous steel-framed windows with a white colour scheme punctuated by tropical monstera deliciosa, rustic flower arrangements and warm-toned, exposed-filament light bulbs.
The menu reflects the interior's informality and is organised into two main categories of toast with toppings: savoury and sweet, plus three kids' options. The hero of each dish is Dawa's signature gluten, wheat, dairy, nut, yeast, egg and refined-sugar free (!) Freedom Loaf, which she began baking for sale as a side hustle to a full-time job at Meadowlark Jewellery. In June last year she committed to the business full-time, and now supplies over 30 cafes and retail stores nationwide with four versions of her seeded loaves, in addition to selling direct to customers online and now in person.
While 95% of the menu is vegan, Dawa's priority is making dishes that appeal to everyone. The BBQ pulled "not pork" is a prime example, carnivores don't miss out thanks to smoky "pork" made with canned Southeast Asian fruit jackfruit (which is famed for its meaty texture) married with sour, crunchy fennel and apple slaw and Wise Boys aioli. Words like "cheesecake", "cookie" and "caramel" sprinkle the descriptions of the four sweet options, belying the relative healthiness of Dawa's interpretations, which use activated nuts, freeze-dried berries and natural sugars to satisfy sweet teeth. Dawa champions other independent makers, offering Forage and Bloom Teas, Almighty Juices, Organic Mechanic kombucha and Latte Lab's turmeric and red velvet lattes alongside eighthirty coffee on the drinks menu. There's a curated selection of design-focused homewares for sale too, from Mavis & Osborn tea towels to Falcon enamel plates.
Sporting the hospitality badge of honour – a blue band-aid on one thumb – Dawa describes herself as "a bit rough around the edges". The thoughtful execution of her first cafe demonstrates she's not where it matters, and like the sloping floor of the building itself, it's this that lends The Midnight Baker – the business and its owner – genuine charm. Clean eating without an ounce of sanctimony. How refreshing.
The Midnight Baker
218 Dominion Rd
Mt Eden
themidnightbaker.co.nz