Aug 26, 2015 Cafes
Photos by Ken Downie. Words by Alice Harbourne. 
In 2010, an intriguingly simple store opened on the corner of Ponsonby and Karangahape Road. Two saw horses sat on the pavement outside, signposting a cafe that could easily be mistaken for a fixie bike workshop/art gallery/architect's office thanks to a confident rejection of typical cafe furniture. In fact, many people did mistake it, and on its first day of business, owner Glenn Bell served just two coffees.
Five years later and Bell is opening his fourth cafe – a new flagship – in the back of the 1920s building on High Street, which many people will remember as the former home of Rakinos bar.
As a blank canvas for a cafe, it's one of the most beautiful in Auckland. Huge deep-set casement windows flood the room with light, which eighthirty architect Dominic Glamuzina has capitalised on with white surfaces and bold splashes of pink. A homage to office stationery takes pride of place across two large walls in the form of an installation by Auckland artist Yolunda Hickman; great big swirls of marbled strawberry comprise giant diagonals.
It's a fun place, and also a respectable lunchroom for the law offices upstairs. Their new regulars can enjoy great coffee from cups that confidently declare "this may fix everything", and grab an easy cabinet lunch from quality suppliers Cool Food and Catroux .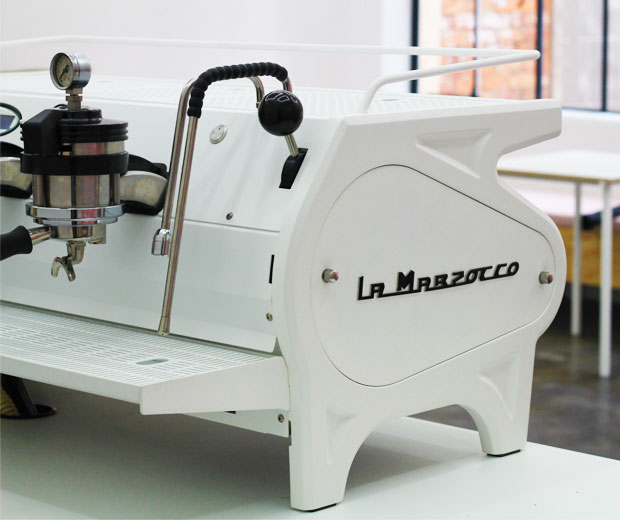 The real star of the show is a luminous white La Marzocco espresso machine that shares the same fate as pristine snow – an inevitable muddying. It's the only item in the room that Bell is willing to take credit for. "I guess I just chose the right people and allowed them to make things happen," he says. "Very little of it was me."
That's not true, of course; one of the reasons eighthirty has grown so successfully (they now supply over 30 cafes with their roasted single-origin beans and blends) is due to Bell's ability to attract talented people and keep them happy. Sam Jarvis, head of operations, for instance, is one of Auckland's very best coffee roasters, and now has a stake in the business.
So the pink and white cafe on High St is much more than a new opening for Auckland to quickly devour and spit out. It's the mark of a new phase for eighthirty as a business; a phase that focuses as strongly on staff growth and the community as it does on profits. That sounds like an advert, but when you meet the team you quickly realise they're too fun for corporate talk – they just want to serve you the best coffee they possibly can – ideally without dirtying the machine.
eighthirty High Street
35 High St (ground floor)
Auckland
eighthirty.com

eighthirty High Street opens Monday 31st August. Hours: 7am-4pm Monday-Friday, 9am-2pm Saturday.