Jun 8, 2015 Cafes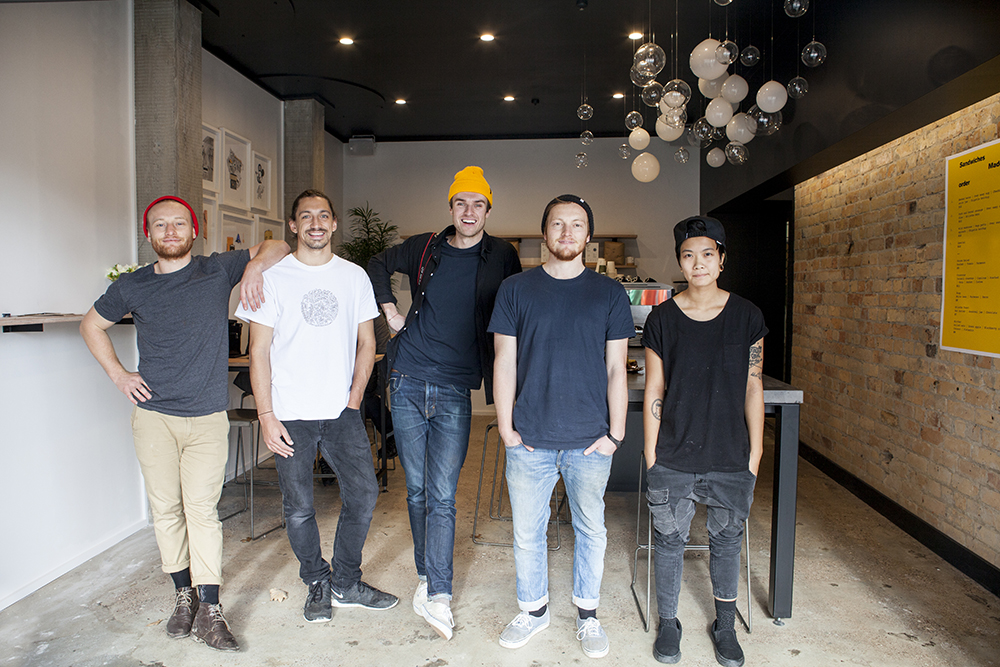 By Catherine McGregor. Photo by Ken Downie.
The guys at Ceremony are having a pretty good opening week. The other day one of their very first Instagram posts scored a like from Lorde, prompting another few hundred users to do the same. Not bad publicity for the new Grafton cafe co-owned by music-scene mover and shaker Connor Nestor and his "best bud", coffee fanatic Charles Williams.
All through the morning of our visit, friends and well-wishers – like the pal claiming a free coffee for helping lift the 250kg concrete bar into position – drop by. On the walls are drawings by I Luv Ugly's Valentin Ozich, whose partner Barnaby Marshall is acting as an unofficial business mentor to Williams and Nestor. They show me hand-thrown cups, used to serve their brewed coffee, which they co-designed with Wundaire Ceramics' Felicity Donaldson, who also works down the road at Coco's Cantina .
Yep, they're a pretty well-connected duo. But then, making connections between people is kind of Ceremony's thing. They envisage the cafe as a "community space" that will help revive the once-thriving Park Rd strip; the two of them bubble with plans for parties and record clubs and pop-up events.
Inspired by by Los Angeles hipster hangouts Egg Slut and Free Range LA, Ceremony serves a range of hangover-busting breakfast sandwiches using soft brioche buns custom-created for them by Andrew at Il Forno. Fillings include vege patty and wild mushroom, smoky bacon and cheddar, or L'Authentique pork and fennel sausage – each topped with an "over-easy" egg for that all-important goo factor.
There's gourmet brioche toast – try it with house-made pistachio butter – and bircher muesli for breakfast; soup, hearty bowls of Israeli couscous, and those incredible sandwiches for lunch. Coffee comes from Wellington's Flight Coffee. "They do the best beans in New Zealand," says Williams. "And they're really good people." Community is what counts, after all.
Ceremony
7 Park Rd
Grafton
ceremony.company