Jan 31, 2017 Cafes
Avid Instagramers and National Barista Champions, Hanna Teramoto and Xin Yi Loke, open an innovative espresso-brew-bar in Remuera. 
One look at Xin Yi Loke and Hanna Teramoto's respective Instagram feeds and it's clear they're obsessed with coffee.
Now firm friends, the pair met at the 2014 World Barista Championships, each taking the win for their own country; Teramoto is the 2014 New Zealand champ and Loke won in the same year for Singapore.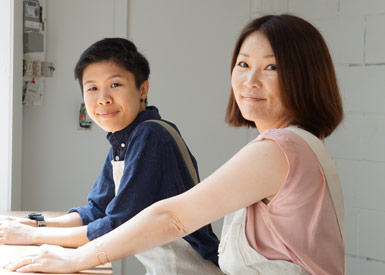 Teramoto says New Zealand's coffee scene, once internationally acclaimed, has been surpassed by the rest of the world, and the best way to get it back on the map is by competing both here and overseas – which she'll do at the 2018 World Barista Championships – and by opening progressive espresso-brew-bars throughout the country to educate coffee drinkers and "share a new type coffee experience". Catalyst Coffee, the pair's first independent coffee shop, opened in Remuera this week.
"A catalyst signals the beginning of change," says Loke. For her that could be "a new relationship made in a cafe, a new coffee experience or the chemical reaction that takes place when hot water is poured over ground beans". Loke and Teramoto would like to see Auckland – and eventually New Zealand's – coffee culture become more innovative. Wanting to lead by example, Loke and Teramoto will be sourcing single origin beans from trusted sources, holding regular cuppings and tastings in the café and using expressive brew methods that celebrate unique roast profiles. They'll only offer coffee and a few pastries baked at La Voix Francaise on Dominion Rd, keeping the café's air free of cooking scents that might interfere with the flavour profiles of coffee beans.
Catalyst Coffee will offer seasonal single origin everything – coffee of course – but tea and chocolate too. "People don't realise that those things are all seasonal, so we can't tell you what we're going to serve on any given day, only that it'll change all the time, depending on what's good and what we're into," says Loke. For now it'll be beans roasted by Wellington (and now Auckland) based supplier Red Rabbit , Melbourne's Market Lane and Tim Wendleboe from Norway.
Last year, Teramoto went on a coffee pilgrimage to Ethiopia for three weeks to work at Ninety Plus Coffee's organic, sustainable coffee farm, where restorative practices have returned once-desolate farms to their former glory. While away, she created a one-of-a-kind roast, which will be sold at Catalyst. "Cafes are part of Kiwi culture, but we want to push progression," she says. Challenging other cafes to be accountable for the coffee they serve is really important to Teramoto and Loke, they intend to do this by serving only the best beans they can find. Why? Because it is very easy to say you'll be sustainable, ethical and progressive and another thing entirely, to actually do it.
Catalyst Coffee
1A/415 Remuera Road
The Village Green
Remuera
For more  first looks, follow Metro on Twitter, Facebook, Instagram and sign up to the weekly e-mail