Apr 27, 2018 Cafes
New cafe Common Ground Eatery opens in Browns Bay
Recent times have seen a common theme emerge in many of Auckland's eateries: industrial fit-outs, wall art, terrazzo floors and obligatory La Marzocco coffee machines. Newbie Browns Bay cafe Common Ground Eatery certainly fits the bill. It's a far cry from the candy-striped aesthetic of its former occupant – Yoghurt Story – and the black roller door opening up to Clyde Road makes the cafe feel spacious and welcoming. But it doesn't feel as though it's trying too hard, complete with comfortable booths, exposed timber, and lots of indoor greenery.
The owners, both former chefs, have been close observers of the city's daytime eating culture. Common Ground Eatery is clearly something Browns Bay has been waiting for – the duo has been overwhelmed with its popularity in its early stages.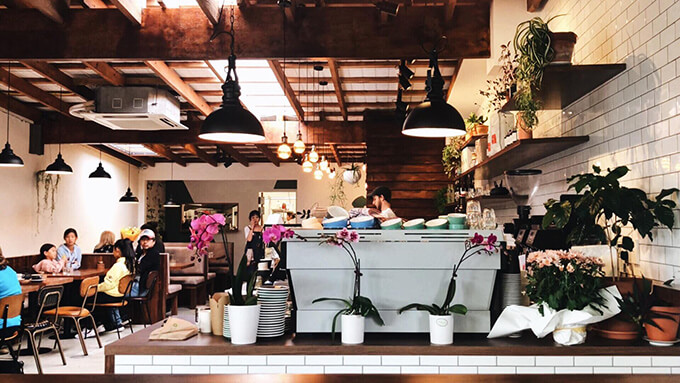 There are plenty of classic options here too, including eggs on toast or a full breakfast, which includes everything the name suggests and a few surprises, like smashed peas. For those lured in by sweets, the fried brioche comes with passionfruit curd, crème fraiche, caramelised banana, nut crumble and coconut ice-cream – it's brunch meets dessert.The menu is a well-balanced mish-mash of the classics alongside some more unexpected dishes. There is an impressive offering of eggs bene dishes, but not as you know them – for example, a soft-shell crab option served on a generous brioche bun with poached eggs, wild rocket, fried potatoes and a healthy serving of hollandaise; plus pulled pork and South Island salmon variations.
Common Ground is the only cafe in the suburb so far to offer crowd-favourite Coffee Supreme, and there are other local brands represented here too, including Storm & India tea and Hamilton's Rocket Espresso which they use for their black coffee. Alongside all the standard hot offerings, there's also a line-up of coffee alternatives – including both matcha and activated charcoal lattes for those avoiding caffeine.
Common Ground Eatery
1/63 Clyde Rd
Browns Bay