May 18, 2021 Food
Lucky Gs has found the secret sauce. (Scroll down for Stan Gong's 'Twice as Nice' smashburger recipe.)
Here's the story: to kick off Lucky Gs, founder Stan Gong bought Lucky Takeaways, a lunch bar next to a dairy on Avondale's Rosebank Rd. Along with a business partner, he continued running the existing takeaway, cooking up Chinese smorgasbord and "shitty $3 burgers". Then Gong started rolling out his own burgers for friends, and locals soon caught on to the actual good stuff coming out of the kitchen. They had to try their luck by ordering at the counter with exact names ("two, uh… G-Eazys?") spread only through word of mouth. "It really was an 'if you know, you know' situation at the beginning," Gong says.
'If you know, you know' became Lucky Gs' calling card, a tagline that often ran with Instagram photos and the side-eye emoji. It came o like a clever marketing tactic but sprang out of Gong's desire to keep things local to the Avondale neighbourhood, keeping a handle on quality control and what he calls "audience control" (i.e. who was eating them).
In a city as small as Auckland, that got hard real quick. After musician Melodownz blasted it on his social media, Lucky Gs really blew up, and big time. "After that, we'd have waits of up to two and a half hours,"Gong says.
Though it felt nice to be busy, it's obvious the hyper-locality is integral to Lucky Gs' community-focused ethos; Gong even kept opening hours short and sweet, shutting up shop around 7pm so it could serve locals during their lunch break and after work, rather than people descending from further-flung suburbs.
Gong isn't culinary school trained, though his dad is a chef. It was actually in the United States, after trying an In-And-Out burger for the first time, that Gong realised the beauty of the simple cheeseburger — nothing fancy, something you can actually fit in your mouth (remember that time Auckland burger bars started going crazy with their fillings, stuffing in bacon, avocado, prawns and whatever gimmick they could find?). Following a lot of research and development, the current Lucky Gs cheeseburgers are modelled on an affordable fast-food vibe. "Maccas, but made from scratch," Gong laughs.
Lucky Gs' cheeseburger patties are technically made using the smashburger technique, but, keen to stay away from all that hype, Gong doesn't advertise them that way. "It's just a way to get a tasty patty," he shrugs. It's to do with the Maillard reaction: by smashing the patties down, there's more surface area for the chemical reaction between amino acids and sugar, giving charred food that enticing complex flavour.
Gong pulls out his smashing tool — not a spatula or a storebought smasher, but something he got custom-engineered at the car-parts place he works at on the side. It has that classic circular base, with a curved handle that juts out far enough so anyone can cradle their hand in there and ensure a consistent smash.
Jimmy Aung, who works for Gong at Lucky Gs, is at the grill. Aung used to sling burgers at Carl's Jr. but came into the shop for a feed and, during a chat, Gong asked if he wanted to work at Lucky Gs instead. For Aung, there's a pretty clear difference between the two: Lucky Gs is "family".
The portable grill that Gong pulls up is also custom-made, with a pristine smooth flat surface. To make the ideal burger, it can't have any oil on it, and leftover bits from previous patties have to be scraped o religiously to get an even crisp.
Gong doesn't smash his patties quite as thinly as some others do — around about 3–5ml, he reckons. The smashing tool pushes out an outer lace of mince which frames the patty in a tasty brown crust, the first thing you chew on. It also works to lock in the juices. After smashing, you have to wait until the meat is about 90% cooked (play it by sight), flip it, then slide the cheese right on there. (Gong uses that bright-yellow processed cheddar, which works great.) His "Twice as Nice" burger has two patties, some crisp red onion, lettuce and tomato. At the beginning of Lucky Gs, this ran a customer only $5.99. That later went up to $8, because, well, they were losing money.
Ideally, Gong would use the famous Martin's Potato Rolls for his burgers, those almost artificial-looking buns that are squishy and sweet that everyone uses in the States, including fast-food chain Shake Shack. Potato starch helps keep the buns moist instead of drying up, and though New Zealand has potato rolls made locally, they don't come close to Martin's, Gong says. In fact, Gong is working on making his own buns for Lucky Gs, modelled after the milk bun, which tends to be even softer than its potato counterpart.
Lucky Gs has closed its Avondale spot for now, but Gong has some pop-ups in the works, and has plans for another permanent space in the same neighbourhood. Is he going to keep the address a secret yet again?
"Yep," Gong says.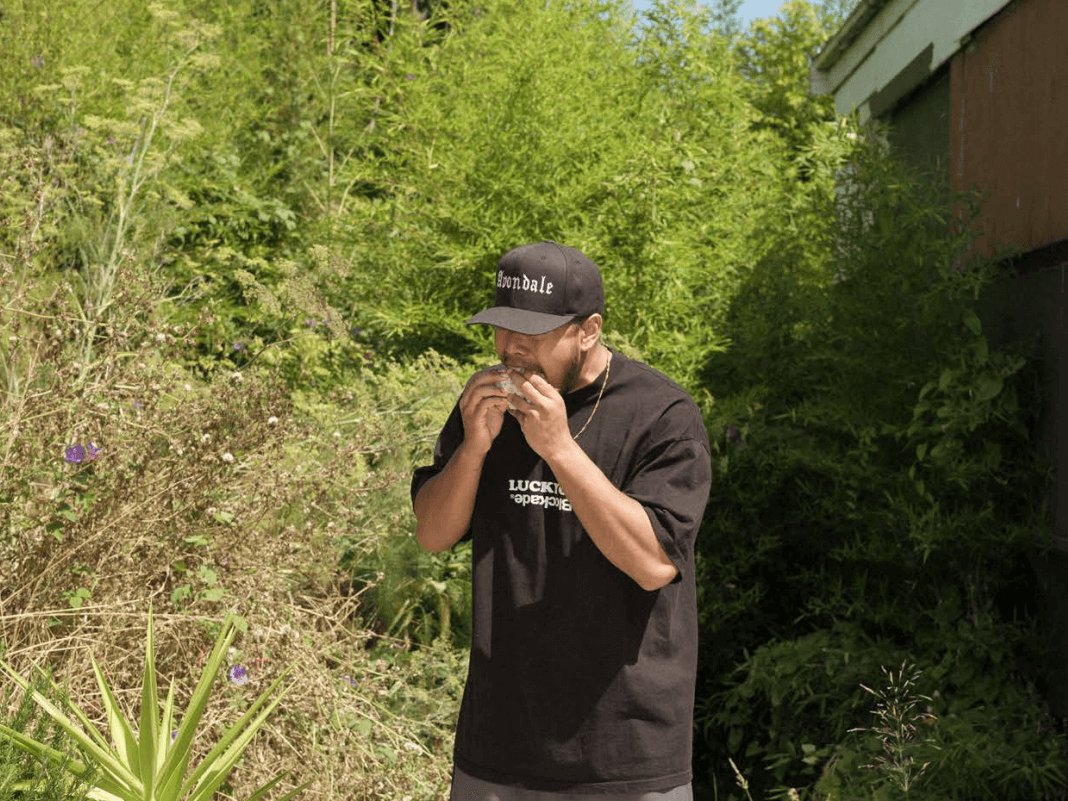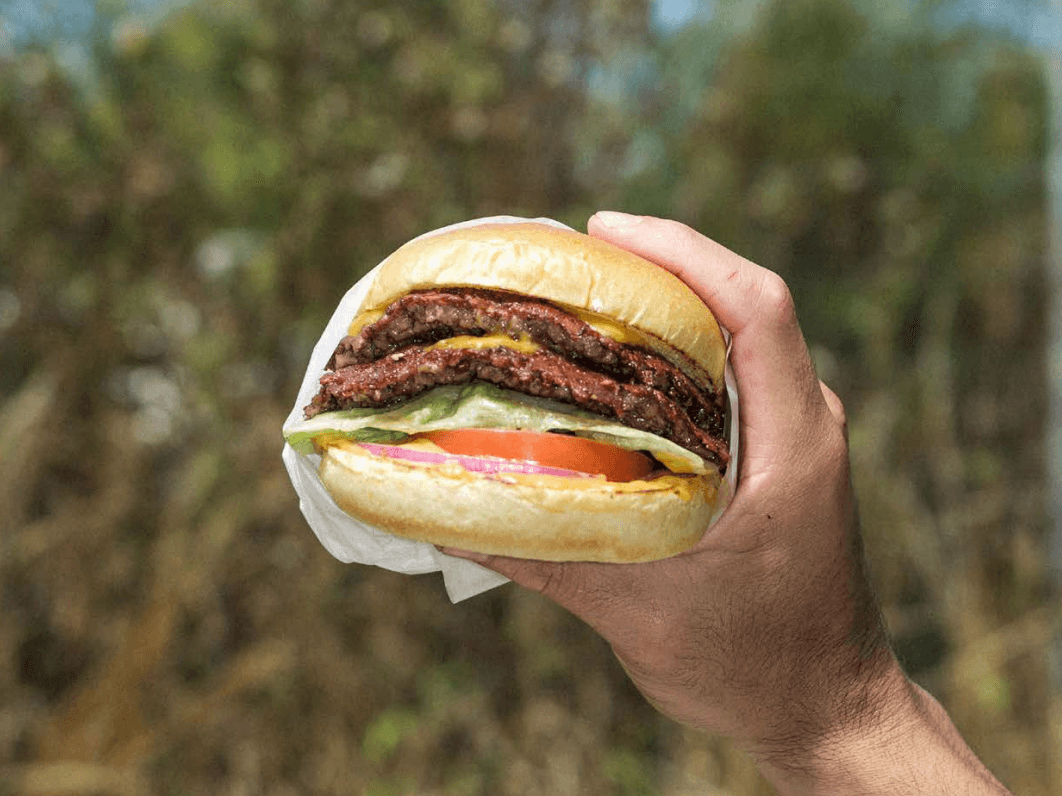 LUCKY GS CHEESEBURGER
by Stan Gong
Sauce, salad, seasoning and meat ratio is something you will have to work out with trial and error; taste everything! The end result should have a lovely mix of contrasting flavours, temperatures and textures: lil sweet, lil salty, lil sour, lil umami, lil spicy, soft, crunchy and juicy, hot patties, warm buns, cold salad and sauce.
You will need:
— Your favourite potato/milk/brioche buns
— Freshly ground beef with at least 20% fat content (70-95g per patty)
— Processed cheese
— Tomato, sliced
— Red or white onion, sliced
— Lettuce, whole-leaf plucked to size, or shredded
— Your favourite burger sauce (Gong is keeping the Lucky Gs' sauce a secret)
— Butter
— Sea salt
— Freshly ground pepper
— Smash tool i.e. anything sturdy with a at surface, like a small pot, that can fit inside your pan
— A sharp scraper
— Parchment paper
— Hot plate, or carbon steel / cast-iron skillet
Method:
1.  Grind your meat and mix thoroughly (optional)
2. Lightly roll the ground beef into balls of your desired weight; do not overhandle or stress on compressing them into a perfect circle.
3. Cut and butter buns, then wash and cut salad. Keep the salad chilled.
4. Preheat a hot plate (or carbon-steel/ cast-iron pan) to at least 200 degrees surface temperature, though it will depend on your pan — too hot and you will burn your patties, too low and you won't get the right crust.
5. Toast the buns until nice and golden brown while the pan is heating. You can also splash a small amount of water and cover to steam.
6. Dress the bottom bun in the following order: a generous amount of sauce, onion, tomato, lettuce. Spread a light dab of sauce on the top bun.
7. When the cooking surface has reached 200 degrees, ensure it is clean and dry. Do not add oil.
8. Place two meatballs onto the cooking surface. Place parchment paper on top of the meatballs, then apply pressure with your tool, compressing each meatball until it reaches about 5mm in thickness. Remove paper.
9. Season generously with salt and pepper.
10. When each patty is cooked about 90%, use a sharp scraper to dig in underneath it. Extract the crust and flip the patty over, add cheese and remove from the heat when the cheese has melted.
11. Place patties on top of the dressed bun, then place the top bun on.
12. Repeat until you're content.