Feb 24, 2022 Food
The origin story of Real Burger goes a little like this. Having finished their commerce degrees at the tail-end of 2020 (majoring in Accounting/Finance and Marketing/Info Systems respectively), brothers Michael and George Blackmore decided to open a burger joint off nothing more, really, than a genuine love for them. ("The only thing we eat when we dine out is burgers.") Neither had worked in hospitality before, and neither were chefs – but since they both lived on Auckland's North Shore, they'd noticed a distinct gap in the market. "There's hardly anywhere on the Shore to get fresh burgers," Michael pointed out.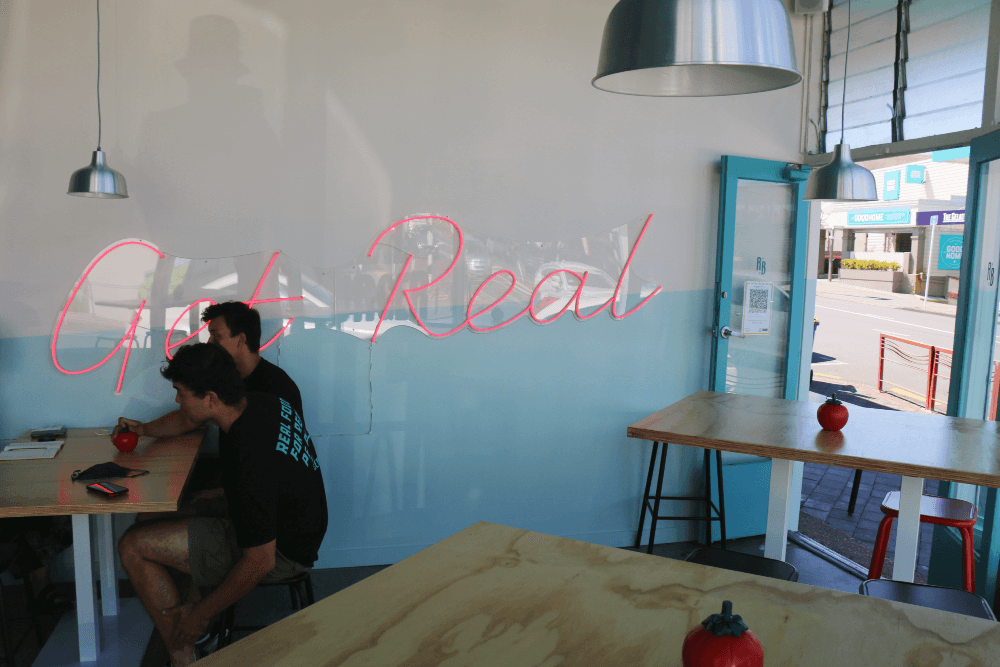 Real Burger is on an unmissable corner in one of Birkenhead Town Centre's main roads. It stands out from the rest of the strip, its shopfront painted a seafoam blue with red graphic lettering declaring exactly what it does: beer, burgers and fries.
The joint opened only a week ago, quietly, soft launching mostly to locals till they can roll the full menu out. They've been selling out every night.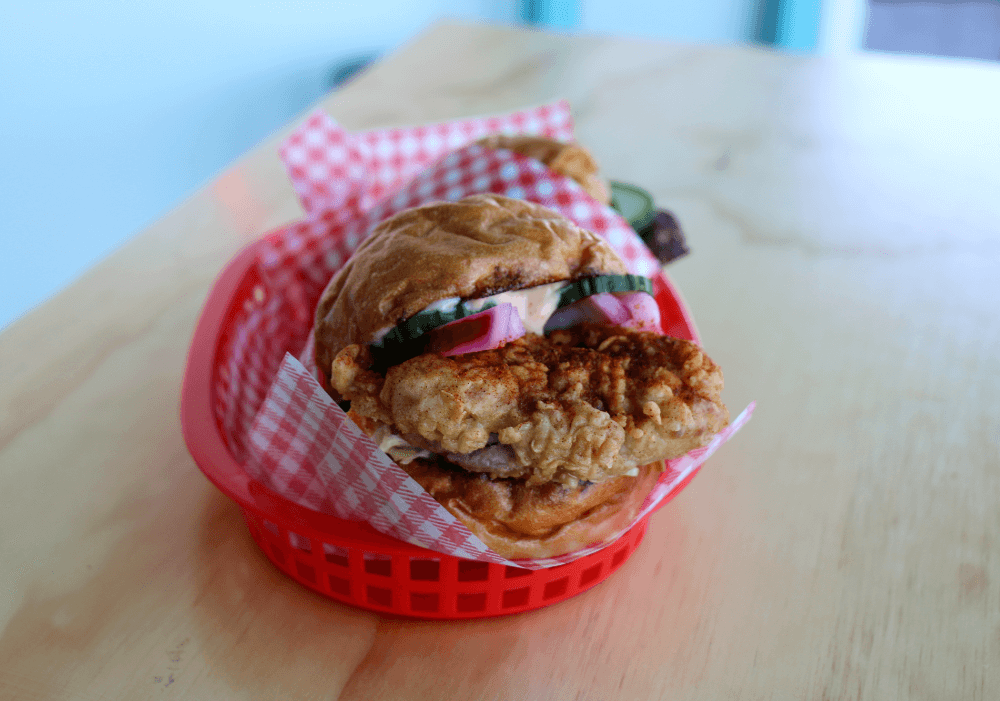 "It's been a learning curve," Michael admits. Though the brothers don't have a background in hospo, they've recruited people onto the team who do – namely the head chef, PJ, who came from working in kitchens like Burger Burger. The fit-out was done with some help from Millé, although if you head to Real Burger's Instagram you'll see stories of the shop's transformation, mostly done by themselves. (One slide has the caption "No idea what I'm doing"; then, the next one, "Kinda know when we're doing." It's pretty charming.) The overall effect of the interior (and exterior) is vaguely one of a stripped-down American diner. "And I mean, I know it's all about branding these days, but it really means nothing if the burgers aren't good."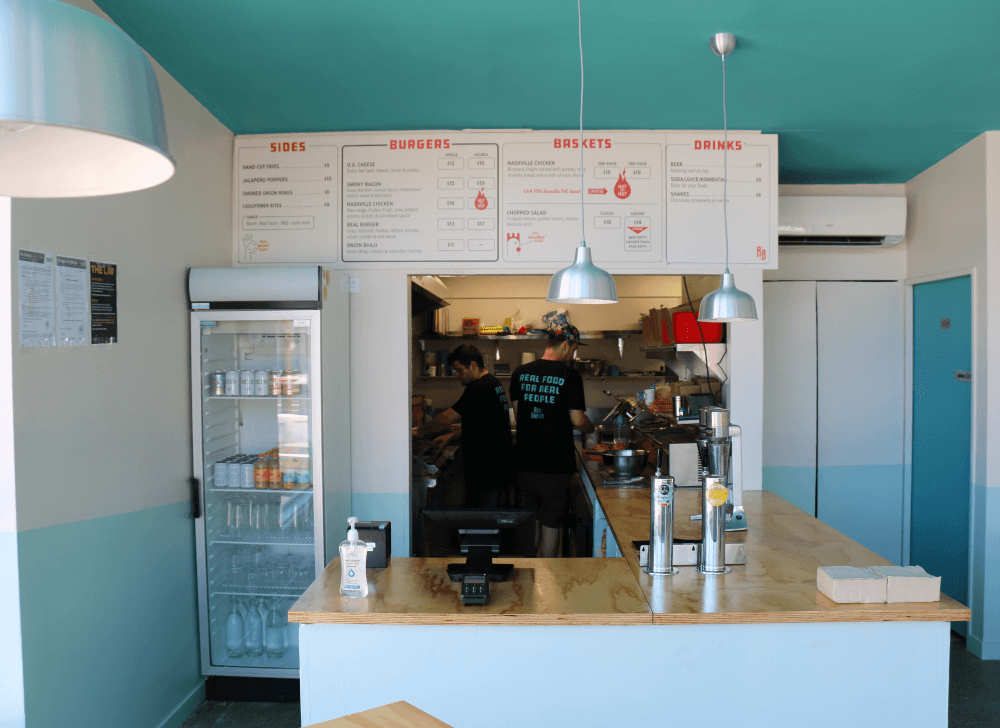 And they are: good, that is. There are about five burgers on the main menu, mostly featuring smashburger patties using chuck and brisket meat, a bacon option, a vege (onion bhaji) and a Nashville chicken burger that comes with a hot secret sauce they're particularly fond of. You'll find these wedged between fresh potato buns from Bread & Butter. You can also order the Nashville chicken by itself, with pickles and white bread. All of it's designed to be washed down with the craft beer available on tap, or in cans (though they also have plenty of non-alcoholic options, like Good Sh*t Soda). Eventually, the brothers aim to have secret menu items that you'll only have access to if you follow its Instagram.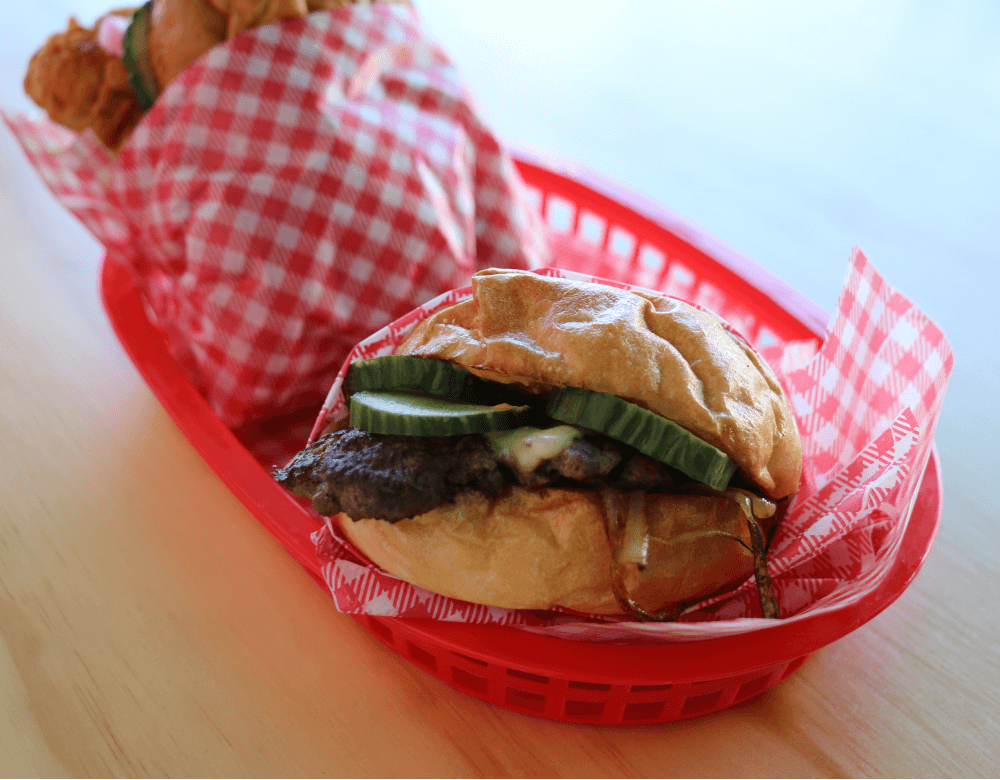 All in all, it's clear that the philosophy here is just to keep things simple: do what it says on the tin, and do it well. Beers. Burgers, Fries.
30 Birkenhead Avenue,
Birkenhead