Jun 5, 2019 What's On
Metro brings you a round up of the best of what Auckland has to offer for the coming week in our city's diverse and exciting food scene.

Matariki Celebration – Free Hangi Dinner It's the launch of Matariki Festival, so learn more about Maori culture and celebrate with a free community hangi dinner. Yum, yum, yum. There are a lot more events and happenings this month; find out more here.
6 June | Ellen Melville Centre
Food Truck Round Up Motat is partnering up with the Auckland Food Collective for a Food Truck Round Up: a night of transport, entertainment and yum food. Among the trucks are Judge Bao, Fritz's Weiners, Double Dutch Fries, Puha & Pakeha and Manila Eats. It's held over three days, with the most trucks parking up on the Saturday.
7-9 June | MOTAT
Yum Cha class at Auckland Fish Market & Seafood School Part of the joy of yum cha is sitting idly while the food comes to you, ordering far too much, gorging yourself on all the steamed/ fried and baked goodies and having to be rolled out of there. But if you've ever wanted to be on the cooking end, now is your chance to give that a go. Auckland Fish Market & Seafood School is hosting a yum cha cooking class to teach you to make the dumplings, dim sims and bao of your dreams taught by the seasoned dumpling chefs at Judge Bao.
7 June | Auckland Fish Market
Stoneleigh presents The Winter Garden A wintery oasis with florals, creeping vines, wisterias and cocktails, all month long. Food trucks will pop up each week, including Organic Knowledge and Dumplings With Wings. Free entry.
7 June onwards | The Glass Goose rooftop
Daily Bread and Garage Project Pizza Party Fans of Daily Bread and Garage Project will be delighted to hear they are joining forces for a pizza party. We don't have to convince you of the greatness of the simply excellent combo that is pizza and beer – go and see for yourself.
7 June | Daily Bread
French night at Le Chef It's just another classic party at Le Chef, with all things French – French food, French drinks, French ambience and a French DJ. Live jazz from 7.30, DJ from 9pm onwards. $5 Ricard and other specials on the night.
7 June | Le Chef, O'Connell Street
Urbanaut Birthday Happy 2nd Birthday to Urbanaut, and happy Friday night to us: a party with sweet drink specials, bespoke tiny beer cans, giveaways and a line-up of Auckland's finest amateur DJs. Tickets are only $10.
7 June | Whammy Bar
REMINDER: Coco's Cantina now opens Sundays (including serving Sunday roast!), starting with their launch party this week.
---
New Opening radar
Asian Ruby has rebranded to Nem Vietnamese Fusion House, with a new darker fit-out. 311 Parnell Rd
?New suburban spot Pixel Coffee opens in Henderson. 2/342 Great North Rd
---
What We Ate This Week
Jean Teng and Alex Blackwood
Little pig custard buns from Bowl Full I was sceptical because these buns. Shaped like little pig faces, they looked too cute to taste good. Then I bit into them. The hot, oily sweet custard in the middle is less creamy than custard I've had before, but is no less delicious. While I was eating, I became vaguely aware of a pair of people peering in the window and watching me demolishing my three little piggies (I actually only had two but that isn't the point) with such fervour that I was clearly serving as an advertisement for how good they were. Soft, silky and, yes, cute as hell. If you have a small child to treat, bring them here. Just be prepared for them to make a mess. – AB
48 Courthouse Lane, Chancery St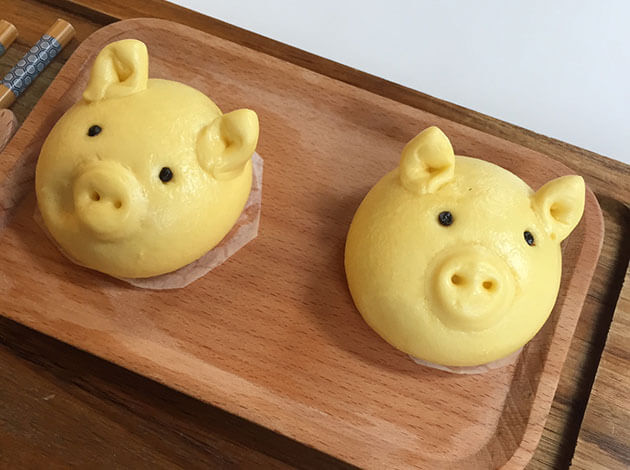 Samgyetang at SongDo I ate out remarkably little this week, but when I did I wanted something so scorching it left me with a slightly burnt tongue for hours afterward. So I ventured out of my cocoon to search for Korean soup and settled at my local in Browns Bay for samgyetang, ginseng chicken soup with half a chicken. It's apparently traditionally eaten in the summer, but it's really a perfect winter soup. The rice that's left at the bottom of the bowl soon will soon turn into a sort of congee, and the accompanying salt to quickly dip your chicken in lifts everything up immediately. If you ever find yourself in this neck of the woods, they also do a fucking great Korean fried chicken. – JT
12 Inverness Road, Browns Bay
Laphroaig 10 year old Whisky Whether my idea whiskey keeps a cold at bay is founded in reality or not, I'm not taking any chances. At the first sign of a sniffle, I ran to the shops and got myself a bottle of Laphroaig. The salty, earthy, smoky drop is like a brisk walk by the sea during a winter evening when every house has smoke coming from the chimney. It's rich and sweet and even if I do get sick, this was a delicious precaution. – AB
SPQR's Romeo + Juliet Fresh pasta + Pasqua wines lunch One dish SPQR do spectacularly is gnocchi. The soft little pillows of potato just melt in your mouth and when I'd finished the gnocchi with cockles, I was delighted to see that I had another course of gnocchi to look forward to later; gnocchi with gorgonzola (the very mild gorgonzla was set off by the sweet, tangy Pasqua Amarone della Valpolicella Limited Edition Labyrinth). I could have eaten 5 courses of gnocchi. You just can't gnocch it. [Not happy about this – Ed.]
The rest of the pasta was good but not excellent. The linguine was flat. Literally flat; as in the cross-section of the pasta was a line. This baffled me a bit because linguine's famously elliptical cross-section is one reason why I count it among my favourite pastas – the pasta was more like fettucine. And the sauce was pretty nondescript.
The pappardelle wasn't as springy as I would have liked and was quite clumped together on the plate so each piece had to be extricated. But it filled my soul's constant craving for pasta and was in an earthy bacon and mushroom sauce that was a nice departure from the very-creamy sauces usually found where mushrooms and pasta meet.
Shout out to the chorizo that stole the show in the seared scallops dish. The bad boy of the charcuterie world always packs a delicious punch. – AB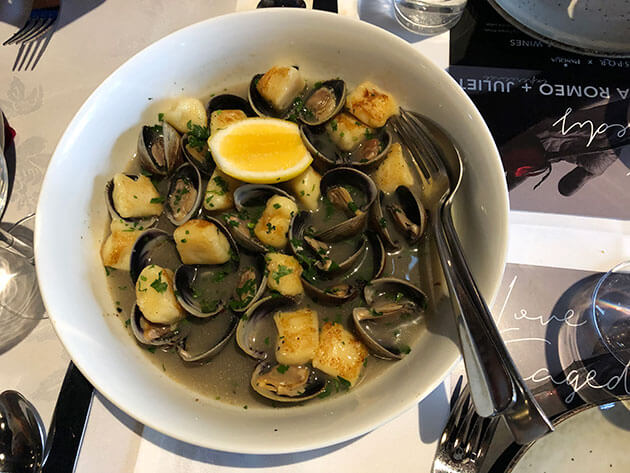 Homemade bak kut teh Tip: you can get a pre-made bak kut teh mix for around $5 or under at most Asian supermarkets, and all you need to do is add herbs, meat (traditionally pork) and some veg. Make it when you're sick, make it when the wind is howling outside and you can't bear to leave your house. You should also get some you tiao on the side, a fried Chinese doughnut. We get ours from the Glenfield night markets at a Vietnamese stall, but it's easily scouted elsewhere in Auckland. – JT