May 28, 2019 What's On
Metro brings you a round up of the best of what Auckland has to offer for the coming week in our city's diverse and exciting food scene.
AKAI DOA X Stolen Girlfriends Club As with Angus Muir's neon technicolour Asahi collaboration, the Stolen Girlfriends Club edition will be led by Azabu 's Yukio Ozeki but this time, SGC's Creative Director Marc Moore is stepping in to provide inspiration. No word on what kind of food awaits you beyond Ozeki's usual bright, Japanese cuisine, but expect to see your favourite Stolen Girlfriends Club jewellery pieces as art installations, 85 times their regular size. Moore promises that this will be a "completely surreal and immersive dining experience unlike anything you've ever experienced."
30 May-1 June | Las Vegas Club

Auckland Beer Mile The Beer Mile is a walking tour which goes through Morningside, Kingsland and Eden Terrace, starting at Metro Top 10 605 Bar, then stopping at known favourites like Garage Project and The Beer Jerk Bunker, and ending at Brothers Juke Joint. The official launch will commence on 1 June. P.S. It's not a mile. It's 3.2km. 3.2km in which to most definitely drink responsibly in.
1 June

Ardbeg Day If you're a Whisky fan, you won't need much convincing, so I'll keep this brief. Every year, on Ardbeg Day, Ardbeg distillery releases a limited edition whisky. That day is this Saturday. This year, the limited edition is Ardbeg Drum; a whisky that gets its slightly tropical taste from its time resting in ex-rum barrels. The theme is Caribbean so get your pals together, dust off your best floral kilt and rush to your nearest Ardbeg embassy to pick up a bottle or do a tasting. I recommend the tasting – it's a good way to get to be able to appreciate the Ardbeg range for its differences.
1 June | Various locations
Whisky Galore, 834 Colombo Street, Christchurch Central, 9:30am – 6pm
Glengarry Jervois Rd, 54 Jervois Road, 12pm – 3pm
The Jefferson , 7 Fort Ln, 9pm – 11pm
Regional Wines, Beers & Spirits, 15 Ellice St, Mt Victoria, Wellington, 11:30am – 2pm
Sala Yoga x Little Bird Supper Club Life really can be a terrible thing sometimes; there always seems to be a million different headlines that make you feel like shit. Let's not forget, though, that there are also a million ways to feel good: the medium of food is my personal favourite, but I guess you could also be into, like, exercise. Movin' around. Do both at this Little Bird yoga x dinner event, curated by SALA Studio and new Top 50 restaurant Little Bird Kitchen , where you'll be taken through a 60-minute yoga session before filling your tummy with guilt-free goodness at Little Bird's Autumn Harvest Banquet. Definitely sounds like a more productive mindfulness session than ignoring your Headspace app notifications.
2 June | Little Bird Kitchen

New Zealand Eid Day: Open Iftar Open to both Muslim and Non-Muslims, New Zealand Eid Day's open iftar (nightly feast) is a community event to break your fast, for some, and to come together to celebrate one vein of our multicultural city. Ramadan month is observed by Muslims to reflect and pray, and adults also fast from dawn until sunset. Food is first come, first served.
2 June | Ellen Melville Hall
Coco's Cantina opens on Sundays Are you really an Aucklander if you haven't lounged outside on one of Coco's Cantina's wooden benches, sunglasses perched on your head and spaghetti curled neatly around a fork? The answer is, yes, of course you are – come on, we're not about to start gatekeeping what it means to be an Aucklander. But we'd still recommend you do it, because Coco's is pretty damn good. Starting on 9 June Coco's is finally opening on the holy day, Sunday, after 10 years of leaving it as a day of rest. Turn up for $13 happy hour pastas and $7 drinks on their signature red and white gingham tables, plus a special weekly roast for $25 per person. Opening day shall have live Italian music and a DJ set from Tina TurnTables. Allora.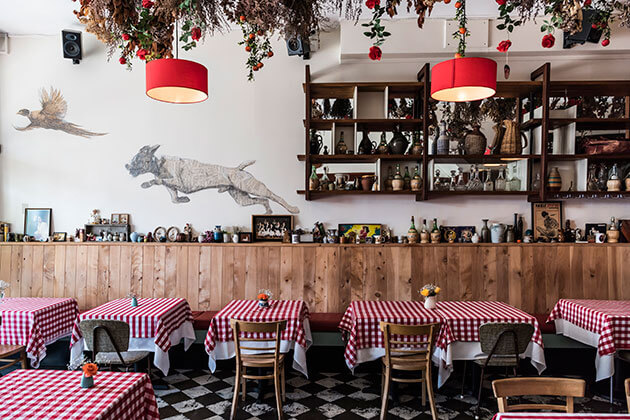 ---
New Openings radar
We spy Lowbrow opening up in St Kevin's Arcade. Kyle Street and Jordan MacDonald, the two-man team behind Culprit, first opened Lowbrow in June 2018, tucked away in the newly refurbished Queen's Rise. It was all gritty neon lighting, whimsical art and sour-hot fried chicken, and has steadily gained a following for their take on fast food. We think they might do even better in the grand arcade; imagine tucking into a bucket of wings after stumbling up the stairs of Whammy. Suddenly, I see my future.
---
What We Ate This Week
Jean Teng and Alex Blackwood

Africola Hits The Grill The night started off the opposite of promising. There were poncy roped-off sections involved, waiters milled around with glasses of wine, men dressed in crisp suits elbowed their way through the crowd and guffawed with their heads thrown back. I was, most likely, the youngest there and quite firmly in my nightmare. I found myself at Chef Duncan Welgemoed of Africola's (a very famous restaurant in Adelaide) takeover, hosted by The Grill's Sean Connolly, because ex-Metro food writer Kate Richards had spied its entry in last week's food news and urged me to go. "It's $180," I argued. "I'm broke," I pushed. "It'll be worth it," she assured.
And fuck her, she was right. I had knocked my way down to $100 a pop without the wine match (sorry Ochota Barrels) and had such a pleasant dinner, I declared it "some of the best food I had in ages" through my Instagram story. Admittedly, I was food-drunk on two rounds of pork, but I don't really regret that statement.
Beforehand, Sean Connolly introduced the night and its stars – Welgemoed and Taras from Ochota Barrels. Welgemoed talked about the ethos of his Adelaide restaurant and his South African background, and said something of interest to me as he was considering the influences he draws upon from around the globe, having spent time in Mexico recently. He describes Africola as "his food", steering the framing away from other restaurants who he says are "appropriating cultures in very weird ways." This boundary of cultural appropriation vs. taking inspiration is not a new topic in food culture, but it remains as relevant as ever, and, in my opinion, is partly down to the intention of the chef. Claiming something is "elevated", for example, as a lot of chefs do when they're taking inspiration from street food, brings into question their own perspective of the techniques, labour and tradition which street food arises from, in which the positioning of street food is "lesser".
Anyway, back to the food. From the very second my teeth sunk into that fermented flatbread, I knew it was over. When they brought out the two whole spit-roasted pigs out, a sight I've only seen in Malaysia and until that point had yet to see in New Zealand, I was done for. The pork was impressively tender, with its one flaw the inedible skin. It looked beautiful but my teeth moved in a very ungainly manner as I tried to chew a bit out, and I was very sad about it: pork skin is my one true love. There was a cheese course of a South African treat I'd never heard of before, vetkoek, which eats like a dense ball of cinnamon doughnut, but topped with a tart quince jam and sprinkle of sharp edam. The meal topped off with a small scoop of tahini ice cream, its sesame flavour working exceptionally well with the small dash of mandarin oil on top.
This is not a sponsored post. – JT
Beijing Cuisine's Dan Dan Noodle soup They call it "noodles in soup with dandan sauce crispy pork mince on top" but I call it my new go-to. Beijing Cuisine is across the road from Eden Noodles Cafe: tough competition. But at $10, this fragrant, juicy, properly spicy hand cut noodle dish is enough to stop me from crossing the road every once in a while. I also got the $5 fried beef with onion buns to dip in my soup. Very decent. – AB
81-83 View Rd, Mt Eden
Haru No Yume super ramen The noodles and broth were on the lighter side, with very little spice but there is something about a soft egg and tonkotsu broth that they really get right here. The partially submerged chashu pork is flaky and delicious and though I found myself dousing my ramen in a whole lot of extra spice, this is a pretty good option for a chilly lunch hour warm up if you're in the area. – AB
3 Vernon St, Freemans Bay

The banchan at Totoya How many times is it acceptable to refill your banchan (side dishes) when eating at a Korean restaurant? My limit so far has been three, and I'd be deeply embarrassed to go any more than that, but it was very tempting at Totoya. The main event is nothing special, but here they wheel out an impressive number of banchan, taking up almost the entire table: slices of bouncy fish-cake strips, chunks of potato, broccoli, circles of pancake, what I think is a shit-load of ridged buckwheat jelly – but I'd be happy to be told otherwise – a tasty palette cleanser, kimchi, and a coleslaw-esque salad. We refilled those savoury pancakes three times. – JT
7 Triton Dr, Rosedale

Nobibi Rose Beauty ice cream Literally just plain vanilla soft serve with dried rose petals on the top. Yeah the spoon changes colour when it touches ice, but the ice cream was watery with no syrup or flavouring to speak of. There was no firmness at all to the boba in the bubble tea. I get the feeling this place only exists for the Insta. –AB
529 Dominion Rd, Mt Eden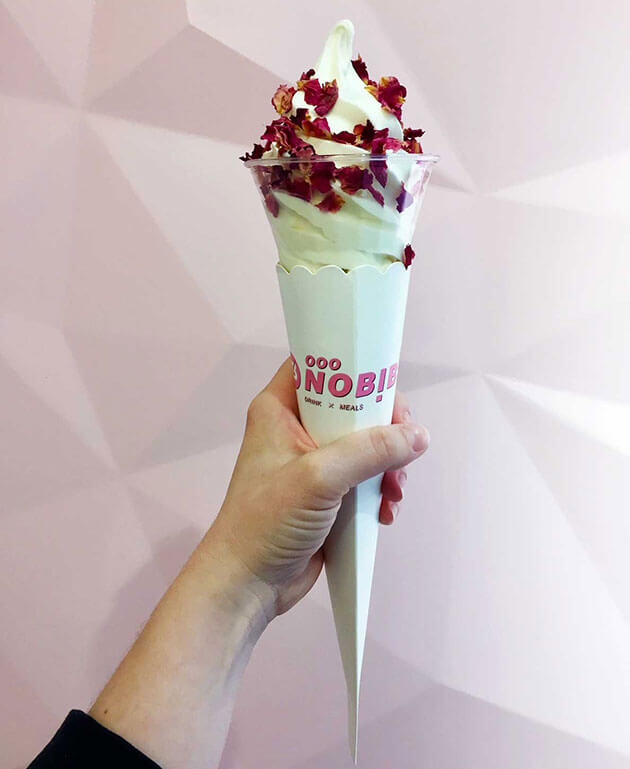 Follow Metro on Twitter, Facebook, Instagram and sign up to our weekly email