Mar 29, 2020 What's On
We hope you're staying home and staying safe, New Zealand, as we head into Day 4 of lockdown. And, yes, it's a Sunday. So what the fuck are we going to do with three-and-a-half more weeks to go? Well, you know the drill by now – here's some fun and relaxing things you can do to help pass the time at home.
READ MORE: Things to do day 1 | Things to do day 2 | Things to do day 3

Something to watch: My favourite YouTube channel is Architectural Digest. When stuck at home why not watch videos of other people's homes that are way better than yours? Dita Von Teese's maximalist English Tudor feels like eye ASMR, Sheryl Crow has a horses stable under a music studio, Robert Downey Jr, lives in a Windmill and is still the worst.
If you think mansions are unethical in 2020, the NEVER TOO SMALL channel is really relaxing to fall asleep too. I personally hate tiny homes but I love people living their truth more. Even though I'm an art director I don't trust my taste in interior design – I type "mid-century" into TradeMe and hope for the best. This channel has been a confidence building exercise because I can now say with 50% confidence that copper kitchen/bathroom fittings…. are bad?
To practice mindfulness without actually practicing mindfulness there's Thirsty For Art's channel. She is an extreme minimalist and her house is near empty. The only chair she has for guests is a piece of paper which is also her bedside table *correction* hammock side table. So if like me you are gutted you don't have an iso L couch, it's cool – use some paper instead. – Alessandra Banal
Something to read: Blogs are back! For now at least. While pockets of the world are in various stages of lockdown, some people are finding solace (or at least distraction) by reviving the great lost artform of the last decade: blogging. I particularly like Indoor Voices (subtitle: stuff to read while you're trying not to go viral), set up by a group of freelance writers in the States, which now pumps out short posts on whim by anyone who wants to participate. Where to start? Try this post about estate sales. – Henry Oliver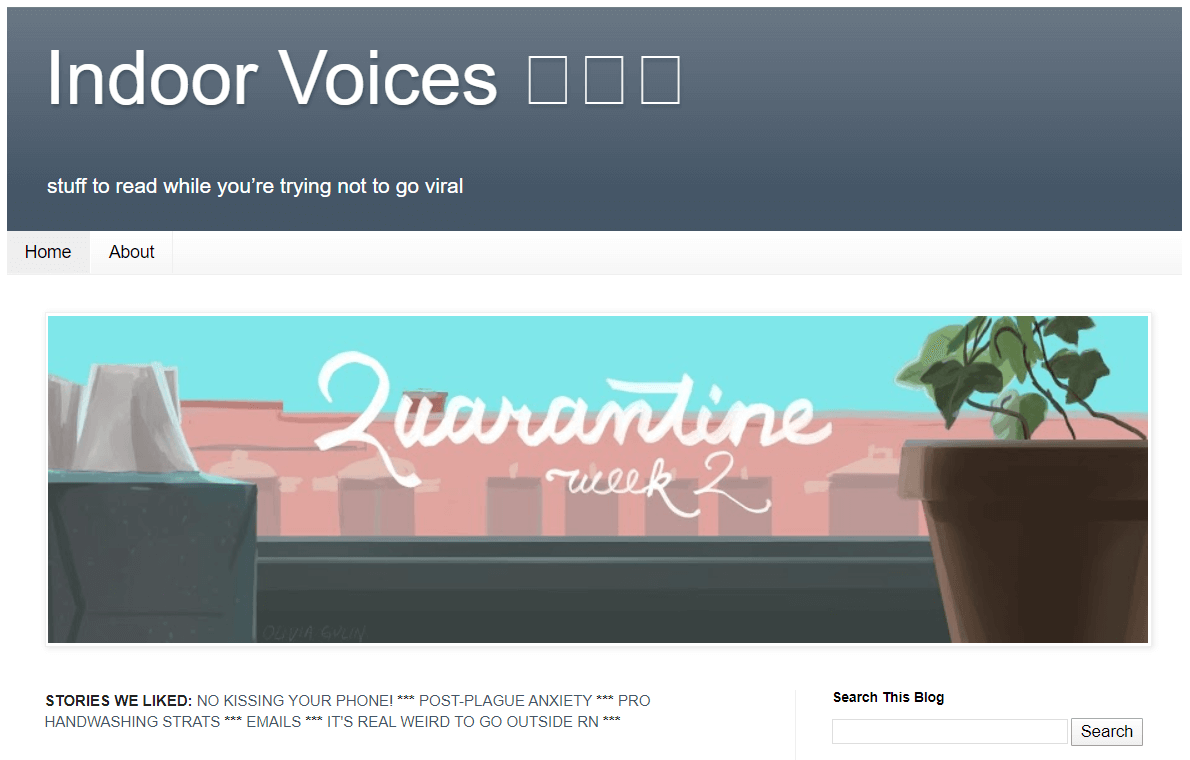 Something to bake: When I'm down in the dumps and all is lost, I like to make chocolate brownies, so stupidly simple and indulgent that I forget about things for a hot second. My go-to are these cocoa brownies, which are described by the author as "beloved by people who enjoy box-mix brownies". Okay, rude, but also true – they have that moist, almost fudgy density and trashy sweetness that makes you wonder how much sugar is in there. And, just for fun, I put a handful of chocolate chips in there too, to inject a little chocolateness (note: there is a difference between cocoa and chocolate brownies). – Jean Teng
Something to listen to: Rose Matafeo and Alice Snedden's completely pointless, rambling, high energy podcast Boners of the Heart is perhaps the podcast which most consistently fails to deliver on its original premise (which was talking about hot celebrities using different parameters like "smart boners" or "first boners" aka first celebrity crushes. This concept seems to have been more or less abandoned, and is rarely referenced). It is also an enduring favourite of mine (their petty squabbling is honestly ASMR to me) and the only podcast I've listened to every episode of.
True to its essential nature, the pod goes on random and extremely extended hiatuses without warning, but thanks to the pair being in isolation together after returning from the UK, it's back, baby! And it's better (worse) than ever. If you're feeling a little starved for company (or your bubble is starting to give you the shits), pop on an ep and you've got two new instant pals to hang out with. – Tess Nichol