Aug 20, 2019 What's On
Metro brings you a round up of the best of what Auckland has to offer for the coming week in our city's diverse and exciting food scene.
American Express Restaurant Month
There are still tickets left for a few big Restaurant Month events as we get into the last leg. A Taste of Maha at SOUL Bar & Bistro teams up Shane Delia of Melbourne's Maha restaurant (known for contemporary Middle Eastern) and SOUL – check the full menu out here (21 August). Foraged at O'Connell Street Bistro uses ingredients sourced from our local region by chefs and experienced forager Riki Bennett (23 August). Plus, a seafood-only Sunday brunch, boozed up with rose wine pairings, In The Pink at Harbourside is on 25 August.
S'more Than A Feeling
Awful name aside, this sounds like a cute event if you work in or around Smales Farm – a mid-week sweet treat indeed. There will be a pop-up fire pit, live music and ingredients for s'mores and toasted marshmallows to round out the last couple weeks of winter.
Wednesday 21 August | Smales Farm
The Great Late Lunch at The Grange
I'm told this happens every Saturday afternoon for five more weeks: bottomless drinks, choice of main, shared charchuterie platter, sides and choice of Villa Maria, Peroni beer or vodka cocktails for $55 a ticket. If my maths is correct (which, to be fair, it might not be) this is a pretty sweet deal. Drink responsibly!
Every Saturday till 21 September| The Grange
Japanese-inspired six-course dessert-tasting menu?
This edition of Miann's new weekly dessert-tasting menus is Japanese-inspired. No details on the actual dish yet, but I'd expect some matcha, maybe some yuzu, and something sesame-y? Check back next week to see how I did.
Monday 26 August | 57 Fort St
---
New openings
?Keep your eye on former-food truckers Peach's Hot Chicken who are in process of renovating their brand-new permanent spot in Panmure.
Instagram-fave Japanese Sashimi Bar Ajimi (sashimi staircase dish – ya, you know it now) have opened a new branch at Kingsland under Japanese Lantern Street Bar . Fun izakaya-style food with dishes that you can't get anywhere else in Auckland. 484 New North Rd, Kingsland
---
What We Ate This Week
Jean Teng and Alex Blackwood
Tiramisu and coffee at Lily's Eatery
PSA to all cafes in Auckland: please mark the prices of cabinet goods where you can plainly see them. I know it's all some sneaky marketing ploy to trick me in spending $8.50 on a thin slice of tiramisu but I'm really quite sad about it. In saying that, the coffee here (eightthirty) is banging, and it's a sweet little neighbourhood spot (on a side street, high ceilings, several fiddle-leaf figs). The tiramisu was OK (way too soft, no textural element to it, rich) but… $8.50. Add biscotti! – JT
12 Wynyard St, Devonport
Mt Eden Bakery Lunchbar and cafe chicken cranberry and Camembert pie
The pastry is flaky and the inside is mostly cheese. It isn't the best pie in the world but I keep going back for that tangy cranberry sauce and soft chicken combination. – AB
98 Mt Eden Rd, Mt Eden
Prawn siomai and ube pandesal at Hapunan
Hapunan is one of the most well-known food trucks trotting around Auckland right now, in part due to their very Instagrammable ube pandesal, an ice-cream sandwich made from purple yam and their version of pandesal, a soft Filipino bread. I've had this once before and thought it was great – sweeter than most taro-flavoured desserts. Prawn siomai gives you that salty-savoury-juicy-comforting warmth. – JT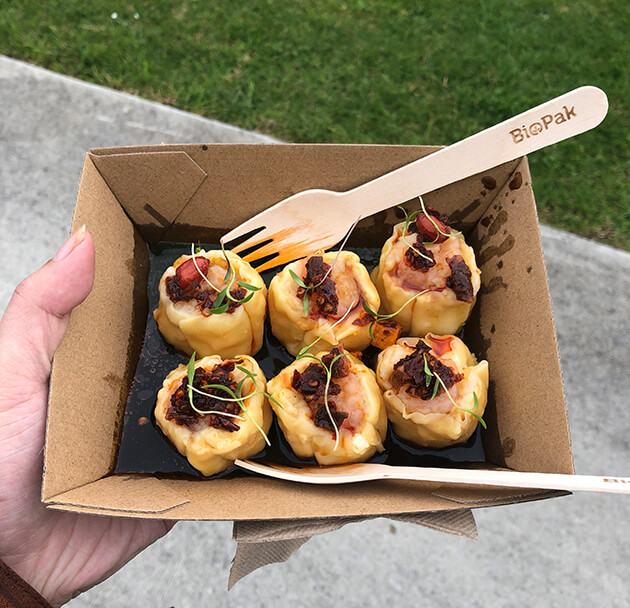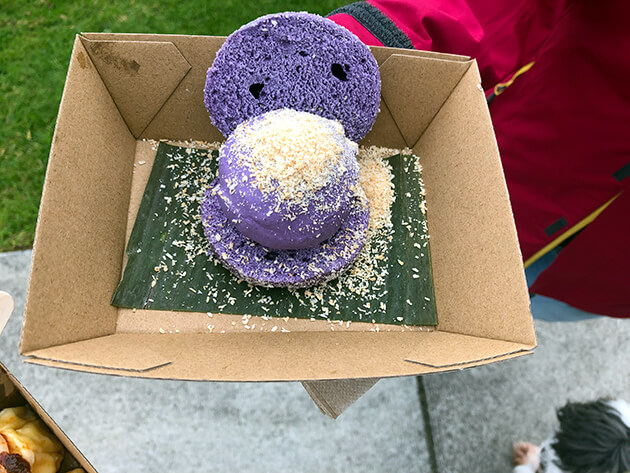 Pork backbone soup at Jomaru Korean Restaurant
I go crazy for this soup and this restaurant (in Henderson, no relation to the Lorne St place of nearly the same name which is not nearly as good) has a particularly good version of it. I drank every drop. Go for that, or go for the beef tripe stew, with small intestines which have been cooked for a minimum of three hours. – JT
1/42 Paramount Drive, Henderson
Cinnamon brioche and coffee at Little Sister Cafe
Since the last time I came here, Little Sister has decided to install an automatic sliding glass door, which may be the biggest mistake I've ever seen in a cafe. The tables are too close – one wayward elbow sent it gliding right open. No one can wait for their takeaway coffee too close to the door (and it's not a big cafe), and it takes way too long to close once it gets going. Swanky, sure, but super impractical and super dumb. The cinnamon brioche was quite yum. – JT
91 Central Park, Henderson

Dinner at The Culpeper
For the launch of Emerson Brewery's new beer Fall on Deaf Ears and Richard Emerson's biography (he is Aotearoa's only deaf brewer), Gareth Stewart cooked us some kai at one of his Nourish Group's restaurants, The Culpeper, matched with a beer and whisky. My favourite was the chocolate doughnut dessert, matched with a porter. Yes, I was quite flushed by the end of the night, thanks. – JT