Jan 26, 2018 What's On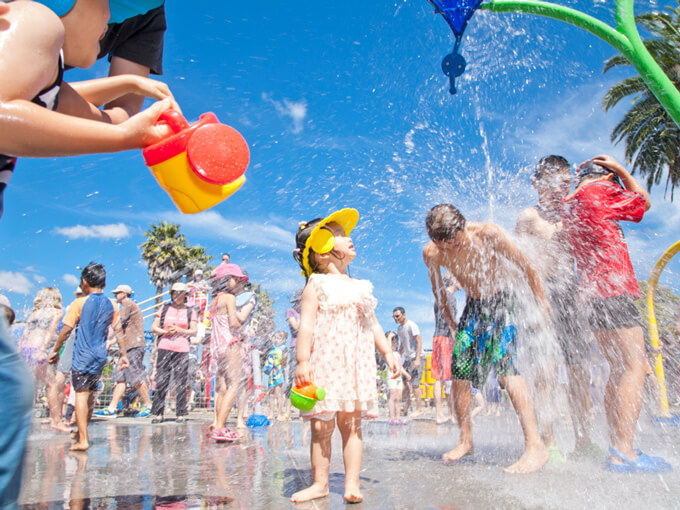 These Auckland outdoor pools and splash pads will help you beat the heat
Peel yourself off the couch, put some sunscreen on the kids and head outdoors to some of the city's best splash pads and outdoor pools.
Potters Park splash pad
Corner of Balmoral and Dominion Rd, Balmoral
After the park's extensive upgrade which was completed last year, the colourful Willy Wonka-esque splash pad at Potters Park gets busy on sweltering summer days. Slip, slop and slap, bring a picnic and watch as kids of all ages enjoy cooling off under the jets, fountains and streams of water.
Point Erin Pool
94 Shelly Beach Rd, Herne Bay
Surrounded by leafy trees with harbour views, splash about in this large outdoor pool with the kids and when you've run out of energy, laze on the grass with a book. Cheap as chips, the main pool is free for kids under 16 (or $4.50 for all access to the inflatable Aqua Run and dive pool) and $5.90 for adults. Open all summer, till the end of March.
Lloyd Elsmore Park Pool splash pad
Sir Lloyd Drive, Pakuranga
Auckland's newest splash pad opened in Pakuranga at the end of last year and offers sprinklers, fountains and mist sprayers. Join the hordes of kids and wait with anticipation under the big red bucket until it fills up and releases a refreshing load of water onto the crowd below.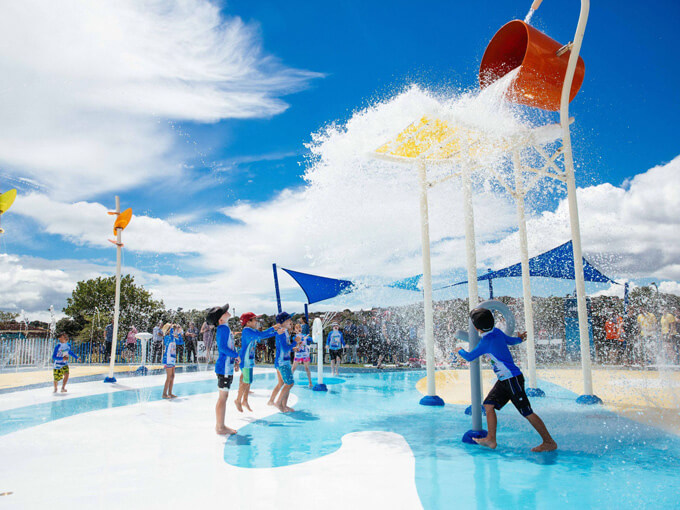 Moana-Nui-a-Kiwa outdoor fun pool
14 Waddon Pl, Mangere
Five different shaped pools make up the outdoor pool at the Moana-Nui-a-Kiwa Leisure Centre, including a 2.6m "bombing" pool so you can pull off some sick manus. For toddlers, there's a splash pool and for adventurous kids, hydroslides. Free for both adults and kids. Open all summer, till the end of March.
Parnell Baths
25 Judges Bay Rd, Parnell
There's no doubt every Aucklander knows about the Parnell Baths – and for good reason. Its retro Brit resort-style design is much-loved, thanks to the work of Tibor Donner, Auckland City Council's chief architect in the 1950s, who led the redesign of the outdoor pool. Free for kids under 16 and $6.40 for adults. Open all summer.
Waterview Reserve water play area
Waterview Reserve, 31 Herdman St, Waterview
Take cover from the sun under the gazebo while the kids paddle and splash in the interactive water play area at the Waterview Reserve playground. Designed in collaboration with local school kids, it has a beachy vibe with sandy areas as well as a learn-to-cycle pump track, sports courts and skatepark. The nearby Waterview Shared Path is great for exploring so bring your bikes to make a day of it – connect to the Northwestern Cycleway to find the Instagrammable rainbow section and then head to the Oakley Creek waterfall for a dip.