Apr 11, 2022 City Life
Mawhiti is an escape within an oasis: a beautifully, architecturally designed house in Waiheke Island, set amongst lush, rolling greenery and waves that lap gently below. It's also the setting of the inaugural Wonderscape by Cloudy Bay, the first in a series of ticketed events which celebrates the very best of natural Aotearoa New Zealand with wine, food and sound.
Cloudy Bay's goal is to connect people to the brand's Marlborough home through each glass of wine, evoking New Zealand's natural wonder and sense of simple luxury. The Wonderscape by Cloudy Bay event will do just that and it'll go a little something like this. 
You'll board your ride to Waiheke – on the superyacht Rua Moana – and be whisked away to Mawhiti via private chauffeur, which, alongside the house, has a striking Gateway Pavillion that envelopes and frames Rangitoto Island. Naturally, it's picture perfect. At Mawhiti, you'll get the opportunity to enjoy the taste of New Zealand in several ways: first, a clam shucking workshop led by Cloudy Bay Clams. And, yes, you'll be able to enjoy eating those, too, with a flute of Cloudy Bay Pelorus to wash that down.
Then, a three-course menuscape by Hercules Noble, which is thoughtfully designed to pair with each accompanying Cloudy Bay Wine. Noble is a private chef known for cuisine that celebrates the produce, always with a sense of personalised creativity and innovation. Expect it to be a long, leisurely lunch with live music performances, inspired by the surroundings, as your soundtrack.
This day-long experience – an escapist celebration of good food, wine, music and scenery – on Saturday 30 April will be a pretty exclusive affair, with only 30 tickets on offer. You can book in twos, fours or a group of six at an all-inclusive $450pp. 
If you don't quite get in quick enough to nab one of those, Cloudy Bay has come up with specially curated Wonderscape at Home packages that allow you to recreate a similar experience at home for yourself. There's three options that cater to diverse needs, whether that's a helping hand up or the full-blown experience. All of them include some help from Cloudy Bay's friends, though: Wonderscape host Polly Markus (food personality and Cloudy Bay ambassador), menuscape expert Hercules Noble, tablescape expert Kayla Jurlina (creative director and stylist) and soundscape expert Sandon Ihaia (one half of Sweet Mix Kids).
All packages also come with a bottle of Cloudy Bay Sauvignon Blanc and a bottle of Cloudy Bay Pinot Noir.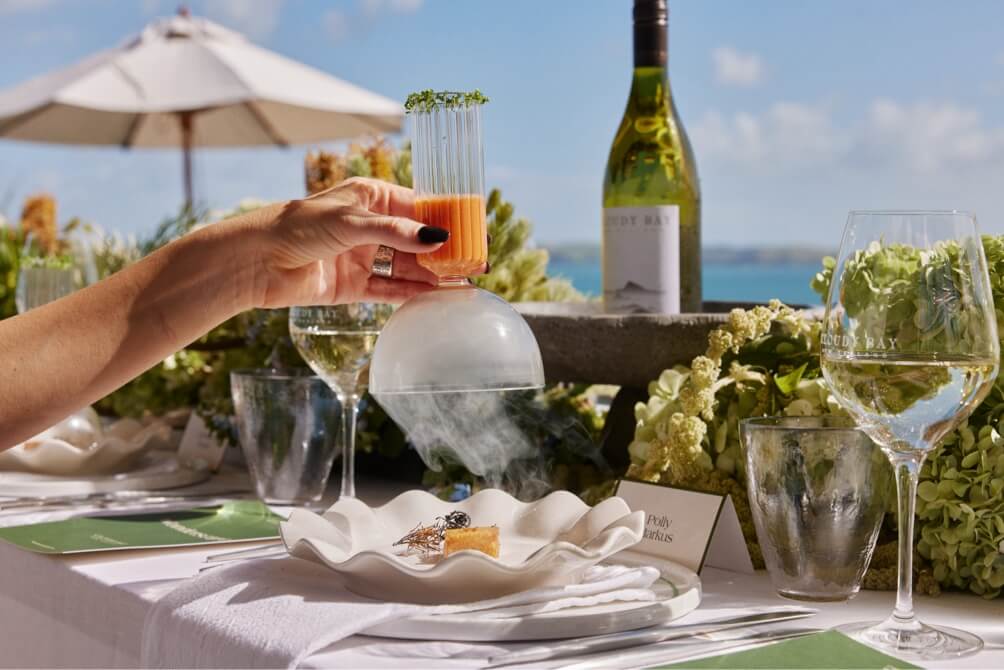 Wonderscape at Home, Entertainers Edition: Two bottles of Cloudy Bay wine, menu and placecard templates, plus a limited edition Art of Entertaining guide by friends of Cloudy Bay. RRP $125.
Tablescape Edition: Two bottles of Cloudy Bay wine, a set of four bespoke Cloudy Bay plates by In The Roundhouse, menu and placecard templates, plus a limited edition Art of Entertaining guide by friends of Cloudy Bay. RRP $240.
The Ultimate Wonderscape at Home: The ultimate Wonderscape long lunch experience, hosted by Polly Markus, styled by Kayla Jurlina, music curated by Sandon Ihaia and catered by your personal chef, Hercules Noble, in the comfort of your home for you and eight guests. One Auckland experience available. Price on application.
All tickets for this one-off, special event on the 30 April and Wonderscape at Home packages are available exclusively at www.cloudybaycurated.co.nz, while stocks last.
This annual event series, of which this is the first, aims to immerse guests in the natural wonder of Aotearoa's most inspiring locations. There will be a changing roster of collaborators and curators.