Jul 1, 2019 What's On
METRO X ATEED: We may be past the shortest day of the year already, but there are still plenty of frosty nights and rainy mornings to go this winter. Auckland can be a bit of a slog around this time, but a brand new bright light, Elemental AKL is helping us get through the year's soggiest month.
Running for the month of July, Elemental AKL's festival schedule is packed with events including light shows, special Matariki feasts, fashion shows and kapa haka performances. Light installations by artist Angus Muir in Aotea Square and Vulcan Lane are already up, and a winter night market is on the cards for Aotea Square as well.
It's a genuinely exciting development for Auckland, which is in need of a bit of a culture injection in winter, spearheaded by Auckland Tourism, Events and Economic Development (ATEED), Auckland's economic development agency.
READ MORE: New winter festival Elemental AKL kicks off, and what else to do in Auckland this week?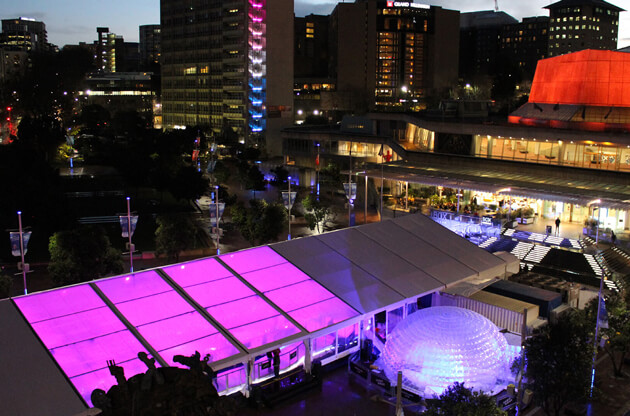 The festival is region-wide, showcasing the best of Auckland from the heart of the city, to Manukau, where Haiku-inspired projections and animations will light up the Civic Square, to Warkworth – and even reaching ?Great Barrier Island.
In addition to the more than 60 free and ticketed events on the festival's calendar is Elemental Feast, featuring more than 120 participating restaurants and eateries from around the region showcasing menus inspired by the four elements: fire, earth, air and water. Fine dining restaurants, cafes, food trucks, and bars alike will be involved in bringing the event to life.
We're pretty keen on the sound of Ponsonby Vodka Room's fire-inspired 'Campfire Lamb', featuring a rosemary-smoked, triple-cooked Hawke's Bay lamb ribs marinated in vodka and cooked over an open grill-fire. And over in Henderson, Ben Bailey's The Grounds are plating up an earth-inspired dish 'From the Grounds Up', consisting of crispy hangi pork belly, parsnip puree, baby carrots and spinach.
ATEED's General Manager Destination, Steve Armitage says Elemental AKL has been developed to make Auckland a more vibrant and compelling place to spend time in during winter.
"We've worked with leading events, entertainment and hospitality experts to produce Elemental AKL, bringing together an exciting, diverse programme of events for locals and visitors to enjoy this July. We've been looking at ways we can encourage visitation more evenly throughout the year and into the regions which is what this festival aims to do."
Watch this space: Metro will be heading out to events throughout July to let you know what's on and what you really should be getting along to – and keep an eye on our weekly calendars to keep track of key events each week.
For now, here's a couple of events which look too good to miss:
Elemental Feast? – various restaurants, all month long
A veritable feast of unforgettable Auckland gastronomic experiences is set to make the region a winter culinary destination for Aucklanders and visitors alike this July. In an exciting addition to the more than 60 events announced for the new Elemental AKL festival, Elemental Feast will showcase Auckland's world-class fresh produce, cuisine and dining experiences with more than 120 participating eateries around the region. Elemental Feast will bring an exciting flavour to the month-long festival of cuisine, light, entertainment, and culture with special dishes and menus inspired by the four elements: air, fire, earth and water.
Art After Hours – Auckland Art Gallery Toi o Tamaki, Cnr Kitchener and Wellesley Streets, CBD, Auckland
Date: Thursday July 25
An evening of art, food and entertainment in celebration of major exhibition 'Frances Hodgkins: European Journeys'. Explore Hodgkins' creative and transient life through her paintings of France, Morocco, Spain and England, and view original artworks by her friends and contemporaries, including Monet, Picasso, Degas and Matisse.
Throughout the night enjoy live music and dance lessons in the Gallery's pop-up Spanish courtyard. Take part in Hodgkins-themed still-life drawing sessions, and discover more about this trailblazing New Zealander through expert art talks. Enjoy after-hours access to the Gallery's exhibitions, including 'Frances Hodgkins: European Journeys', 'Guerrilla Girls: Reinventing the 'F' Word – Feminism!' and 'F'Ani and RoBro present DiscoVERY'.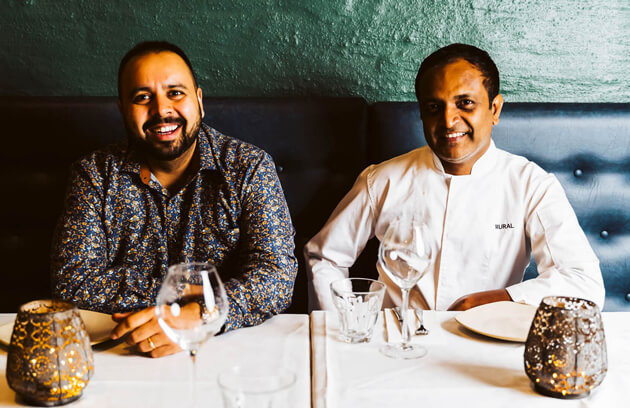 Eat Drink Love Ponsonby presents Manjunath Mural at Epicer – Épicer – 110 Ponsonby Road
Dates: Friday 26 and Saturday 27 July
Exotic tastings, progressive dinners and pop-up events are just some of what's in store for during Eat Drink Love Ponsonby. Dedicated to expanding your horizons and making your tastebuds swoon, including Épicer, the newest Indian restaurant on the block, bringing a diverse, colourful, and authentic menu to the Auckland culinary scene, with award-winning chef Manjunath Mural leading the kitchen. Mural is the big name behind famous Singapore restaurant, Song of India. He is the first Indian Executive Chef to score a Michelin Star, and has done so for three consecutive years in a row.
The name, Épicer, literally translates to 'to bring spice to, and Mural aims to do exactly this, presenting Indian cuisine in a way that is relevant to diners worldwide. Sustainability is also very important to the Mural and the Épicer team, with the kitchen only using ethically-sourced proteins.
Pop-Up Globe – A Festival Feast – Pop-Up Globe
Come for the Shakespeare, stay for the feast, or vice versa. Live like a Lord or Lady for a night, and enjoy a special banquet menu that takes you on a journey through the England of Shakespeare's day. Pop-up Globe are hosting a fabulous festival feast, taking place in two seatings only, the weekend of Saturday 27th and Sunday 28th July, from 4.15pm to 7.15pm between the matinee and evening performances. A brilliant evening of fine wine and delicious food served in an atmosphere that will whisk you back four hundred years to Shakespeare's time, including live performances from fully-costumed musicians and actors from the legendary Pop-up Globe company.
To plan your festival experience, head to? elementalfestival.co.nz.