May 30, 2019 What's On
Next month, K-Rd's iconic Las Vegas Club strip joint will be remade again for the experiential pop-up dining event Asahi Akai Doa, featuring Azabu 's executive chef and the pair behind Culprit. The event, featuring DJs and live performers, follows previous pop-up events at the same location.
Underneath the giant naked woman baring her breasts along Karangahape Road you'll find a red door leading to a neon-lit hallway, which takes you into what used to be a strip club. The once-seedy black-on-black interior is still aglow with rippling lights and thrumming music but chef Yukio Ozeki promises Asahi Akai Doa is an entirely different kind of show. Now, it's all about food. Flames spot from blow torches, smoke from dry ice billows down the front of the booth and the next course crackles excitedly from the pass.
Clips from old and new (mostly Japanese) movies play behind Ozeki, and watching him from our table, it really does feel like a gig. The kitchen operates out of where the DJ booth used to be, so rather than mixing tracks, Ozeki (co-owner and executive chef at Ponsonby Road's Azabu) is working his kitchen magic.
If you've eaten Ozeki's food before you know his clean style with fish at the centre of most meals. Here at Las Vegas Club, his menu is comprised of smoky, bright and maximally-flavourful Japanese cuisine.
All through May, he's been cooking by the incandescent glow of Angus Muir's Tokyo-inspired neon ceiling installation. The room-wide covering of fluorescent bars shimmer with colour as if you're eating under a glowing sea. From May 30 and the first week of June, he'll be teaming up with Stolen Girlfriend's Club Creative Director Marc Moore to create a menu to fit their gritty, against-the-grain vibe.
Then, for five weeks from June 6, the chefs from Culprit are taking over the kitchen. For Jordan MacDonald & Kyle Street's Asahi Akai Doa stint, the chefs are "going head-to-head" and "battling it out" with Ozeki. When I ask MacDonald and Street what on earth that means, (are they perhaps going to fight their mate Yukio?) they chuckle.
"It's a little play on the atmosphere in here. It's a little bit Iron Chef-fy," says Street, referring to the Japanese reality TV show in which chefs compete under pressure using a secret ingredient. "It'll look like the chefs are Iron Cheffing it right on the stage."
"We're taking opposing courses," MacDonald adds. "There'll be similar things but they'll work together."
The dynamic is designed to keep the chefs on their toes and add a bit of spontaneity. But as well as putting themselves on display as they cook, there'll be DJs and performers. "It's really interactive and fully immersive. There's lots of different things going on," says Macdonald.
"We haven't gone, 'hey Yukio, what do you think?' Nah, he's gonna get surprised. And we're gonna get surprised by his dishes and we're all gonna think 'oh, man', " says Street.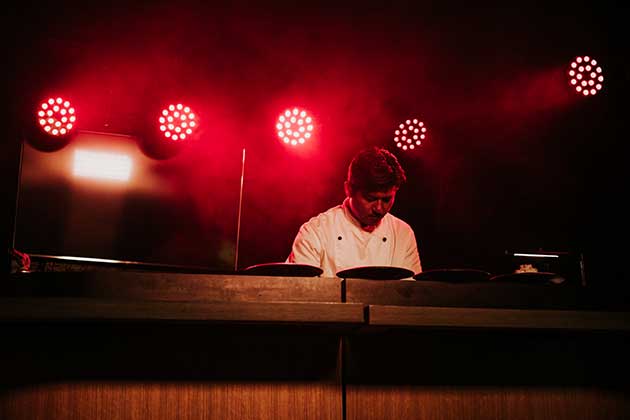 Compared to Yukio's very refined presentation, the Culprit team reckon their dishes are a little more "bold" in presentation.
"[We'll be] trying to bring some Japanese ingredients into our cooking," says Street.
"So it's not a complete contrast to what Yukio normally serves. It still has to work as a meal together," MacDonald adds.
Without the Yum Cha serving style Culprit is known for (they'll be serving up an eight-course meal instead), the pair will be highlighting the way they design dishes around a hero element. In the spirit of thinking on their feet, the menu isn't finalised yet. ("It's all still a draft menu but it looks good on paper," Macdonald says) but the things they've chosen first are all very 'Culprit'.
"We have a starter that we'll be using kina in," says Street. "New Zealand kina, rice bubbles in the dessert, matcha which is Japanese, duck, those were some key things that we came up with first."
They're particularly excited about the Asahi glazed duck. Macdonald says they normally glaze their duck in a Chinese inspired way, but at Akai Doa the addition of an Asahi dark beer glaze is designed to move it in a more Japanese direction. "We'll bring some wasabi in there as well," reveals Macdonald. "It'll be a more Japanese twist on the duck that we do."
Culprit is known for duck. Duck and squash tortellini, duck and squash tortellini in duck consommé and roast duck are just a few iterations to have graced their menu. Culprit's love of duck is such a part of what they do, it would be weird for them to participate in a pop-up and not serve duck – particularly in the middle of duck season.
Asahi AKAI DOA X Culprit, June 6 – July 11 | Tickets start at $85 a head.
PLUS: Asahi AKAI DOA X Stolen Girlfriends Club, May 30 – July 6 | Tickets start at $85 a head.
Few fashion brands could make Las Vegas club feel like the perfect backdrop for a fashion show, but from the 30th May till the 1st of June, Stolen Girlfriend's Club Creative Director Marc Moore will be will be filling the space with super-sized versions of their most iconic jewellery pieces. He's worked with Ozeki to create an Asahi-infused Stolen Girlfriends Club inspired menu. The neon, smoke and velvet environment fits the brand's barbed-wire and bows aesthetic to a tee so we know Moore means it when he says "it'll be a completely surreal and immersive dining experience unlike anything you've ever experienced."