Nov 22, 2019 What's On
Think you know your city inside out? Discover where the coolest crowds are getting lost for your next night out.
There's something oddly humbling and deeply satisfying about unearthing hidden gems in a city you've lived your whole life in. You're either impressed that there are stones left unturned or implicitly smug that you've still got your finger on the pulse. But as new generations rise and renovations revolutionise, even the iconic venues take on new shapes making way for new memories.
Hidden corridors, secret staircases, and door knockers hiding in plain sight are just a few of the clues ready to be canvassed around Auckland's CBD. As for the after-dark food scene, gone are the days of kitchens closing at 10pm with little more than an overpriced packet of Burger Rings to satiate your appetite. Vendors now thrive in the small hours, providing sincerely substantial recourse that expresses a certain joie de vivre.
Thought you knew where to find the best kebab at 3am? We beg to differ. How about luxury private karaoke rooms? Or how to breeze past door charges at some of the most coveted gigs? In this up-to-the-minute guide, you'll discover the who's who of artists, where to find the right crews and which venues offer the nostrum to your next night out conundrum.
UNDERGROUND ACTS
SORAYA
Music producer and DJ Soraya LaPread is one inherently cool woman. Lesser known as the daughter of The Commodores bassist Ronald LaPread, Soraya's six-year jaunt in Los Angeles saw her rack up a sizeable career DJing at private events for celebrities such as Selena Gomez, Celine Dion, and Joe Jonas, plus a number of major brands, and both local and international festivals. Her unique blends of funk, soul, disco, house, pop, rock, reggae, hip-hop or even punk make sure the crowd is blissfully entertained at all times. Soraya doesn't give too much away about where she's headed next but when she does, prepare to clear your calendar.
Soraya LaPread. Photo: Supplied
KEYS TO THE CHURCH
Ink Bar understands the power of three with their fail-proof residents night, Keys to the Church, with house DJs Greg Churchill, Bevan Keys and Dick Johnson. With more than 20 years in the dance music trenches, this trio continues to serve up new sounds that you'll only find at Ink Bar on a Friday night. Churchill and Johnson make regular releases on the world's most revered dance music labels, while Keys has the esteemed rep of being the DJ's DJ. Keys to the Church always packs out early, so head down before 11pm to skip the door charge and make the most of the cheap cocktails.
THE WINE CELLAR
The Wine Cellar is a dive steeped in history, and that's the way we – and the musos that have been crowding the corridors for the past 15 years – like it. This stageless, intimate venue hidden away in St Kevin's Arcade hosts a wide range of diverse artists which flow from nook and cranny as smoothly as the selection of craft beers, wines, spirits and Purangi Estate ciders and liqueurs on offer. Doused in red light and held together by clusters of upcycled furniture, The Wine Cellar is your early-90s grunge hangout where you can fill your boots with free jazz, folk, blues, and garage rock.
NIGHTMARES ON WAX
If you prefer your house music downtempo and brimming with sun-drenched dubbed out soul, your hunt for tickets to Nightmares on Wax starts now. The English DJ and record producer, also known as George Evelyn, is Auckland bound this November with a show at the Hollywood Theatre. His latest release 'Heaven' feat. Andreya Triana by The Vision sets the tone for this coming summer. Reeling in music milestones since the mid-90s, George continues to hone his craft in his state-of-the-art studio producing polished sounds that will inevitably become the backing tracks to your memories of 'the good old days.'
JORDAN LUCK BAND & GUESTS
Jordan Luck, the former lead singer and songwriter of Kiwi rock band The Exponents, is heading to a sports bar near you. You'll find the Jordan Luck band with Ekko Park performing at Brownzy; the Brown's Bay bar made infamous by its 'tits and tickets' Friday night fundraisers. Performing a string of iconic tracks including 'Why Does Love Do This To Me?' and 'Victoria', expect to exercise your vocal chords to this band's pop rock blends from flat parties gone by. This act is not to be missed. Performing Saturday 30th November 2019.
HIDDEN GIGS
ANTHOLOGY LOUNGE
375 Karangahape Road, Auckland CBD / @anthologykroad
The emergence of the upscale yet relaxed Anthology Lounge on the fringe of CBD and K' Road has been a welcome intro to the live music circuit. Much like a congregation for both classical and fresh artists, Anthology Lounge's unique space with high ceilings, luminescent floors and violet lights encourages band members and performers to linger and interact – ideal if you like to strike up a deep and meaningful with the talent. Artists tend to be booked Thursday through Sunday most weeks. Look out for Wellington musician Rei, Australian blues and roots one-man-band Ash Grunwald, and a cast of R&B and hip hop creatives this November.
NECK OF THE WOODS
155B Karangahape Road, Auckland CBD / @neckofthewoodsnz
If you're looking for party action into the wee hours on any given night of the week, you'll do well to find yourself in the '80s-inspired cave Neck Of The Woods. Providing the prestige acoustics assumed by any of the underground venues on K' Road, Neck Of The Woods is a memorable mashup of an animated arcade with the sensibility of a modern nightclub. From 5pm, you can settle in, pop away a few 'little hitters' on the menu and socialise in a relatively civil manner before going full noise from 10pm when the live gigs kick in.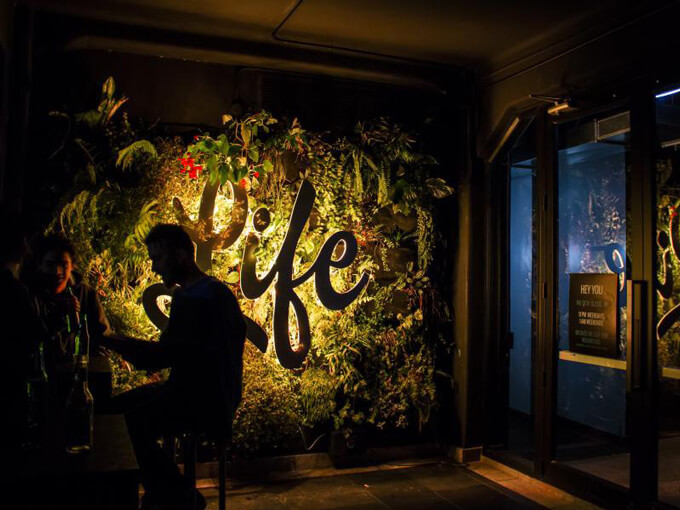 WHAMMY BAR
183 Karangahape Road, Auckland CBD / @thewhammybar
It's a bit of a gamble when you go to Whammy Bar, but a fun one to make. Rampant with mischief, this dark venue down two flights of stairs takes you into the musical underbelly of Auckland. The two stage areas – the mainroom and the backroom – are routinely booked by everyone and anyone; you can expect well-known artists hitting the decks, low key international artists passing through and even the odd slam poet (maybe). Coming this November are indie pop and Dunedin native David Kilgour with The Heavy Eights, synth-pop artist Molly Nilsson, and local psychedelic rock band Makeshift Parachutes. Oh, and did we mention that there's a hallway that connects Whammy Bar to The Wine Cellar?
GALATOS
17 Galatos Street, Auckland CBD / @GalatosLive
Head back to the future with Galatos this summer. The three-levelled theatre turned live music venue is dialling up the nostalgia over November and December with scores of live gigs that'll be performing the bangers of the '80s, '90s and disco eras. And for those looking for world-class bands outside of K' Road, the 2019 Summer Party and Horror Show might be more up your street. Galatos has after all been behind some of the nation's greatest shows for the past 20 years, including Lorde's very first show.
DING DONG LOUNGE
26 Wyndham Street, Auckland CBD / @dingdongloungenz
Adored and cherished by avid rock music aficionados, the Ding Dong Lounge rarely strays from what it knows best. The interior is dark, moody, and enveloped in black leather and velvet. If it were not for the Vegas-esque neon lights fixed upon the walls, you'd run the risk of being lost and likely not found. Their passionate crowd is dedicated to band t-shirts and beer above all else. And when the time comes, there's plenty of greasy, delicious, classic American fare to replenish the calories burned from excessive headbanging and air guitar solos – which you'd be rude not to do.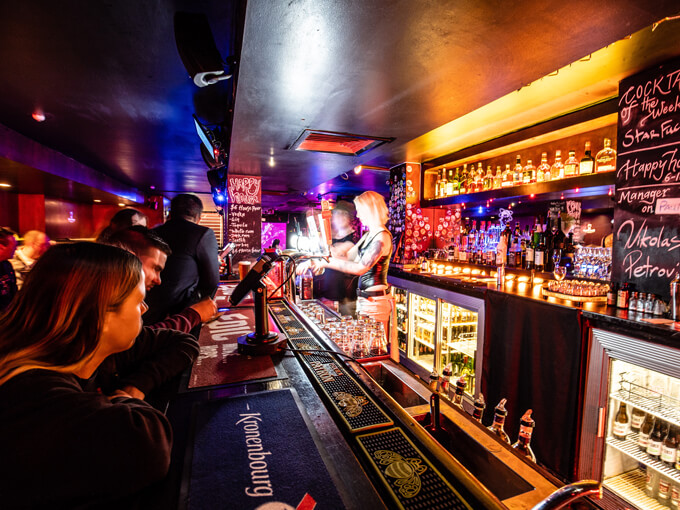 BARS WITH SECRETS
ROXY
Imperial House, 7 Fort Lane, Auckland CBD / @TheRoxyAkl
Downtown's Imperial Lane plays host to a number of swanky bars with elusive izzat. But none more so than Roxy, the nightclub with an anomalous provincial-English clubbing calibre thanks to the industrial bones laid bare by the former theatre house and heritage building. While its thoroughfare location might not err on the side of secrecy, its booth booking system does. If you're seeking VIP levels of TLC, take advantage of their online booking system which allows up to six guests to a booth and grants you access via Imperial Lane from 11pm with zero door charge.
DEADSHOT
45 Ponsonby Road, Grey Lynn / @Deadshotnz
Tucked behind an old wooden door next to a popular Ponsonby nightclub rests Deadshot , a speakeasy classic sans menus and tables accommodating groups greater than six. Deadshot has garnered an ambivalent reputation; it's the Caretaker 's little brother; it's the bar that pop icon Pink once slammed; it's the bar that doesn't serve espresso martinis. What it does have, however, are the hallmarks of an institution. Recipes that date back to the 1800s, imported antique furniture, chairs fashioned under low hanging dimly-lit lights, bespoke service inspired by Melbourne's The Everleigh, and generous servings of alcohol.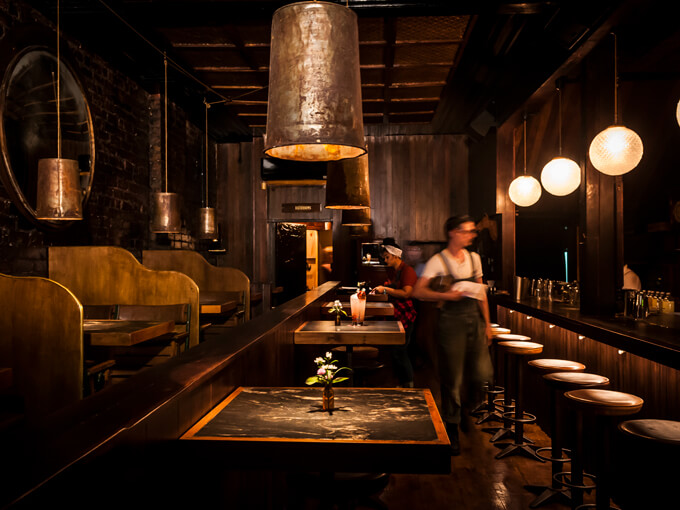 PINEAPPLE ON PARNELL
207 Parnell Road, Parnell / @pineappleonparnell
Swathed in green velvet curtains and layers of other-worldly opulence, Pineapple on Parnell is guised in platform 9 and ¾ levels of mystery. You won't find an address, any social media accounts or even a sign on the door to this exclusive cocktail bar. Brimming with gilded mirrors and paintings, late-Baroque era chandeliers, and chattels like an ornate 1910 Manhattan apartment, Pineapple on Parnell will charm you with top-shelf potions to match. With a strictly formal dress code and a general disdain towards the use of social media, this destination is the antidote to your post-modern problems. Just look for the brass pineapple door knocker.
LOVE BUCKET
309 Karangahape Road, K'Rd Food Workshop, Auckland / @lovebucketbar
There's something innately satisfying about the unpretentious vibes of Love Bucket's honky-tonk tavern that make us feel like pulling up a wooden stool and letting our hair down. Whatever your tipple, Love Bucket will have it: gin, rum, handcrafted cocktails, natural leaning wines and craft beer with a thing for sours and barrel ageing. Draw back the curtain behind the K' Rd Food Workshop (just past the Argentinian BBQ and Moustache Cookies) and discover a little nook spruced with neon pops of colour, retro speakers and thriving greenery. Come for their gin, stay for their grilled toasties…
JOHN & MAY'S
1 Vulcan Lane, Auckland CBD / @johnandmays
With a liquor licence that dates back to 1865, this high-end cocktail bar is potent in history. Formerly known as the Gin Room, John & May's has seen a plush fit out with a distinctive ode to the speakeasies of the 1920s. Complete with intimate, dimly-lit posies accessed via the unassuming stairs behind the Queen's Ferry Bar, John & May's is the (quite literal) haunt to visit. Their five-part cocktail menu guides you through historic drinking movements including the '6 o'clock swill' of the 1910s before arriving at the Modern Age. From expertly crafted vodka infusions through to garnishes, John & May's attention to detail reigns supreme.
POST PARTY EATS
VODKA ROOM
5 Rose Road, Grey Lynn, Auckland / @vodka.room
This magnetic stomping ground has a lavish pedigree through its ties to Russia's imperialist culture. Delivering familiar flavours in inventive ways, the Vodka Room requests that you arrive hungry, prepared to share, and with an open mind. Boasting three bars and multiple dining areas including a glass-covered courtyard and private karaoke rooms, this Moscow-inspired spot on the cusp of Ponsonby is far from a one-hit-wonder. Its menu of Eurasian cuisine of duck fat garlic potatoes, cheese and truffle butter dumplings, grilled black bread, blini rolls, and deep-fried pasties is just the exponential carb-loading the doctor ordered.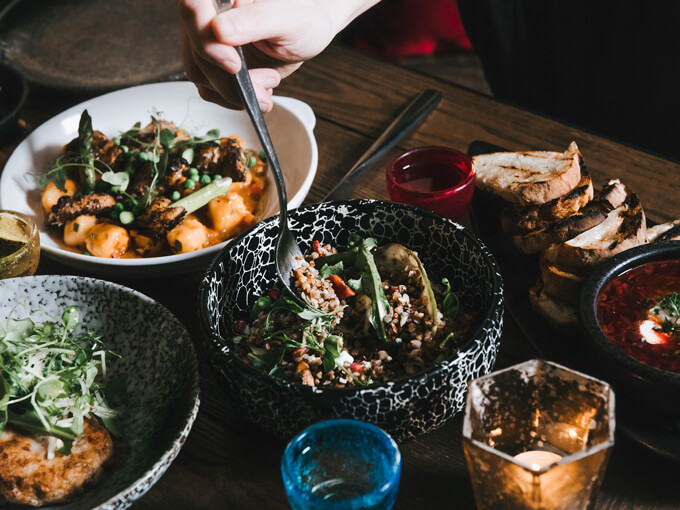 CASSETTE NINE
9 Vulcan Lane, Auckland CBD / @cassettenine
Made famous by their teapot cocktails, Cassette Nine is the space with many faces embracing all types of creativity, eccentricity and guests alike. Sourcing local produce to procure their homemade menu – and satiating your late-night appetite to the highest degree – Cassette Nine is a destination in its own right. A menu ripe in robust American soul food – think crispy chicken, gourmet burgers, chilli dogs, pumpkin salad, and New York cheesecake, plus a bounty of vegetarian and sharing plates – it's no surprise this venue attracts every walk of life in search of one thing: a good time, every time.
DR RUDI'S ROOFTOP BREWING CO.
204 Quay St, Viaduct Harbour, Auckland CBD / @drrudis
If your evening calls for one last hurrah, head on up to Dr Rudi's rooftop bar. Take in the night's sights over a (fairly decent, might we add) homebrew or try your luck at a few boomers down the bowling alley before tucking into some classic bar eats. Big shares, little shares, lengthy metre-long pizzas, IPA battered jalapeño poppers stuffed with brie cheese, or lime, coconut and chilli ceviche tortillas – the list of delicious morsels goes on. But the feast would be naught without the backing of live DJs, piano players, and other musical delights in this coveted Viaduct location.
POCHA
Chancery Square, 50 Kitchener Street, Auckland CBD / @pocha.nz
In popular Korean culture " Pocha " is a place where people are brought closer together. In the case of this frequented eatery, it's by means of poky tables, beer-fuelled cheer and more than 14 types of Korean fried chicken. New patrons are urged to try the almond chicken variation, where boneless chicken nibbles are coated in crispy sliced almonds and cornflakes and served with traditional Korean accompaniments. Whether you start your night at Pocha, or call by to fuel up on your way home, consider this specialist chicken and beer bar, where dinner meets party, as the secret sauce to success.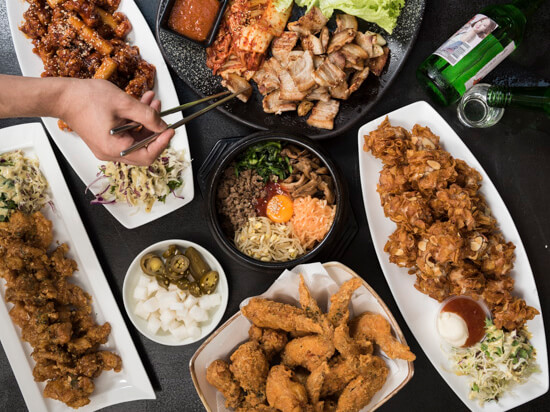 LITTLE TURKISH CAFE
217 Karangahape Rd, Auckland CBD / @littleturkishcafe1983
There are many kebab options to be stumbled upon before confirming your Uber journey home, but none more dependable than K' Road's Little Turkish Cafe. Succulent, tender cuts of meat, generous lashings of hummus, and fresh salads are all simple components which Little Turkish Cafe gets spot on time and time again. Unlike its in-and-out takeaway counterparts, Little Turkish Cafe is also a licenced restaurant serving wine and beer into the wee hours alongside other Turkish cuisine including shanks, moussaka, wood-fired pizzas and – of course – coffee and baklava.
This content is brought to you in partnership with Vype. Shop Vype now at vype.co.nz.

Vype products contain nicotine. Adult smokers & vapers 18+ only.
?This piece originally appeared in the November-December 2019 issue of Metro magazine.