Apr 2, 2019 What's On
Metro writer Alex Blackwood finds, despite her natural inclination to abhor "joining in", that there really is something special about the exclusive event Dîner en Blanc – held this year at Auckland's Eden Park stadium.
When I first hear about Dîner en Blanc, I chuckle with my co-worker. A thousand people crammed in a park dressed in white drinking champagne, thinking about how lucky they are? What nonsense. We laugh.
I absolutely have to go at all costs.
Usually, I am not a joiner-inner. I scoff at the gym, I can't stand rugby, crowds or even dancing in public and I wouldn't be caught dead in a nightclub. But last year I saw a few people leave the office early, dressed in head to toe white. I saw articles describing "What to wear to Dîner en Blanc", followed by "All the pictures from Dîner en Blanc" and an inexplicable need to go started to well inside me.
I wanted to put on a dress and sip champagne and laugh with all the beautiful people dressed in white, against my better judgement. Most of all I wanted to know what the fuss was about. So I signed up. I might not have understood why I wanted to be there, but I was certain I did.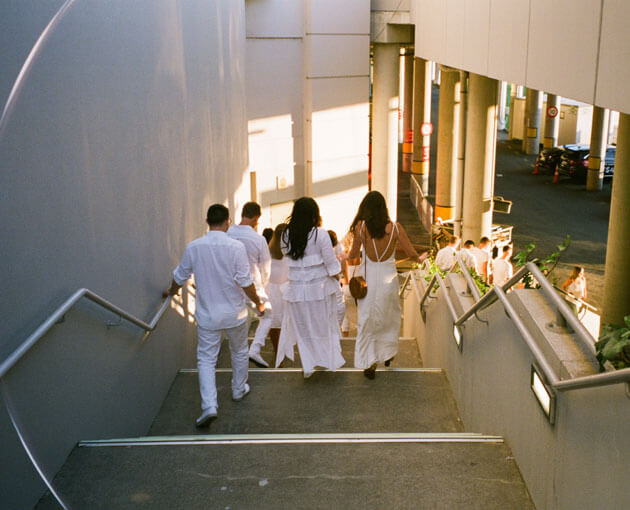 The event is secret until the last minute, when we depart on the night – this year to Eden Park. Ironic given my distaste for rugby.
One thing I particularly dislike about sports is the fact they're constantly punctuated with advertising. Players and stadiums are covered in a rash of logos which make them so unpleasant to look at that I do not look at them.
But when we emerge the green-ness of the field, big-ness of the sky and the vast, empty stands steal the show. The ASB and AA logos are just a bit of colour in the background. It feels special in a pristine, secret, behind the scenes way and I forget that it is usually packed with sweaty men with expensive haircuts and their yelling fans.
Like everything after the terrorist attacks on March 15, Auckland's Dîner en Blanc is different. Auckland's host, Vinny Sherry, makes a speech (which isn't customary at Dîner en Blanc) and we observe a one minute silence. In the pin-drop quiet, Eden Park is eerie, having been built for fanfare and celebration. The thousand people standing stock still and staring at their feet look like statues. Afterwards, the night is imbued with an odd technicolour awareness and joy of just how lucky we are. The still-standing crowd all acquire napkins (seemingly out of nowhere because before and after this moment, I didn't see a single napkin the entire night) and twirl them over their heads, cheering and laughing.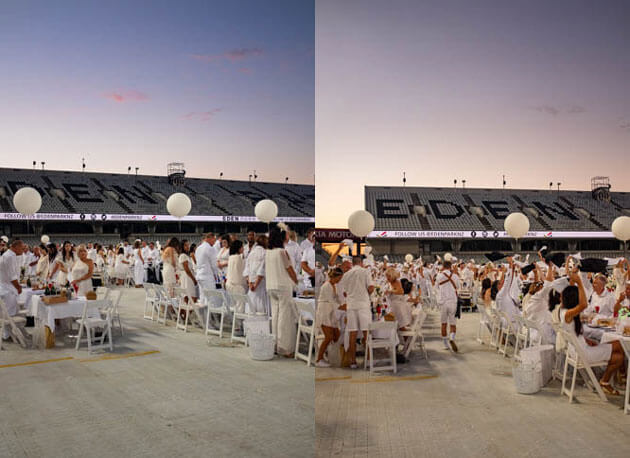 Later there is a "sparkler moment", when everyone goes up to the stands to draw circles in the air with a lighted stick. No one present seems to have met a sparkler before and everyone seems to think they last about half an hour. No two sparklers are lighted at the same time. No one is ever getting their lighter back. Yet as I watch the chaos in the stands, I see people reaching their sparklers toward each other to help other strangers get alight. They share the flame of their firework from person to person in a way that makes the event's sense of community very visible.
Then there was the food. Lots of people have asked me about the food. I got the Eden Park catered option and it was a sort of platter in a box with cheese and bread and salad with macarons, tarts and brownies for dessert. It was delightful, but Dîner en Blanc it really isn't about the food, despite the first part of its title. It's more the spirit of commensality and the joy of sharing a meal that making Dîner en Blanc more than the sum of its parts.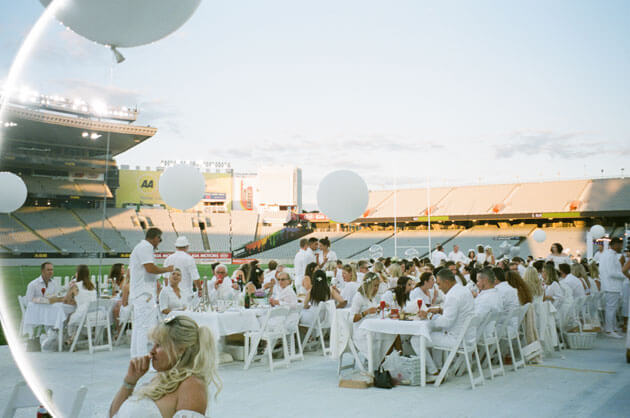 Eleven hundred people gathered together to share food, wine and each other's company with a complete disregard for their differences.
The act of eating together, as simply and gloriously human as art, music and dancing, causes a particular sort of happy fervour that doesn't happen anywhere else. Dîner en Blanc is less about the exclusiveness, more about the inclusion of those who do make it. And though from the outside, the all-white uniform seems a little pretentious, it serves to erase differences and help the crowd of strangers come together as friends.
And to the astonishment of my cynical, non-joiner-inner self, I went to a park, dressed in white, drank champagne and thought about how lucky I was.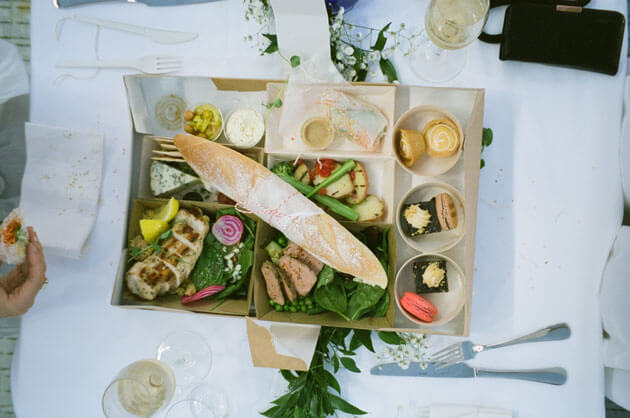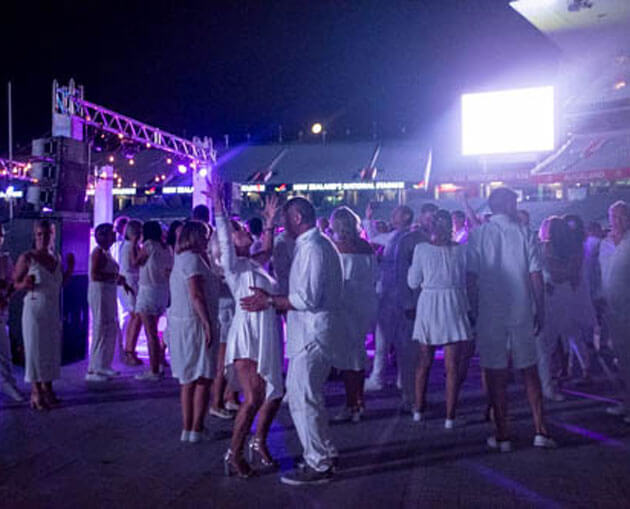 Photography by: Alex Blackwood