Apr 20, 2018 Urban design
Inside the B:Hive
The latest office building at Takapuna's Smales Farm is designed to embrace co-working
It takes a moment to notice them, but the chimney stacks protruding from the roof of the $75m Business Hive –
B:Hive
for short – are a little unnerving. It seems we may have arrived in a postmodern vision of William Blake's "dark Satanic Mills". Perhaps we have. After all, this 10.8ha just off the Northcote exit of the northern motorway was, until the 1990s, bucolic fields – Smales Farm – and is now being colonised with vast cathedrals of office space.
The office invasion began in 1991 with the six-floor 18,000m² Clear Communications building, now Vodafone, with its huge central atrium and bridges linking its two arms. More offices followed, including Sovereign House with its multiple linear atria, ground floor gym and its "chilled beam" system to regulate internal climate. The latest temple to work covers 11,000 square metres over five levels. Like the others, it's centred around an open, airy atrium, now de rigueur in office design. Except B:Hive's atrium is on steroids and possibly other drugs – a vast undulating cut-out, varied on each level, in the middle of the building.
<!– –>
A huge rounded skylight – dubbed the shroud – rains light into its interior, which is like being inside one of those swirly ribbons rhythmic gymnasts use. There's also a winding tangerine coloured helical stair that curls and coils to connect the five floors. When it's complete there will also be ladders of green extending through the atrium space from the curvy garden beds on the ground floor. All of this produces some impressive statistics – 13 tonnes of glass in the skylight, 34 tonnes of steel in the stair and 35 tonnes of potting mix in the planters.
Designed by Australian architects BVN and local firm Jasmax, B:Hive represents the latest co-working trend – in marketing terms, an agile ecosystem where small businesses co-habit separately in flexible spaces, in this case with plenty of natural light and the hot air vented by glass chimneys. Hence the stacks, which represent a mix-mode air-conditioning system to circulate fresh air.
Co-working is a step beyond the so-called activity-based workplace (as seen, for example, in ASB's North Wharf) where the idea of individual workstations, an office or a personal desk, disappear in favour of fluid spaces where people wander to settle here and there, sometimes at desks but often in specialised collaboration spaces with funky furniture. It's an advance on the open plan office, but the jury is still out whether homelessness is the answer to a smooth work operation. B:Hive keeps and enhances, thanks to its atrium stair and shared spaces, the key open plan feature of "bump" – ie, literally into one another on the way to here and there, apparently to foster collaboration and the chance cross-pollination of ideas.
Offices are arranged around the perimeter of each 2200sqm floor, with a flexible partition system that can be adjusted on demand to accommodate businesses as they expand or contract. The partitions stop short of the underside of the floor above, which is a mass of exposed services ducts and wires on conduit trays. How do the offices get acoustic privacy? White noise generated by the atrium but also mechanically via the building's vast array of 400 speakers.
Businesses rent space on a per desk basis, beginning at around $600/month, less if you take a pod in the shared space. The rental includes fit-out, furniture, power, high-speed internet, cleaning, security, a concierge service, kitchen and an Angus Muir light installation for each floor. Plus, once you've entered the hive, the use of any of the shared meeting spaces on any of the other floors. At this stage B:Hive isn't offering hot-desks to be used when and as needed, but it does provide individual options for freelancers wanting to be sociable in an office setting rather than working from home.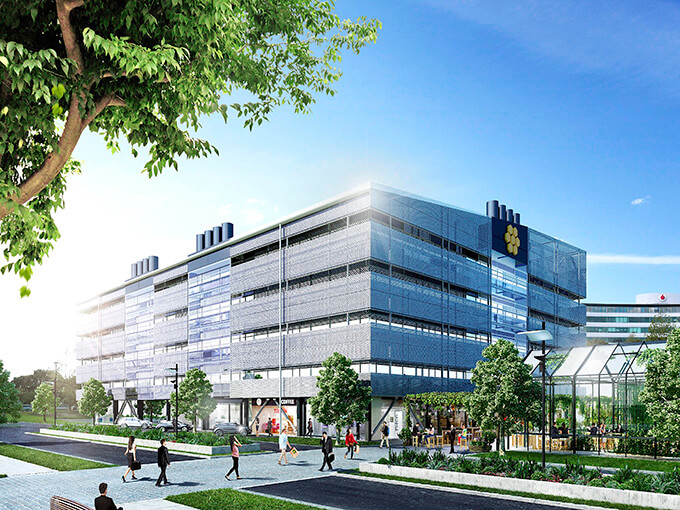 On the ground floor, the B:Hive captures something of the hipness of the dotcom era of office design. There's a conference auditorium and bank of larger meeting rooms adjoining a shared space where the strand board lining is painted black and the kitchen is closed off with a roller door featuring an urban art piece. They're calling it the night club and have commissioned DJ Murry Sweetpants to curate the building's music. The ground floor also brings some mixed use to the building, with an adjoining hospitality area still under construction – "The Arbour", conceptualised by Cheshire Architects and developed by Izzard Design. It features a leafy laneway of boutique food and beverage operators in rustic brick and timber sheds providing a sharp contrast to the ultra-modern glass and steel office building and giving a nod to Smales Farm's pastoral roots.
"We are very much moving from work to work, play and visit and the next step is to throw some residential in there," says Smales Farm chief executive Paul Gunn. "Our core mission to date has really been 'enjoy work', but really we just want to move towards enjoying life." Whether this building achieves work nirvana – individuals organised smoothly and seductively together, like bees in a hive, each efficiently performing their varied tasks to manufacture profit – remains to be seen. But the idea of developing this massive location, sitting on the largest bus station on the northern busway, to something beyond an office park is something so logical and obvious you wonder why it's taking so long.
This was published in the January – February 2018 issue of Metro.