May 2, 2021 Urban design
METRO x LAMONT & CO: A new Onehunga apartment complex, The Onehunga Mall Club, is a landmark development offering amazing views in a bustling town centre. Andrew Lamont of Lamont & Co explains what drew them there.
"We think Onehunga Mall is one of the most preserved, and best, character town centres in the Auckland isthmus," Andrew Lamont, one half of property developers Lamont & Co, tells us.
The Onehunga Mall Club (O.M.C) is a new 102-apartment complex built on the site of the old Onehunga's Workingmen's Club and is Lamont & Co's second project in the area. Their first, Fabric of Onehunga, is a now-sold-out pocket neighbourhood a little further out from the town's centre. This new development is an affirmation of their affinity with Onehunga — the developers have been looking for an opportunity in the town centre since embarking on Fabric of Onehunga in 2015.
 "We're passionate about Onehunga as a place to live," Lamont says. 
Set over 1800sqm in the heart of the town centre, O.M.C. spans eight levels and faces the iconic Onehunga Mall, with the tower set back from the frontage. By setting it back, the development embraces the street's inherent local character; the eye is drawn towards the lower levels, filled by retail, with the apartments rising behind, Lamont says. "The architecture looks to break up the mass of the tower by almost appearing like it's three separate buildings, by use of different materials." 
With a train station within 200m, Onehunga is only a 30-minute ride from Britomart, and the Waterview Tunnel has been a "game-changer" in terms of accessibility to motorway networks and the wider city. "But the town is substantial enough that almost anything that you would want to buy is available within close proximity." With the lobby entrance straight off the main Onehunga Mall drag, residents are able to walk out of their front door and straight into the community; gyms, swimming pools, cafes, restaurants, and other amenities are at the doorstep. 
"I think the one thing that has changed since looking at residential developments in Onehunga are the continual improvements that have been happening within the neighbourhood — new bars, restaurants, cafes — and we understand that further improvements are being supported by Panuku [the council's urban regeneration organisation]".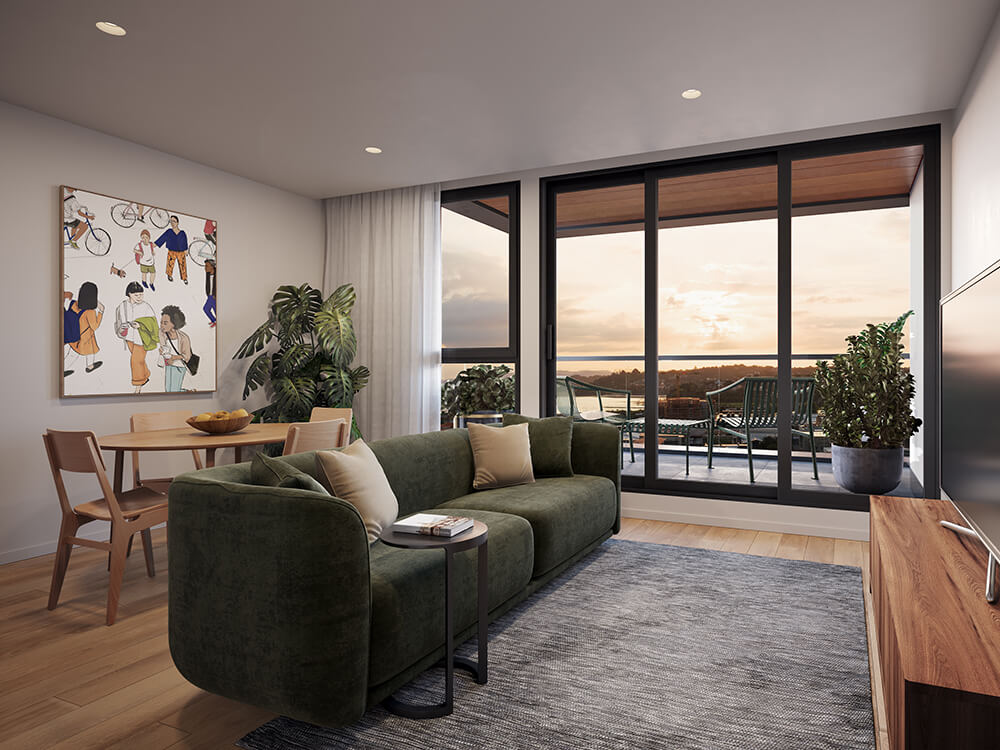 Then, of course, there's the views. With a generous use of glass and extended outdoor spaces, the design capitalises on being the tallest building in the centre, resulting in largely protected outlooks towards all four corners of Auckland; depending on which apartment you live in, you may have a view of Mt Wellington in the east, Mangere Bridge to the south, Manukau Harbour to the west, or One Tree Hill to the north. Since the apartments start on the third level — the first two levels have allocated parking, storage and bike stands — all residents will be able to enjoy elevated terraces and balconies extending up to 48sqm.
The actual apartments themselves are large and liveable ranging from 50m2 to 94m2 (excluding terraces) and, depending on typologies, range from one-bedroom, to one-bedroom plus a flexible room, to two bedroom apartments and start at $550k and up to $1.25mil.
"We think this will be a landmark development that would be hard to repeat in the town centre," Lamont says.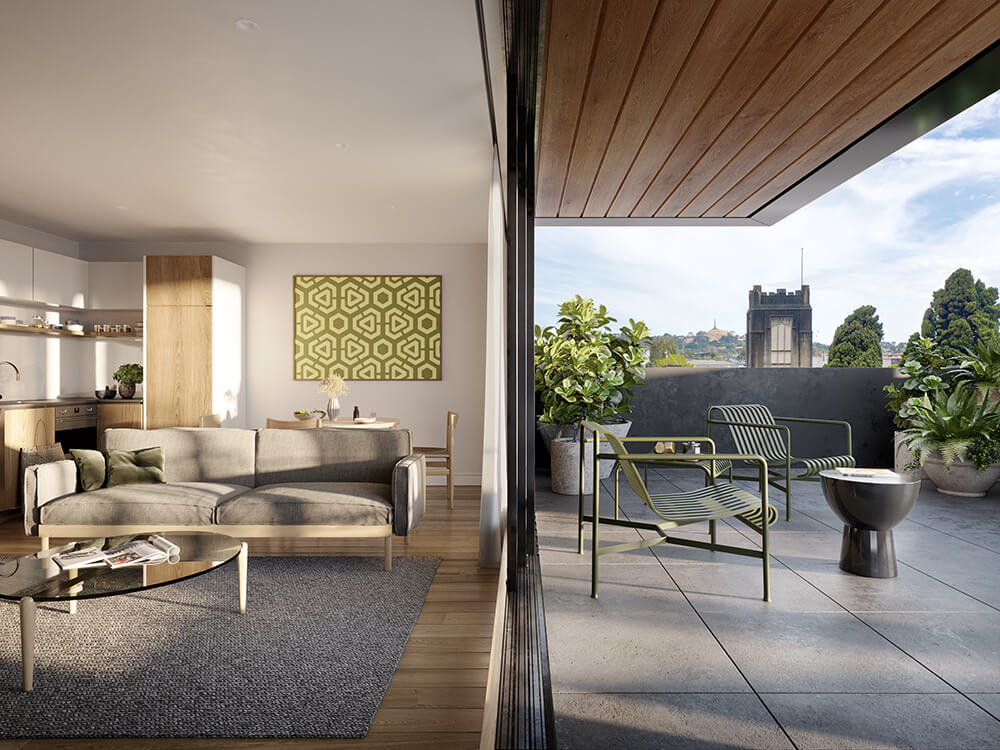 Lamont & Co are also behind a number of other urban living precincts, like SKHY, a mixed-use development in Grafton which won the 2020 NZ Architecture Award for multi-unit housing. "We look for a point of difference in our developments," Lamont says. "We're looking to create quality apartments that people can enjoy living in — which, for us, means the right location, coupled with quality architecture and accessible amenities." 
The display suite at 158 Onehunga Mall, Onehunga will be open for viewing from Saturday 17 April. Opening hours are from Tuesday to Sunday, 11am to 3pm or by private appointment.
For more information and to register your interest, visit onehungamallclub.co.nz.