Nov 27, 2013 Urban design
Arch Hill residents are fighting plans for a Bunnings megastore in their close-knit neighbourhood — but are also up against accusations they're just a bunch of wannabe Grey Lynn wankers.
Above: Anita Aggrey and Katie Sutherland of the Arch Hill Residents' Group. Photo by Stephen Langdon.
For the residents of Arch Hill, the backlash, when it came, was as unexpected as it was venomous.
One day they were fighting the Bunnings "big box" development planned for the Great North Rd ridge above their homes; the next they were defending an online barrage of accusations. Precious nimby wankers. Pretentious buffoons. What bloody up-themselves prats.
The suburb, "Merf" wrote on the NZ Herald website, "is infused with a sort of smugness which is unpleasant. The colour of gentrification appears to be taupe."
Merf and the many other posters reflected the position of online columnist Shelley Bridgeman, who wrote, when commenting on the Bunnings protesters: "Scratch the surface of a Grey Lynn resident and you'll often detect a whiff of self-congratulatory smugness that's anathema to inhabitants of the rest of Auckland."
This wasn't about Bunnings per se, she wrote, but about "big business, consumerism, materialism — a trio of capitalist bogeys that any card-carrying citizen of the People's Republic of Grey Lynn is honour-bound to fight to the bitter end".
Of course, Bridgeman, a contented resident of Remuera — which has in its time also been accused of a certain smugness — is in the business of provocation; prodding readers into a response is a measure of the "success" of her contributions.
Before the Battle of Bunnings, many Aucklanders had probably never heard of Arch Hill, a community of about 150 century-old houses in a grid of fewer than 20 streets wedged on the slope between Great North Rd to the north and the Northwestern Motorway to the south. Arch Hill shares a postcode with Grey Lynn, but not the property values. The threat of Bunnings notwithstanding, that is changing. In October, the most expensive property ever sold in Arch Hill — a large four-bedroom villa in Home St — went for $1.39 million.
To some extent, the dreary and ad hoc developments along the Arch Hill end of Great North Rd have hidden this close-knit little neighbourhood from public view and council notice. A council urban designer has even admitted that he'd concentrated on the Great North Rd-facing aspect of the development when considering the Bunnings application — rather than the "local context" of the residential area behind it.
The residents haven't minded the car yards — from the upmarket Audi and Bentley dealers to the less salubrious Buy Right Cars — or the drycleaners and the army depot. They didn't mind Ambler & Co's Summit shirt factory when it operated for more than 30 years at 272-302 Great North Rd, where Bunnings wants to be.
The factory backed on to the tiny Dean St cul-de-sac where Anita Aggrey has lived for the past two years in the property she's owned since 1998. The obvious friction in the interface of a character-protected Residential 1 zone on one side of the street and a mixed zone accommodating businesses on the other has never manifested itself before, with both sides managing a courteous co-existence.
"My neighbour across the road who gets the cars ready for the sale yard gets to work early but doesn't open the roller door till 8.30am, in his words, 'in consideration for us'," Aggrey says.
When she heard a rumour from Summit staff, early in 2011, that Bunnings had bought the site from the Ambler brothers, she called the council, who told her no application had been lodged for any development on the site. She wrote asking to be "kept in the loop".
The Waitemata Local Board also recommended to the council that applications for the site should be notified — meaning residents would not only be informed, but have the right to challenge any proposals at resource consent hearings.
In April 2012, soon after having her second child, Aggrey again rang the council, only to be told that a company called Shetland Strong Ltd had been granted consent to develop a home-improvement centre in the existing building. Shetland Strong is a shelf company, whose directors are Bunnings' Wellington lawyers, but no one was yet calling this place Bunnings.
Shelf companies are commonly used as a kind of "Trojan horse" to keep potentially commercially sensitive information about the buyer under wraps — in this case all the properties bought for the development went through shelf companies first and, in some cases, Bunnings was not listed as the owner until up to 18 months later.  Lawyers at Simpson Grierson, Bunnings' Auckland legal firm, were directors of two other shelf companies through which land purchases for the site were also channelled.
The council told Metro it now has no record of Aggrey's request for information, but it also ignored the recommendations of its own local board that the development be notified. Why? Because the council, without reference to the community around the store, deemed the likely impact of the proposal to be "less than minor".
Building-improvement centres and other such big-box developments are not complying activities in a mixed-use zone like this. So how, the residents ask, could a non-complying business of such a size, which would ramp up truck traffic on a small residential street from 2-5 deliveries a day to 20 and customer traffic in the narrow streets nearby to around 2000 a day, possibly have a "less than minor" impact?
If the proposal for a store within the existing footprint of the Summit factory site was — in the minds of the Dean St residents at least — quite bad enough, things were about to get very much worse. Shortly after the consent came through, a third property in the same block became available, which Shetland Strong also snapped up.
Suddenly, the big Bunnings store was about to get substantially bigger. The second proposal, a 17-metre tall, four-storey building with underground parking, doubled the floor size from 4200 square metres to more than 8400. This time, the application was notified — but council processes failed, with some householders notified and their next-door neighbours not.
It is this application that has just been considered by a panel of planning commissioners, whose decision is due in early December. Both sides say they'll appeal if it goes against them, meaning the fight will be off to the Environment Court. Bunnings general manager Jacqui Coombes told Metro the company "will always comply fully with the statutory requirements of the consents process". She says it's been keen to ensure the views of the local community are taken into account, and held an open day to "openly discuss" the application.
Coombes says the second proposal removed customer traffic from Dean St, helping to allay residents' fears. She does not mention the additional truck movements required for the bigger store, which would see a truck arriving and leaving every 15 minutes between 9am and 3pm via a street which has a kindergarten on the corner.
For Arch Hill Residents Inc., battle HQ is Katie Sutherland's tastefully renovated villa (yes, Merf, taupe reigns here) in King St, just a few doors down from the Bunnings site. The nucleus of this group — human resources manager Sutherland, Parnell primary school teacher Sue Lyons, wine consultant David Batten and stay-at-home mum and make-up artist Aggrey — have met here every week or so for many months.
Sutherland settled the purchase of this house in May last year, just a few weeks after the council approved the non-notified consent of the first application for a home improvement store, made by Shetland Strong. "I paid someone to go through the council records and they came back with a report and said, there's nothing there, you've got no problems, go ahead."
Lyons, a refugee from the Waterview tunnel project, bought several years ago but moved in only last year, while Batten has lived in Potatau St for 10 years.
The quartet have been stunned by what they regard as a laissez-faire and less-than-objective council attitude to the notification and consenting process. "They were saying we know what's best for you, without asking us,' says Sutherland.
Brian Putt, the urban planner who gave expert evidence for the group at the October resource consent hearings, agrees. Putt's great-grandmother lived in Dean St and he remembers spending a lot of time there as a child. He hadn't been back for 35 years until he was hired by the Arch Hill residents.
Putt says the test for a consent application to be notified — it needn't be notified if the effects are less than minor — should be "a really difficult hurdle to jump. They jumped it because people weren't being careful enough about that test. When you make that decision, you're taking people's rights away from them, so the onus is on the decision-maker to be very vigilant."
He says even if the application was written in "glowing terms", which had been the case here, "the council's experts are in a position to see through all that and not be duped".
Putt says while it's often suggested that a council "can-do" attitude favourable to business interests might subconsciously influence its independent advisers, "I've never had that experience, perhaps because I'm a difficult bugger. But you often wonder how some things slide through and this is an example. You do wonder how someone was not cautious enough to say, this activity is way out of zone, it's not expected by the district plan, surely the neighbours should be involved.
"Here we are with a mixed-use zone, a really important zone in the Unitary Plan because it's the council's way of getting more residential housing into these areas. It interfaces with Res 1, one of the most sensitive residential zones in the city — a special-character zone for heritage purposes — and the council is going against all its own intentions."
The Res 1 zone means residents can't demolish or remove any house built before 1940. The irony is that while the council routinely denies them permission to change the front of their properties to accommodate carports in an area of little off-street parking, it allows something the size of Bunnings to sprout across the road.
Metro asked Auckland Council about its handling of the Bunnings application.  It won't comment on the non-notified consent for the first plan because that's the subject of an upcoming judicial review, and it's acknowledged "administrative errors" in the notification process for the latter proposal. Those errors have been identified and addressed, the council says, so there's no need for any rethink on how such submissions are handled in future.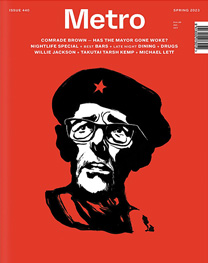 Metro N°440 is out now!
With progressive councillors starting to score some wins under what was anticipated to be a reactionary major, Hayden Donnell asks: Has Wayne Brown gone woke?
Plus: we go out and investigate Auckland's nightlife (or in some cases, the lack thereof), with best bars (with thanks to Campari); going-out diaries from Chlöe Swarbrick, BBYFACEKILLA.mp3, Poppa.Jax & more; a look into Auckland's drugs by Don Roew (who's holding and how much they paid for it); we go on the campaign trail with Willie Jackson, talk to gallerist Michael Lett, drink martinis and alternative wines, start seeing a therapist, visit Imogen Taylor's studio, look into Takutai Tarsh Kemp's wardrobe. And more!
Buy the latest issue