Sep 27, 2016 Urban design
The new neighbour for a Newton Rd landmark delivers a bold hum of colour and an oasis of public space.
Photos by Patrick Reynolds.
My first reaction to "The Orange" on the corner of Newton Rd and Dundonald St oscillates wildly between "that's bold" and "that's too much". The orange of the new building — a five-level mix of apartments, office and retail space wrapped around two sides of the old Orange Coronation Hall — is certainly vibrant. I can't help wondering whether it would be better in, say, white.
Lead architect Ken Crosson gives a number of reasons for the confronting choice. "Orange, because we have got an absolutely grey city, grey-black. That's the default. I think that's a kind of cop-out." The colour, he thinks, gives the area "a little bit of pop". The neighbourhood, a mix of old and new, mostly tired, bland buildings near the intersection of Symonds St, Khyber Pass Rd and Newton Rd, struggles for air amid an unrelenting snarl of Auckland traffic. Five levels of colour in deep, protruding, orange aluminium window frames and encircling fins undoubtedly pops. But there's also a subtle play of light and texture to the façade — the panels are pockmarked by holes (inspired by orange peel, apparently).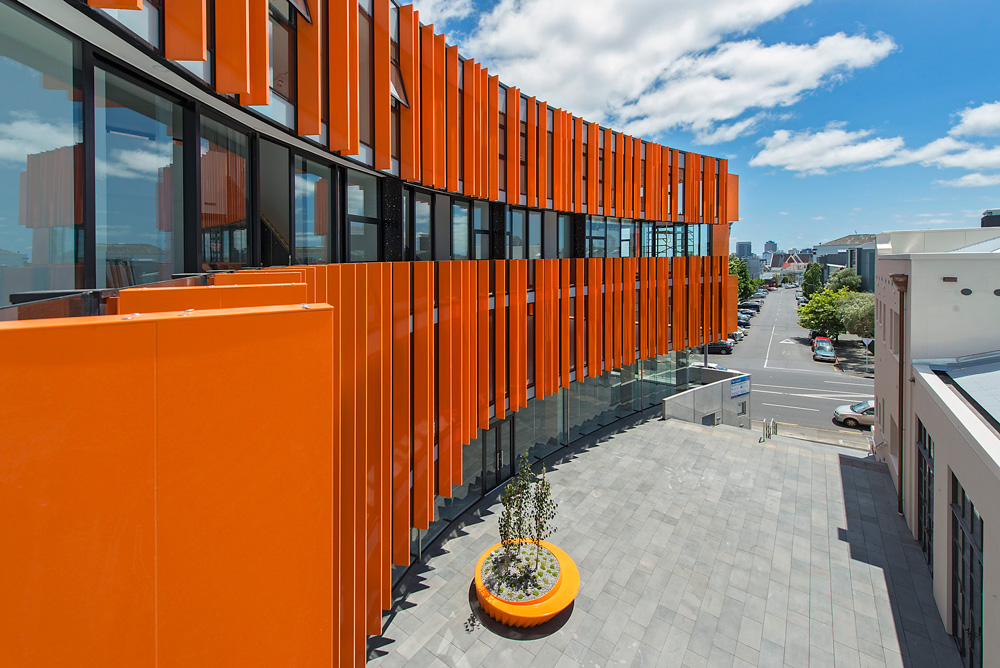 The bright orange wasn't about being noticed: "It was very referential to the colour we saw in the brick and the fact that this was the Orange Hall."
Here, the argument shifts to historical context and becomes not just about colour, but a religious and political statement. The Orange Hall was a building for the Grand Orange Lodge of New Zealand, begun here in 1842. The organisation springs from the Loyal Orange Institution of Ireland, more commonly known as the Orange Order.
Orange always reminds me of 70s lampshades and Rajneesh. Though perhaps it's growing on me.
A few moments of online research reveals it was founded in Northern Ireland in 1795, during a period of Protestant–Catholic sectarian conflict, as a Masonic-style brotherhood sworn to maintain the Protestant Ascendancy. Its name is a tribute to the Dutch-born Protestant king William of Orange, who defeated the army of Catholic king James II at the Battle of the Boyne in 1690.
The order's members, referred to as Orangemen, wear V-shaped orange collarettes (and white gloves and bowler hats) and parade (with orange banners and the Orange Order flag) in Northern Ireland (and elsewhere) in controversial and sometimes violent annual marches held on or around July 12.
Marching ceased here long ago and today, according to its website, the order is "about friendship, fellowship and having a jolly good time celebrating the 12th July in New Zealand style with a family dinner for everyone". New Zealand Orangeism, and the order's visibility, faded here from the 1920s.
In this respect — remembering history — the conservation of the "stripped classical" Orange Hall designed in 1922 by A. Sinclair O'Connor is great.
The building, which won a 2016 New Zealand Institute of Architects Auckland Heritage award, features an imposing two-level-and-parapet brick-and-plaster façade with an ornate entrance, accessed by steep steps from Newton Rd. Original features — the ticket office, winding stair and the upper-level timber- panelled lodge meeting room, complete with the essential secret-society "who's there?" openings in the doors — have been retained. To the rear is the hall with its sprung tawa floor, exposed timber trusses and sarked gable ceiling.
New steel joinery doors open the hall to a new paved public courtyard which is the pièce de résistance of the whole scheme. It provides the space adjacent to the curved wall of its modern neighbour that allows the old building to breathe. Accessed by gentler steps from Newton Rd, it gives an oasis-like ending to St Benedicts St opposite. There are some nods by landscape architects Wraight + Associates to the hall's history — dance steps etched in the paving and a few sculptural dance-hall chairs around the edges.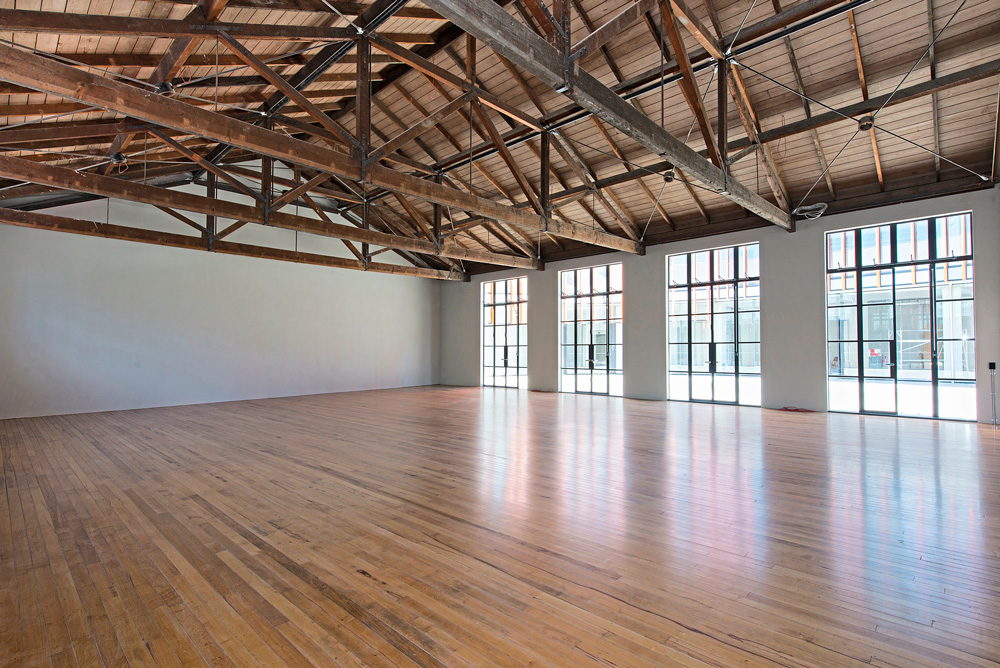 From the 1930s through to the 1950s, the Orange Hall became renowned as a ballroom dancing venue and the heart of Auckland's early jazz and big-band scene. Now operating as a function venue, the Orange is credited with helping to launch the careers of Mavis Rivers, Bill and Boyd, Dame Kiri Te Kanawa and Sir Howard Morrison.
In its heyday, crowds queued four deep down its steep steps and along Newton Rd. The restored supper room underneath the hall served sandwiches, cakes, tea and coffee. There were strict rules imposed by the lodge: no alcohol, chewing gum or jitterbugging allowed. Regulars included Ted Croad's band (jazz), Arthur Skelton and his dance band and the Beau Regarde Dance Club. Just after World War II, the interior is said to have sported the lodge's orange colour, which was apparently repainted cream (sacrilege!) by a subsequent tenant after the dancing stopped in 1987.
Behind the hall these days is a five-level apartment block arranged along a central atrium. The 61 apartments comprise 32 studios (28sq m), 24 one-bedroom apartments (45sq m) and five two-bedroom penthouses. The building to the side of the hall, with its sweeping curved wall and orange fins, is a mix of commercial floors and six New York-style lofts, each with a mezzanine floor. As a mixed-use development with great city and Waitakere Ranges views and central location, it sets a high standard.
As for that orange, it's been Crosson's firm's colours since 1987, except for a brief period when it wasn't so fashionable. Putting aside the question of whether the colour can be read as an Orangeman's triumphal march in powdered coated aluminium, you do have to wonder whether it will date. Orange always reminds me of 70s lampshades and Rajneesh. Though perhaps it's growing on me. Like the hot-pink cycle path, it gives Auckland some verve — whooping things up and making them hum.