Sep 21, 2021 Urban design
Eden Terrace's new Wonder Apartments are only a short 5-minute walk from the best cafe in Auckland. Deemed Supreme Winner of this year's Metro Top 50 Cafes, Coffee Pen is an independently owned spot with a lot of heart; the perfect kind of hole-in-the-wall to make your local. Happily, it's not the only notable eatery within a stone throw's distance; the whole dining stretch of Karangahape Rd, Newmarket, and Ponsonby are too. (May we suggest French neo-bistro Bar Celeste on K'Rd, or the new Daily Bread outpost in Ponsonby?) It just feels like everything in this excellent city-fringe location, from supermarkets, to gyms, to green parks, to art galleries, is within reach, whether you're on foot or some type of wheels.
Wonder Apartments, soon to be at 78 France St South, is Urban Collective's second development on France St, and its sixth in Eden Terrace. "We love and are inspired by the area, and are priding ourselves in being a significant part of the transformation from light industrial to residential hip city fringe neighbourhood," Kelly McEwan of Urban Collective said. The developer's sustainable-forward, architecturally liveable spaces aim to be distinctively modern while still reflective of the neighbourhood's industrial past: think exposed concrete ceilings and expansive stud heights.
You can see this sustainable approach in the materials used throughout the building, both in the apartments and the common spaces. The common area carpets, for example, are made from recycled fishing nets recovered from the ocean, while the unique facade will be built without scaffolding to reduce building materials and transport. "For Wonder, we've chosen to partner with environmentally conscious brands as a natural evolution of who we are, and the values we embrace," Kelly McEwan of Urban Collective said.
From the streetside, you'll see the punched-in windows that bring a sense of irregularity and whimsy to the concrete exterior, accompanied by green planters that soften the building. Light will stream through those windows on both sides of the building, thanks to the elevated site.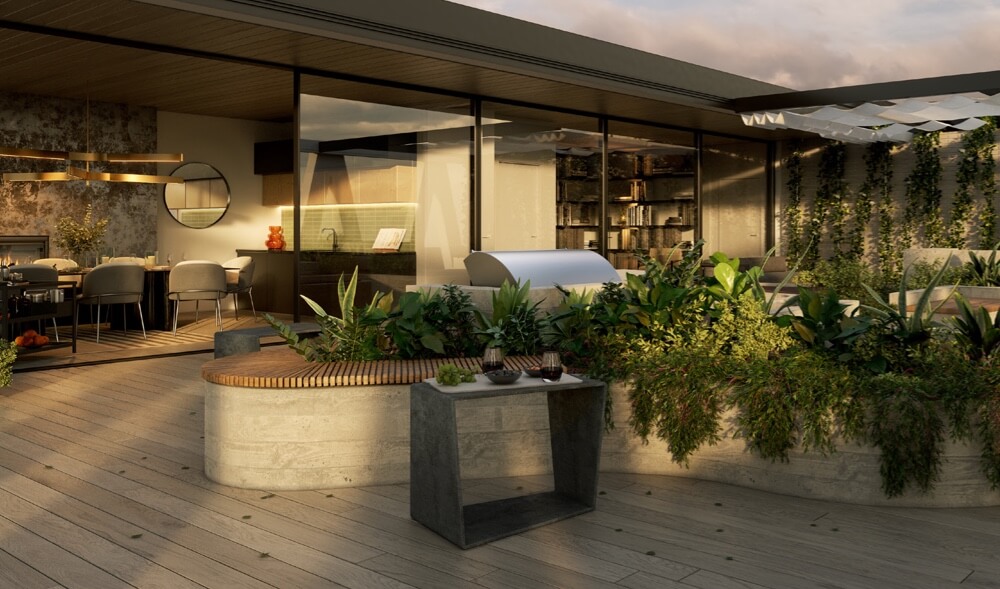 Inside, individual living spaces feature timber flooring, modern kitchens, expansive views, and clever work- from-home solutions. It's refined living; luxury but with a sense of character. Thoughtful consideration has been taken to incorporate various busy lifestyles into Wonder's design. For example, there's a chilled storage area for grocery deliveries; generous bike storage; and a functional but beautiful rooftop space to entertain guests. (Functional but beautiful is definitely the Wonder MO, by the way.) The rooftop space includes a bookable indoor dining area, BBQs, plus an extra libra- ry space. "We continue to push boundaries, applying practical solutions to the barriers of urban living, and thinking about how what we build now must reflect the needs of what is yet to come," McEwan told us.
With 90 apartments spread across 10 levels, Wonder is a very, very well-placed solution for those of us who crave the proximity to the good things in life, while still wanting somewhere away from all that to escape into. Apartments range in size from 46m2 one-bedrooms to 124m2 three bedrooms and start at $710,000.
Wonder Apartments display suite is now open (taking socially distanced appointments during Level 3) at 59 France Street South, just down the road from where Wonder will be located. Visit wonderapartments.nz for more information and to book an appointment.