Sep 6, 2021 Urban design
If you're one of this country's 1.5 million renters, you'll have been through at least one of these situations: Your landlord wants to move back in; your landlord sells your house and the new owner doesn't want to be a landlord; your landlord wants their adult child to live in your house; your landlord doesn't seem to care that the house is damp and mouldy; your landlord doesn't really like being a landlord so does the bare minimum upkeep of the property; your landlord is too into being a landlord and so while they are more than happy to do the upkeep, they're constantly up in your business, randomly appearing in the backyard with a pair of clippers to trim the lemon tree on a Sunday morning.
Two possible solutions to these problems are to find a house with a professional and competent landlord, or rent a property that was built specifically for that purpose, a property that, from the very beginning of its planning to the first turn of the key, was located and designed to be a rental property. The first solution is entirely unpredictable; the second is finally a viable option for Aucklanders.
Arc is not a property developer but 'A Renting Company', bringing a long-term, customer-focussed approach to landlording with the internationally-proven build to rent (BTR) housing model to New Zealand. In the words of Kent Gardner, CEO of build-to-rent business arc, "Our aim is to take the lord out of landlord … when tenants are treated as valued long-term customers their home is truly their home."
Arc's new arc Onehunga is a 100% build-to-rent community on Selwyn St in the heart of Onehunga. Opening its doors for the first time in early September, arc Onehunga will offer a new way of life for 48 house- holds. Long term tenancy agreements with short exit  clauses, that protect renters' rights and enable them to plan and live in their family home not just for a year or two, but for as long as they like. Not only will this offer those excluded from (or disinterested in) home owner- ship the opportunity for stability, overseas experience shows that when all residents of a development are renters, they are more likely to invest in supportive, long term community relationships, making that development a better place to live for each and every tenant, giving them a stable, enduring home.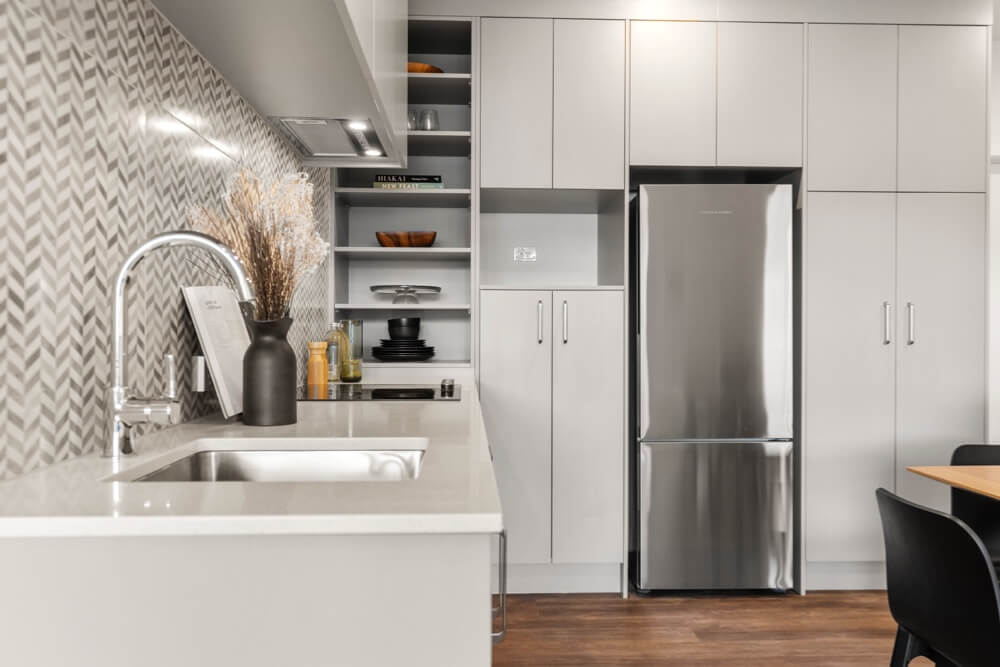 Arc Onehunga, designed by Brewer Davidson Architects, is the product of wanting to develop purpose-built BTR communities that are built to last, built to keep and built to provide a long-term home to residents. Be- cause these properties are designed to be rented long- term, they are built from high quality materials and a future-proof design, with long-lasting and upgradeable insulation, ventilation, security, and technology.
Close to Onehunga town centre and schools, with both bus and train transport options a short walk away, arc Onehunga is made up of 48 three-storey walk-up apartments, a 50-50 mix of one- and two-bedroom apartments, all with dual aspects and balconies. Amenities include state of the art Fisher & Paykel appliances, onsite bicycle storage, native landscaping, original site-specific murals by local artists, public space security, smart access, solar, resident app, EV charging and high speed fibre. Not to mention dedicated, professional management and maintenance. No more landlords peering in your window during an unannounced spot of gardening on a Sunday morning.
Find out more, or book a viewing, at arcresidential.co.nz