Jun 15, 2017 Urban design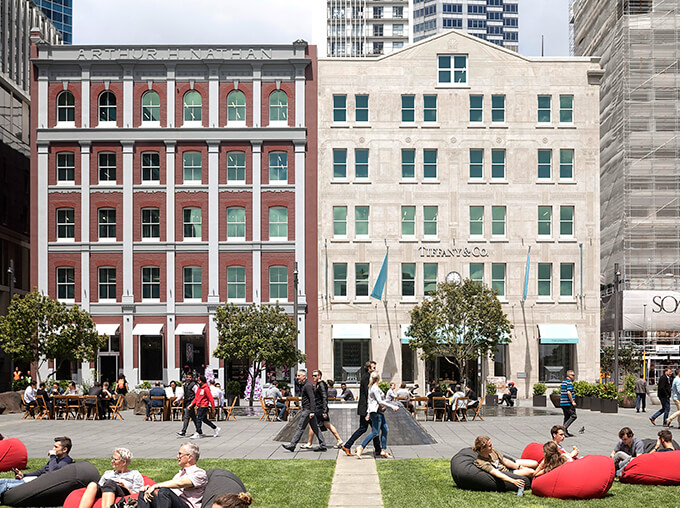 An early concept for the rear facade of Australis House on the corner of Gore and Galway Sts involved a supergraphic of Audrey Hepburn. The idea was to invoke the screen legend's memorable Holly Golightly in Breakfast at Tiffany's to adorn the famous luxury jewellery shop taking up residence next to Chanel and opposite the dancing fountains of the Britomart precinct's Takutai Square. Breakfast in the 1961 movie was a coffee and Danish while window shopping. I make do with a flat white from Oaken.
Sadly, Auckland will have to wait another day for Hepburn's elegant visage to grace our cityscape. But the drawing that architects Peddle Thorp ended up plastering to the building is just about as good. It's a full-size tracing of the structure's classical late Victorian, early Edwardian Customs St East facade, cut and pasted — with deliberate disregard for matching edges and windows — on the building's less-decorated rear and side faces. You have to say this Tiffany's looks just as good, if not better, than the limestone, granite and marble one on the corner of Fifth Ave and 57th St in Manhattan. Here, the brand is instantly recognisable — the distinctive lettering, flagpoles, the Tiffany blue awnings and the statue of a stoic Atlas shouldering his clock. But it's the classical outlines subtly applied in plaster that really give the building an elegant lift.
The technique is reminiscent of centuries-old sgraffito, where decoration is made by scratching through a surface to reveal a lower layer of a contrasting colour. In this case, although decades of paint layers were removed from the building in its heritage makeover, the decoration is not by sgraffito, but by lime plaster carefully applied to temporary templates, masked and chalked to set out the facade's lines. The effect of the overlay is both beautiful and unsettling: outlines of classical columns perch precariously and pediment traces get broken across window openings.
"We did this sort of Dadaist thing where you just let it run. It's very, shall we say, postmodern, but who cares?" says lead architect Richard Goldie. Some might. Bringing the carefully applied classicism of the 1904 Australis House's Customs St front to the Galway St back as a kind of postmodern joke is a bit risky. The architectural style, aka PoMo, which emerged in the 60s and flourished in the 80s and 90s as a revolt against the clean white austerity, formality and lack of variety of the Modernist architectural establishment has since been roundly rejected as fraud, variously called superficial, tacky, derivative and cravenly complicit with capitalism.
So bravo to Heritage New Zealand's bold move to allow what some might regard as a whimsical if not frivolous treatment of a building with Category 1 historic-place status. Salmon Reed's heritage report describing the architectural merits of the Customs St facade certainly sounds serious: "The ground floor itself sits on a plinth of rusticated stone and is arranged under a trio of pediments set above a continuous cornice, which is in turn supported by a series of fluted modillions at each pilaster — the three central modillions are elongated, with vermiculated panels on their sides."
All these esoteric names of various classical elements — it all sounds a bit obscure. When you think about it, the idea to adorn buildings to resemble the temple architecture of classical Greece or Rome always was a bit odd. Scholars generally point to the late Italian Renaissance as the cause behind Britain's long love affair with the classical, which set the scene for its colonial transfer to the Antipodes as Victorian classical style that apparently denotes grandeur, status and respectability.
Still, standing on Customs St opposite the beautifully restored five-storey A.J. Entrican building, which later became known as Australis House, you have to admit there is something theatrically magical in this applied antiquity: the central pediment (the triangular piece over the double main doors) in the form of a broken scroll; the fluted pilasters (the bits that stick out from the central facade pretending to be columns); the Corinthian capitals (the flowery tops of the pilasters ); and the mid-height intaglio bosses set in recessed panels (square squiggly bits). Lovely, and it is terrific, thanks to the long-term vision of investors Cooper and Company, that this scant city history all around Britomart is being preserved.
The restoration and reuse include the adjacent, five-storey A.H. Nathan building, named Launceston after the merchant's birthplace and built in 1903 of brick with cast-iron columns and rolled steel floor beams. The building is palazzo style, modelled on palaces of wealthy Italian Renaissance families. In this instance, on the Customs St face that means a deep cornice mounted on Doric-style pilasters, beautiful polychromatic effects obtained from red and yellow bricks, together with decorative features formed in a luscious red moulded plaster, arch-headed windows at the upper level and an ornate wrought-iron balcony. 
Inside, the floor plates of the two buildings are joined to provide a variety of office tenancies. The brick walls and underside of the timber floor joists with herringbone strutting are exposed, providing further heritage character. The top level features an exposed timber attic ceiling and includes a roof deck amid a skyscape of surrounding towers, the combined building's parapets and lovingly restored Victorian roof urns, flagpoles and chimneys.
On their Customs St frontage, the Nathan Building and Australis House represent a beautiful traditional heritage restoration. Great to see. More please.
"You don't want replication," says Goldie. "You want to be able to see old and new so the building has a sense of narrative through time."
Indeed. But it's the rear of Australis House, with its applied whimsy, that indicates a new heritage conversation may have begun. A conversation that's not so uptight and stuffy about accurate representation, a conversation that respects the past but also gently takes the piss.      
This is published in the May – June 2017 issue of Metro.
---

---