Jul 15, 2019 Urban design
From Maori art to the integration of Maori values and traditions in new public spaces, Auckland is increasingly acknowledging, celebrating and embedding its Maori identity in the urban environment.
This story initially appeared on OurAuckland and is shared with permission.
Before Auckland was named Auckland, it was Tamaki Makaurau. Maori lived on the isthmus for hundreds of years before Pakeha arrived, building pa on its volcanic cones and prospering on its fertile network of waterways. The history of this land is first told in a Maori voice.
For many decades though, that voice was regularly forgotten or tuned out by those charged with constructing Auckland's buildings, infrastructure and amenities. The stories and designs of mana whenua weren't often reflected in the built form of the city as it sprang up in the 20th Century. As Auckland Council Maori design specialist Olivia Haddon says, we need to create more "places of this place".
The Te Aranga design principles were introduced to do just that. The principles, adopted in response to the New Zealand Urban Design Protocol in 2005, spell out a way for developers and designers to better engage with mana whenua and honour Maori identity and narratives. They encourage honouring whakapapa, or Maori names and heritage, protecting taiao (the natural environment), and recognising the mana of local iwi and hapu.
Auckland Council formally adopted the Te Aranga principles to guide its developments in 2016. Mei Hill, arts and design manager for Ngati Whatua Orakei, says it's encouraging to see more support for indigenous designs being integrated into the fabric of Auckland, but more needs to be done. "We need to celebrate and normalise our indigeneity, which comes from understanding our history and matauranga Maori and all its layers of richness." These are some of the places you can find art, designs and developments across Auckland that reflect its place as a city of the South Pacific; as Tamaki Makaurau.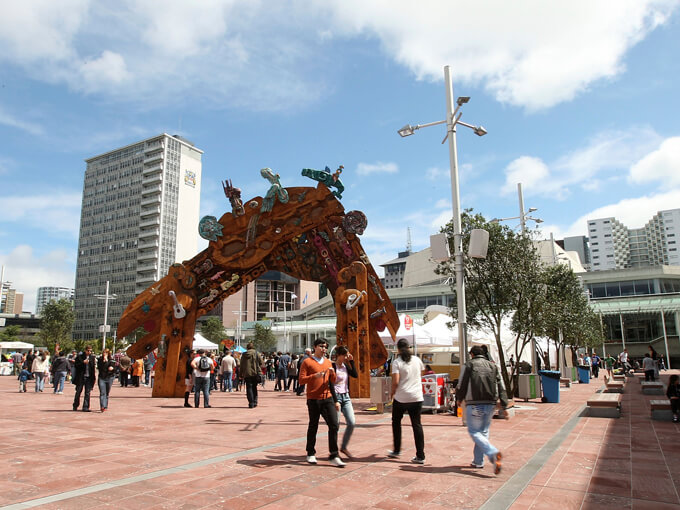 PUBLIC AMENITIES
Te Auaunga Awa, Mt Roskill
A council-led upgrade to Auckland's longest uninterrupted urban stream, Te Auaunga Awa, could have been a business-as-usual project. The waterway in Mt Roskill was due for 'daylighting' – replacing its concrete channel with a wider naturalised one. Haddon says the project was infused with extra meaning and value after the council consulted and then partnered with mana whenua.
That korero resulted in habitat restoration, significant ecological regeneration and water-quality improvements. A playground and two fields incorporating traditional Maori play were also established along the restored stream, and mana whenua cultural narratives and values were stitched into its new design.
Daldy Street playground, Wynyard QuarterOne of Auckland's most innovative outdoor installations honours both the city's history and its indigenous culture. On first glance, the 'Daldy Street Tanks' are meant as a tribute to Auckland's landmark waterfront Tank Farm. One incorporates a 7.6m irrigation tank, the other a seven-metre slide. But both are also infused with cultural storytelling. Maori symbols for water and proverbs about water are embedded in the first tank, while on the second, paua and other materials are used to speak of maramataka – the Maori lunar calendar.
BUILDING CULTUREART
Te Waharoa O Aotea, Aotea Square
Waharoa is one of the most viewed pieces of public art in New Zealand – a regular selfie background feature on social media. The Selwyn Muru sculpture stands at the entrance to the bustling Aotea Square in Auckland's city centre. It's a gateway into the space for manuhiri (visitors). Haddon says the artwork is special in how it fuses the contemporary with the ancient. "For civic events, that space becomes powerful," she says. Mei Hill says Waharoa is probably the defining Maori artwork of scale in Auckland. It's also a reminder the city is overdue for a building of scale that gives visibility and voice to Maori values and culture.
A Maori Figure in a Kaitaka Cloak, Quay Street
This statue is a monument to peace and dignity. It is also revolutionary. When the people commissioning the statue on Quay Street in 1964 asked artist Molly Macalister to create a Maori warrior, they likely expected a stereotypical warrior, perhaps striking a pukana, Haddon says. But Macalister consulted with mana whenua, and that engagement resulted in a different interpretation. Macalister's statue gazes into the horizon holding a mere – as a symbol of peace – at his side. His kaitaka cloak signifies his status as a chief of great stature. "It was revolutionary the way Macalister made this work, in that she took cultural guidance from the right people. She listened and interpreted that in an artistic manner," Haddon says. "She did a marvellous job."
PUBLIC SPACES
Tiramarama Way, Wynyard Quarter
When sandy soils and sea shells were unearthed during construction of Tiramarama Way in Wynyard Quarter, they were seen as evidence that the laneway was once a mahinga kai (food gathering place). Many construction teams would have discarded those materials. Instead they were incorporated into its design. The move is testament to the ethos of artist Lisa Reihana and landscape architect Megan Wraight, who designed Tiramarama Way to reflect and reinterpret its seaside environment. It features purposeful puddles which rise and fall with the tide, and a light arrangement celebrating constellations specific to Maori astronomy, including Matariki.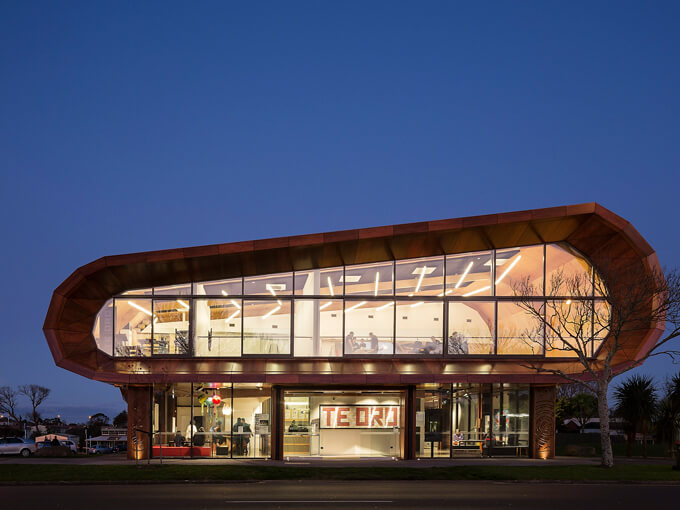 PUBLIC BUILDINGS
Te Oro, Glen Innes
Te Oro is one of the most impressive buildings in Auckland, and is informed by a close working relationship between the project's architects and mana whenua groups Ngati Paoa, Ngai Tai ki Tamaki and Ngati Whatua Orakei. The Glen Innes music and arts centre was moulded from a vision of a grove of trees, under which people could gather, share knowledge and be creative. That concept inspired its unique roof form, which is meant to resemble three floating canopies supported by huge timber trunks to create an uru (grove). Other integrated art components of the building highlight mana whenua and community values and stories to firmly root Te Oro in its location. Hill says the building is "architecturally a standout" in Tamaki Makaurau. She hails the process that went into creating its external wooden panels, which involved three mana whenua artists and community members working collaboratively.
Auckland Art Gallery Toi o Tamaki, Auckland city centreMuch of the architecture in Auckland's city centre hasn't paid much attention to Maori principles or spatial understanding, but Haddon says Auckland Art Gallery Toi o Tamaki is an exception. The gallery is an enduring testament to how mana whenua engagement can lead to more unique, beautiful, and meaningful design. The space is imbued with cultural features informed by local iwi, including the trunk-like columns and timber canopies above the main entry, which tell the narrative of Tane Mahuta, the deity of the forests that once stretched across Tamaki Makaurau. "It creates space for people to exist around and provides shelter. It incorporates the historical building beautifully. But it adds something magnificent to it as well," she says.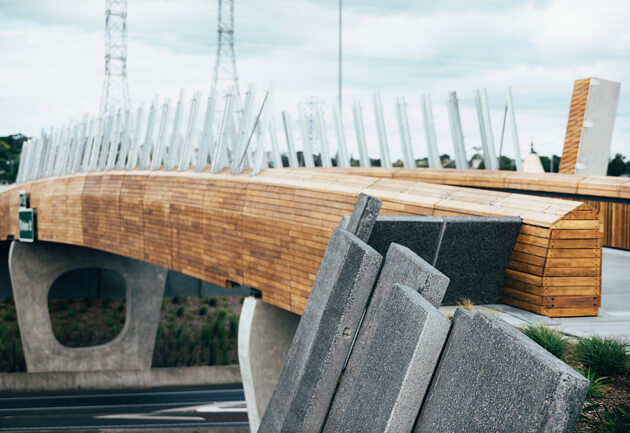 PUBLIC INFRASTRUCTURE
Taumanu Reserve Bridge, Onehunga
Taumanu Reserve Bridge is both a structure and a story. The pedestrian bridge on reclaimed harbourside land is physical testament to the volcanic, maritime and cultural history of Onehunga. Artwork along the bridge's interior was designed by Bernard Makoare (Ngati Whatua o Kaipara). Its unaunahi pattern, representing fish scales, relates to the ruffled waters and mudflat forms of the Manukau Harbour, and local fisheries. The bridge was made with guidance from a Mana Whenua Kaitiaki Working Group made up of representatives from five iwi with links to the area: Ngati Te Ata, Te Akitai, Ngati Tamaoho, Ngati Whatua and Te Kawerau a Maki.
This story was first published on Our Auckland.