Mar 16, 2015 Urban design
The council is poised to convert High St to a shared space, along similar lines to nearby O'Connell St. Metro has advocated this for years, along with many of the local businesses – but some remain opposed. We asked business people on both sides of the argument to put their case.
Photos by Patrick Reynolds. Above: High St attracts service vans and cars trawling for parks.

NO!
Keep the cars
Murray Crane

As someone with nearly 30 years' experience working, drinking, eating, parking and even dancing in the High St district, I get asked all the time why I don't support turning it into a shared space.
My response is resolute. I don't believe it is necessarily the best solution, and feel there is a whole raft of things that could and should be done first that would improve it significantly.
I agree that bits of the street are frustrating and need fixing. But my concern is that simply changing the street to a shared space does nothing to solve the underlying problems.
To me, it makes more sense to address these first. Paving over the street will be nothing more than a Band-Aid for a far greater degree of dysfunction that could be solved with a lot less (of our) ratepayers' money being spent.
That's money the council doesn't even have to spend, if you believe the hype.
I am not a town planner; in fact one recently told me I should stick to what I know best. But I believe that, after such a long and unbroken tenure on this street, I am far better placed than most people to speak about it with some authority.
In no particular order, here's what I would do:
•    Place more focus on traffic management by installing traffic lights and a pedestrian crossing on, or near, the High St-Shortland St intersection.
•    Extend the footpath, where possible, even at the expense of parking. For example, Number 1 High St is a choke point for parking due to accessibility and the park there could simply be removed. These areas could be redeveloped to include public seating.
•    Remove all trade vehicles from High, Lorne and Shortland Sts between 10am and 5pm every day. This would dramatically reduce congestion. Council has this within its power by imposing stricter requirements on permits and, if need be, increasing the compliance cost. This would be a better deterrent. It could also be extended to include film and moving companies conducting their work outside retail hours.
•    Upgrade the Victoria St car park and its retail tenancies. This would include closing the exit onto High St by diverting traffic back onto Kitchener St, to reduce gridlock. This would also create room for electric vehicle charging or proper bike storage, and the old exit could be converted for additional retail tenancies.
•    Improve the existing tenant mix in the car-park building, by vetting potential tenants and subsidising rents to get a better cluster of businesses. To fund the refurbishment, council could investigate converting the two top tiers of car parks into residential and business property.
•    Give Freyberg Square and Ellen Melville Hall the facelift they deserve by converting the ground floor of the hall into a space for small conferences, meetings and music or an outdoor cinema in summer. Close traffic between High St and O'Connell St.
•    Fine every restaurant and cafe that does not follow proper procedure for waste disposal, and create designated "drop zones" for approved bags. Banning food waste from the street could be part of the compliance process.
•    Zero tolerance on graffiti, with twice-daily removal, better street lighting and improved signage for local and international visitors. There is currently no unified signage plan or link between the Viaduct, Britomart and landmarks such as the art gallery, the universities and Albert Park, the Civic, Aotea Square and beyond.
Council seems resolute that its paved earth policy will miraculously transform central Auckland. I am yet to be convinced. Removing cars doesn't remove the problems.
Murray Crane is the proprietor of Crane Bros, 2 High St.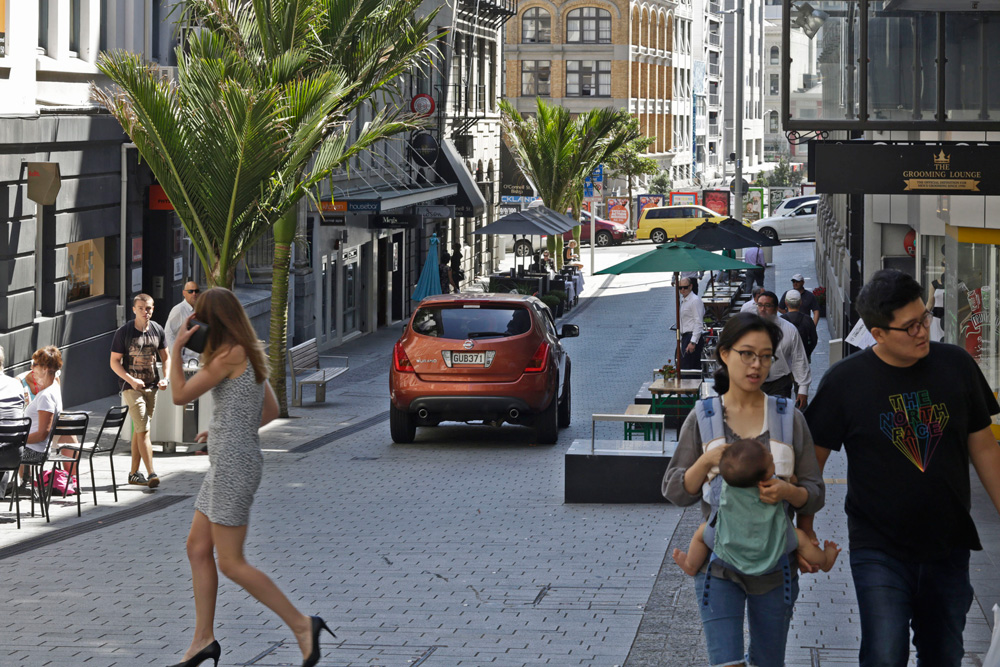 YES!
A frog or a prince?
John Courtney

Ever parked in High St? Did you survive unscathed? Maybe you were lucky. Why would anyone want to park there? It's so clogged with parked vehicles, there is barely room for the traffic to move, let alone pedestrians. High St is a frustrating bottleneck for office workers and shoppers alike, and it's often full of ugly service vans and trucks that block visual access to the shops, cafes, hotels, bars and buildings.
It's not what we need in a liveable city. What to do? The shared-space concept offers a pragmatic compromise between the existing street and a full pedestrian mall. It's an idea that emerged from the "new urbanist" movement in Denmark, Holland and elsewhere, which was spearheaded by architect and urban designer Jan Gehl. Central Copenhagen evolved a network of pedestrian-friendly streets in the 1960s, and the idea has since spread to Tokyo, London, Los Angeles, New York, Prague, Barcelona, Singapore, Tel Aviv and, more locally, Sydney, Melbourne, Brisbane and Perth.
Auckland became an LA-type city planned around the car in the 1950s, and has been late to join the move towards becoming a more pedestrian-friendly place. Since the Global Financial Crisis of 2008, however, that's changed. We've now pedestrianised Fort, Darby, Elliott, Lorne, Federal and O'Connell Sts, and North Wharf and parts of Britomart, and there's more to come.
Why High St? Partly because it was Auckland's original premier shopping street, built before cars arrived. Its narrow proportions, handsome buildings and central location parallel to Queen St create the perfect people-friendly laneway through the centre of town.
It's a key accessway for students walking between the campuses and the transport hub at Britomart. It's an alluring option, or should be, for the 300,000 or so cruise-ship passengers pouring into Auckland each year and wanting to find the art gallery and other attractions of the Aotea arts precinct. High St has the potential to be a far more friendly and cultural stimulating alternative to fighting the crowds of Queen St.
And why a shared space? The idea was probably the brainchild of Hans Monderman, a Dutch road traffic engineer who realised cars would always have a role in cities where, like Auckland, there was a lack of good public transport.
Shared spaces create uncertainty for drivers and walkers alike, and that's the idea: they're safer, because everyone is being cautious.
Auckland Council has embraced the concept, adopting refinements for blind visitors, and trees and artwork for visual appeal. Among the key benefits already achieved in Auckland, according to research undertaken by the council in conjunction with the University of Auckland and AUT, are:
•    Peak-hour foot traffic has risen by more than 50 per cent.
•    Vehicle speeds are down more than 25 per cent.
•    Hospitality spending in immediate areas is up more than 400 per cent (source: Auckland Council Fort St Evaluation Report).
•    More than 90 per cent of pedestrians surveyed reported a positive impression of the upgrades; more than 80 per cent thought the street environment safe, which is higher than prior to the upgrade; and more than 50 per cent thought it safe at night, compared with only 20 per cent prior to the upgrade.
•    Immediately after completion, employment jumped in retail (+12 per cent), accommodation/food (+15 per cent) and finance/insurance (+160 per cent).
If shoppers can't park in High St, will they be less likely to visit? Not if they're prepared to use the Victoria St car park.
And if they're not? One function of shared spaces is to send a signal to lazy drivers who don't think of their impact on others when they park, and don't want to linger and mix with the community and its new ambience. They're being told: your needs are no longer prioritised.
The number of shoppers and business people who have ready access to the city centre within half an hour will double with the arrival of the City Rail Link. And that means wonders are soon to happen in pedestrian-friendly High St.
It's a frog, but watch it become a prince.
John Courtney is the co-owner of Hotel DeBrett, also at 2 High St.