Oct 6, 2016 Urban design
Above: ASB Waterfront Theatre public walkways.
With its new theatre on the waterfront finally opening this month, ATC expects to grow its audiences by 25 per cent. We had lunch with some of the people who made it happen.
This article is published in the October 2016 issue of Metro. Photos by Simon Devitt, Alistair Guthrie, Amber McWilliams and Simon Young (and supplied). 
Read More: Chris Barton on ATC's new waterfront theatre.
"They told us we were a pack of dreamers," said Gordon Moller, leaning back in his chair with a very satisfied look on his face. There's nothing like doing the impossible to make you feel good.
We were at lunch. Moller is the architect responsible for the new ASB Waterfront Theatre, the brand-new home for the Auckland Theatre Company. He's also chair of the ATC board and had a role with Waterfront Auckland (now Panuku Development Auckland), the council organisation that owns the land. He's got a lot of skin in the game.
Lester McGrath said, "You have more conflicts of interest than anyone I know." McGrath, as the ATC's general manager, is the guy who has driven the fundraising, written the reports and applications, done all the meetings, spearheaded the entire effort to get the theatre built.
"Yes," said Moller, "and I have always made it very clear I was going to work them all as hard as I could."
Moller then told the story of how they came very close to losing the whole deal. The council had committed $10 million, but there was a deadline to raise the rest of the money — it's $35 million, all up — and they ran out of time. Had to go back for an extension.
"The vote was going to be 11-10 against. Lester and co, they organised all our subscribers to lobby the councillors. We were sitting there, and Cameron Brewer [the eastern suburbs ward councillor] had been against us, you know, as he would.
And he got up and said, 'Well, I just have to say, Mr Chairman, that last night I got 275 emails in my inbox.' He voted yes."
"Those phone calls," said Dayle Mace with a laugh. She was at the lunch as a founding patron of the new building and leader of the ATC Patrons Group. Dayle Mace makes a lot of phone calls.
"Customer advocates," added Roger Beaumont, ASB Bank's executive general manager of marketing and communications. "Very powerful."
Why a new theatre? Moller said about 10 years ago he was talking to Kit Toogood, then ATC board chair and now a High Court judge. "I said to him, 'So how's the company doing?' And he said, 'Well, put it this way.
We're on the verge of insolvency most of the time.' Now Lester will say we haven't made a loss for 10 years, and that's true." But, he added, not having their own theatre has always felt like an unacceptable financial risk.
He gave the example of the ATC show Cabaret, which they staged in a spiegeltent on the waterfront a few years ago. It cost $800,000 to put on and was wildly popular, but the venue was too small for them to make much money.
Billy Elliot, the first show in the new venue, will cost twice as much but the theatre is almost twice as big, and in their own home it will be easier to run the show for longer, if the demand is there.
"It's really about building sustainability," said McGrath, "while maintaining the intimacy. Now we've got a location and an identity, now we're in a place where it's attractive for people to go, our audience will grow by 25 per cent."
Build it and they will come? "Absolutely. We wanted to reinvent the performance-going experience in the same way that galleries and museums have. This is us thinking about the future of Auckland."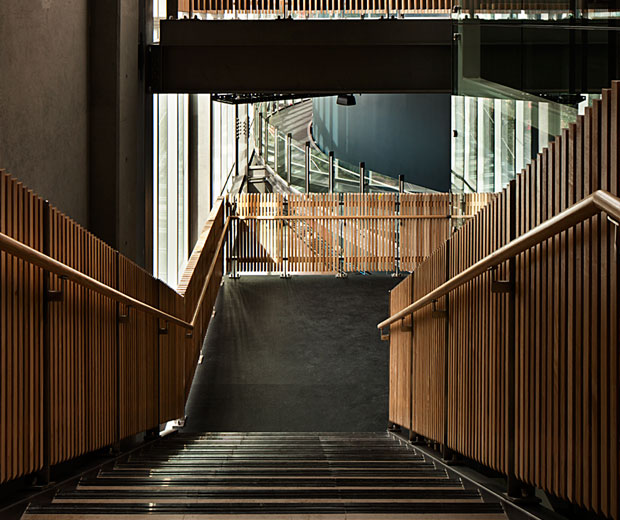 It wasn't always going to be a waterfront theatre. There was a lot of pressure on them to find a venue in the "arts precinct" around Aotea Square. They looked at the St James, the Mercury and even the Mid City, but none was going to work.
Moller said the Mid City would have cost "$55 million and running". They were "pretty keen" on Shed 10 on Queens Wharf, too, but "they just gave us the brush. They said, 'Get lost.'"
So one day, Moller fronted up to John Dalzell, CEO of the council organisation developing the Wynyard Quarter. "I said, 'We need a bit of land, we're desperate.' And he said, 'Well, behind the ASB. You can start fiddling round with that. But we're not going to give it to you until you show us you can do something with it.'"
The brief from ATC artistic director Colin McColl was simple, says Moller. "He said to me, 'I want a theatre for the spoken word, that has to be immediate and intimate, and essentially for drama.' That told us what we needed to do. We wanted to be able to see the whites in the eyes of the people in the back row, and vice versa."
It's only 18 metres from the stage to the back of the auditorium. When they do Shakespeare, it'll be like you're right there in the middle of the sword fights. An actor downstage will be able to speak as naturally as if you're having dinner together.
And when they host dance companies, the stage is deep enough, at 12 metres, to contain the entire corps of the Royal New Zealand Ballet. McGrath was especially enthusiastic about the potential for dance. "All cultures have strong dance performance.
So if you're looking at this space and asking, 'How do we tell our stories?' movement is crucial to what Auckland is about."
You go upstairs to this warm and enclosing space. I call it the timber crucible within the glass box.
Moller said he always wanted the building to make a strong urban design statement. "I'd go to Q Theatre and I'd think it was so funky, all dark so you can't see people bonking in the corner of the bar or anything like that.
But we've got these light-filled spaces; they're all crisp and clean and industrial. But then I thought, 'No, we're creating a theatre of difference, with public spaces.'
"It's fully intentional, all the light. And then you go upstairs to this warm and enclosing space, which is immediate and intimate, for the spoken word. I call it the timber crucible within the glass box."
There were half a dozen of them at the lunch, key personnel in the long campaign to get the theatre built, gathered to discuss their achievement.
"Let's have a toast," said McGrath. He called the relationship with ASB "the most significant performing-arts sponsorship we've ever had in New Zealand". And he said Mace was "a champion of the project" in her philanthropy and work with the patrons.
Desna Jury, dean of the faculty of design and creative technologies at AUT University, was also there.
Jury explained that one reason AUT sponsors the theatre is that it provides opportunities for teaching and research in technology. "This theatre lets us see the latest. So the lighting, the sound, all the visual stuff, it's way different from what you might have done 10 or 20 years ago."
AUT's engagement doesn't stop there. Students are also involved "across economic research, retail, tourism: the whole portfolio of the university, probably, except for health". Jury said they have 70 projects under way.
Besides, she added, "It's absolutely critical for us to have a culturally alive city. It's part of the reason our students come to Auckland."
The sixth person at lunch was Lynne Cardy, ATC's director of community and outreach programmes, who explained that some of those 70 projects lead to internships, and not just in creative work. "Event management, all sorts of things."
I asked Beaumont what it all means for the bank. "Good question," he said. "We thought it was the neighbourly thing to do."
I told him I suspected there was more to it than that. "Arts sponsorship is challenging and very rewarding," he said. "It's very different from sports sponsorship, not just because nobody loses. The hospitality opportunities are extremely interesting."
McGrath said the partnership between the theatre and the bank "is very deep and has many layers to it. We've talked a lot about what our aspirations for the waterfront are, what the role of both of us can be in Auckland. That's testament to the imagination the bank have brought to this. They're completely up for the conversation."
"I think," said Beaumont, "the days of sponsors putting their name on the door and having your logo in the programme, and walking away, that's just very 1985."
Lynee Cardy was excited for different reasons. She runs ATC's youth theatre festival, formerly called Next Big Thing but from next year to be known as Here and Now. They'll take over the whole theatre for a couple of weeks.
"I'm saying to some of the creative young people about next year, 'Hey, do you want to make the first show for young audiences, with young people in it, on that main stage?' And they're just going crazy."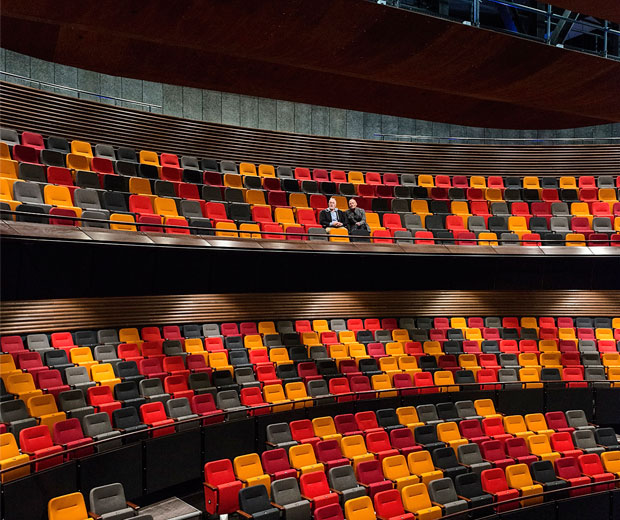 Cardy's also pleased that more people will learn about what ATC does. "A lot of people, even some of our subscribers, don't know about the other stuff we do.
They might know that we do school matinees but they don't know how rich our learning programmes are, they don't know about the work we do with communities.
Whereas here, they're going to know about it because we're going to do it all here. The summer school, events for families, we'll do a new-voices festival and we'll do it all here."
I was curious about what the new theatre might mean for arts philanthropy. Is it a coming of age that will encourage greater philanthropy? Or will potential donors think the job is done and go back to the beach?
Dayle Mace said it was a hard question. "Probably a bit of both. People should see what's been done here as a good model for philanthropy. I also think we'll double our patrons' engagement. There'll be more scope for special functions and more ways to bring more people into the theatre in a philanthropic way."
The same thing happened at the Auckland Art Gallery when they reopened in their enlarged premises. "It was very exciting for people to want to become a patron. I think that will happen here."
What's ATC going to put on that big new stage? Peter Shaffer's fabulous play Amadeus is on the bill for next year. And so are three New Zealand works.
"How cool's that?" said McGrath. And he meant it. "It's important for visitors, because when they come to New Zealand, they want to see a local show. And important for us.
We want to see ourselves on that stage. It gets back to that idea of what this city is about and it's part of the meaning of being here on the waterfront.
The local works are a Roger Hall, and a play by Briar Grace-Smith, who is a leading Maori woman playwright, and a rethinking of the Ibsen play Peer Gynt by the gifted young writer Eli Kent. A good spread?
"I think the audience is going to flock to it," said McGrath. They might flock just for the toilets: Moller's very proud of having put in enough to eliminate those queues in the Women's.
Roger Beaumont asked him, "How much of your life has this taken up?"
"Quite a bit."
"I imagine. I see you down here all the time."
"Well," said Moller, "I want to make sure I don't fuck it up."
I asked if any of them had a vision, a hope that in two or maybe five years' time something special would have happened.
McGrath said he would be very excited if people say, "I go to that theatre, my kids go to that theatre, my family goes there, my whanau goes there, people I know go there. It's part of who we are as Aucklanders." He also said he wanted every primary-school child in the city to see high-quality performance at least once a year.
As for the building itself, Lynne Cardy said, "A theatre consultant came to see us one day and he said, 'The best theatres, when you walk in it's like you're being embraced.' That's what you feel like in our new theatre."