Aug 18, 2016 Urban design
Above: Altera. Photos by Patrick Reynolds. 
The approach to Stonefields, on the former Winstone's quarry beside Maungarei (Mt Wellington), is a slightly surreal sight.
Quarried for 65 years, the basalt lava field is below ground level, 20 metres at its deepest point, so the first glimpse on arrival is a sea of roofs in a hole. Despite the mix of terraced and detached houses and apartments on the 110ha site, there's an overpowering subterranean uniformity — rows of bland dwellings that resist attempts at variation.
Stonefields is grey. Bluegrey Ave, Scoria Cres, Stonefields Ave, Stonemason Ave: there's a certain modern Stone Age flavour to its street names. Yet this is now a highly sought-after suburb with parks, walking tracks, a school, a pub, a supermarket and restaurants. Prices for homes begin at $1 million. When it's finished, there'll be about 2900 dwellings. It's a poster child for medium-density develop-ment and indicates a way to solve Auckland's housing crisis.
The most unexpected experience in Stonefields is a street lined on both sides with five-storey buildings —a walled boulevard amid Auckland suburbia.
Considering their apparent ordinariness, it comes as a surprise that two apartment blocks — Ilico and Altera — recently won Institute of Architects Auckland branch awards. "Aesthetically they are quite humble, they are not earthshattering," says Warren and Mahoney lead architect Blair Johnston. "Where they're interesting is in their compositional DNA." He's talking about how the apartments are put together, how people get to their front door and the amenity.
The award citations combine the usual language of exuberance and incomprehensibility. Ilico: "… a three-dimensional scaffold of screens, stairs and lifts, which provide the apartments with long-distance privacy and close-up circulation that weaves and connects the users in a communal Rear Window effect." Altera: "Generous in space, orientation and outlook, these apartments maximise the presence of all occupants."
Market-led affordable housing: it seems a contradiction in terms.
It's the five-level Ilico block — 65 one- and two-bedroom units — that Johnston is most proud of. "That building is something of a unicorn in the Auckland context — market-led affordable housing." Two years ago, the one-bedroom units sold in the $400,000 range and the two-bedroom units around $500,000. Today, thanks to the housing crisis, "affordable" continues to be redefined. When Ilico's sister block, Verto, across the road was put on the market, units were snapped up in a matter of weeks. Just one remains — a compact 70sq m two-bedroom-plus-study corner apartment with an 11sq m balcony for $747,000. Possibly the most disappointing aspect of both blocks is the balconies, which seem tacked on, and even though they face north, underused. They're a missed opportunity for extending indoor/outdoor living.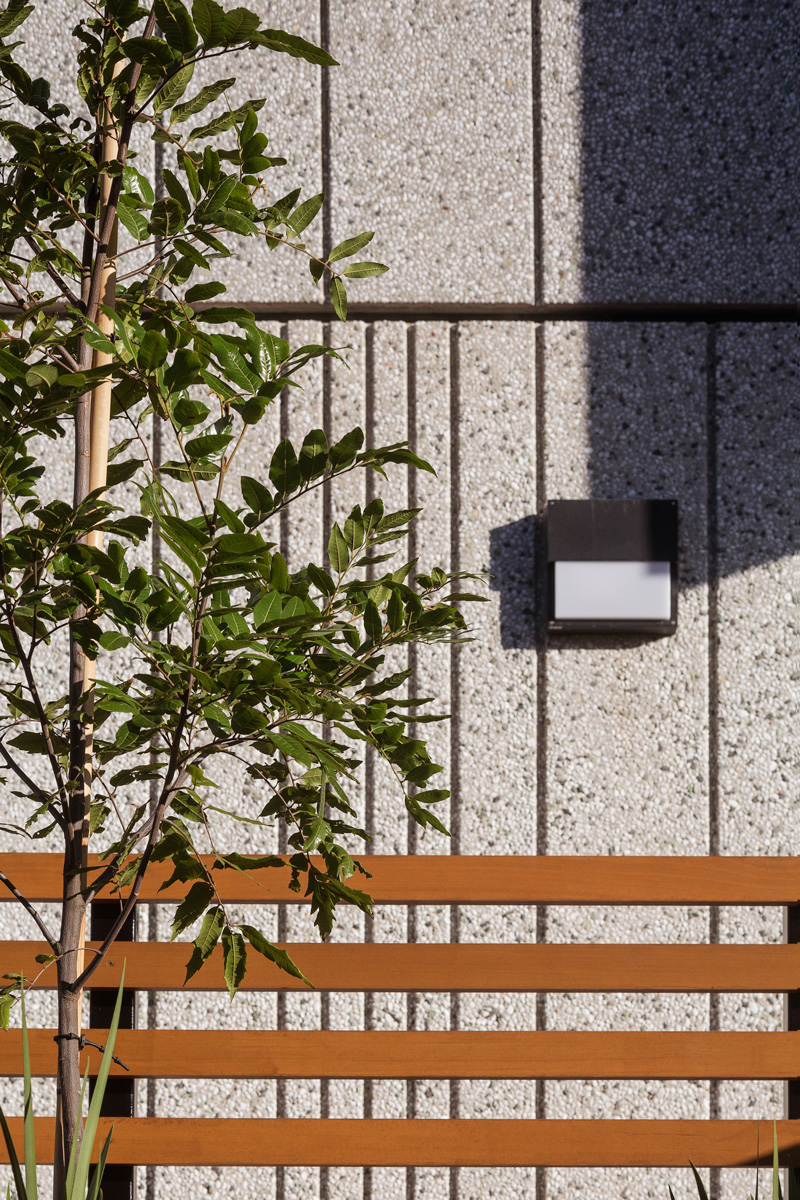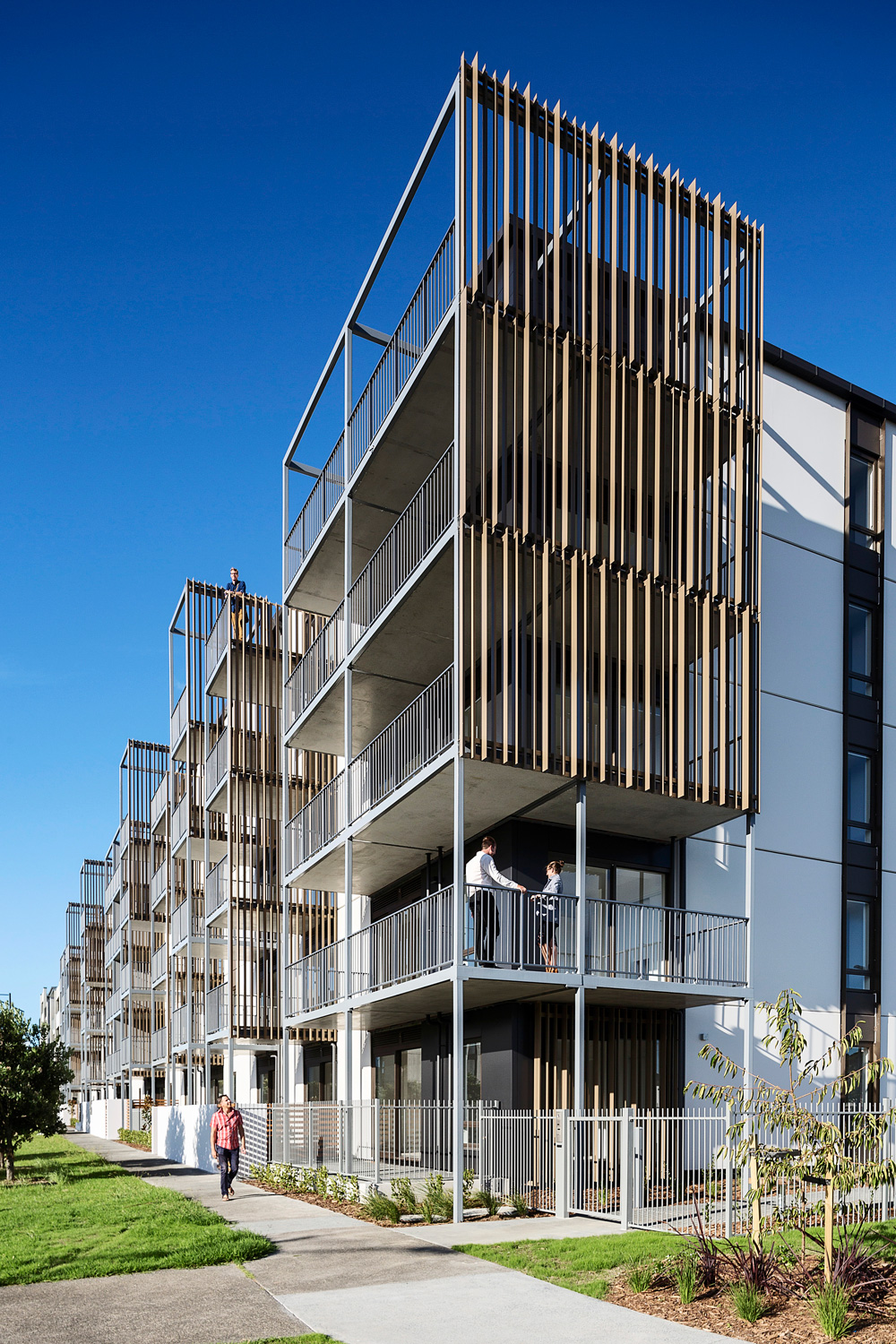 Market-led affordable housing: it seems a contradiction in terms. Johnston says while it's enjoyable to design very expensive apartments, it's not that inspiring. Designing high-amenity affordable apartments is much more challenging.
Although there is a bus service and the Glen Innes and Panmure train stations are not far away, suburban life in Auckland is seldom easy without a car — a requirement that adds significant cost. Each of the 44 two- and three-bedroom units in the more upmarket Altera block comes with two underground car parks. The Ilico apartments reduce costs by having just one each and on-grade car parking. In other words, a sea of car parks beside the block at street level. With land at such a premium in Auckland, it seems bizarre, a solution signalling market failure more than anything else.
Efficient circulation is another key ingredient. Ilico handles it using a freestanding five-level breezeway set 3m back from the block's rear wall. Owners access their front door via their own bridge from the breezeway. As well as providing acoustic privacy, the arrangement also affords that Hitchcockian Rear Window light and views, giving the units the coveted dual aspect and cross ventilation.
Altera handles circulation differently, with four distributed lift cores and internal stairwells. The advantage here is apartments clustered in groups of 10, each sharing a street address front door to buzz people in.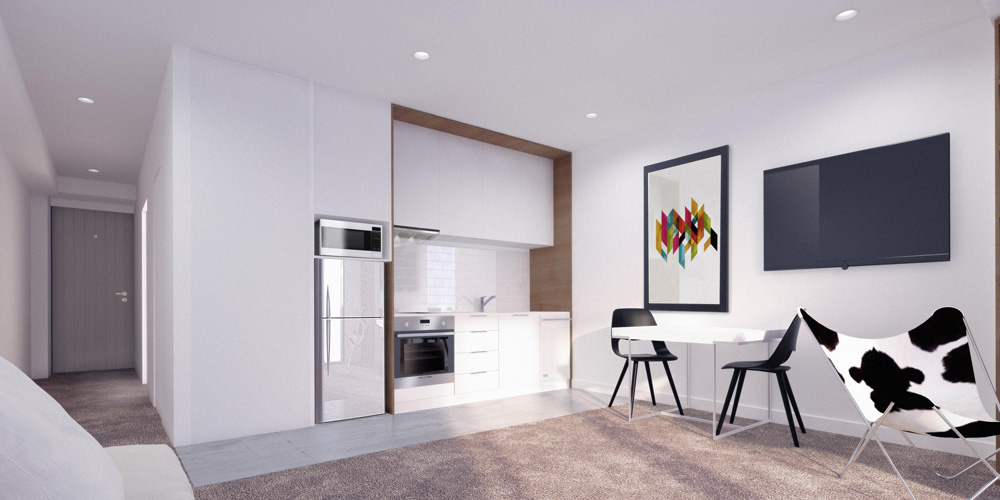 In all this, Johnston is conscious of an anti-apartment-living sentiment: the isolation, the lack of community and — worst-case scenario, one hopes — the J.G. Ballard dystopian vision seen in High-Rise, where the epitome of chic, modern living descends into anarchy and violent chaos. "I am always frustrated at this binary proposition of high-rise nightmares and the suburban dream." He thinks medium-density solutions like this can reinforce communities rather than pull them apart.
The residents I meet seem to like it, even if the car park and the rubbish bins are the most common meeting points. It's also clear that compact living has benefits. Some Altera residents have relocated from large family homes, leaving decades of accumulated stuff behind. How do they find that? "Liberating." At Ilico, which gives new meaning to compact — the kitchen is a single bench adjacent to the dining table — there is much discussion about storage. And about how finding the right apartment furniture makes a huge difference. One resident describes his unit as his "bach in the city". He still has the family home in the country.
Such an arrangement may not solve the housing crisis, but seeing how people here are embracing suburban apartment living indicates, at least in Auckland, that the quarter-acre pavlova paradise has left the building.